You are not very photogenic? Welcome to the club! I understand you. We are the ones that take a selfie thinking that we are looking fine and smiley and when we see it it looks like we are some kind of monsters. These 50 people took that to another level and asked Jamie Fridman, Internet's favorite photoshop troll, for help. They were going to find out not only that you can't ask a stranger for help, but also that they should accept themselves just as they are. Take a look and laugh at the awesome work of this photoshop genius. These people asked the wrong guy to improve their photos.
LESS LIKE A CHILD
This is like a reverse photoshop. People always want to look younger, but he wants to look older. I don't judge him, but I'm not sure if he is happy with the results.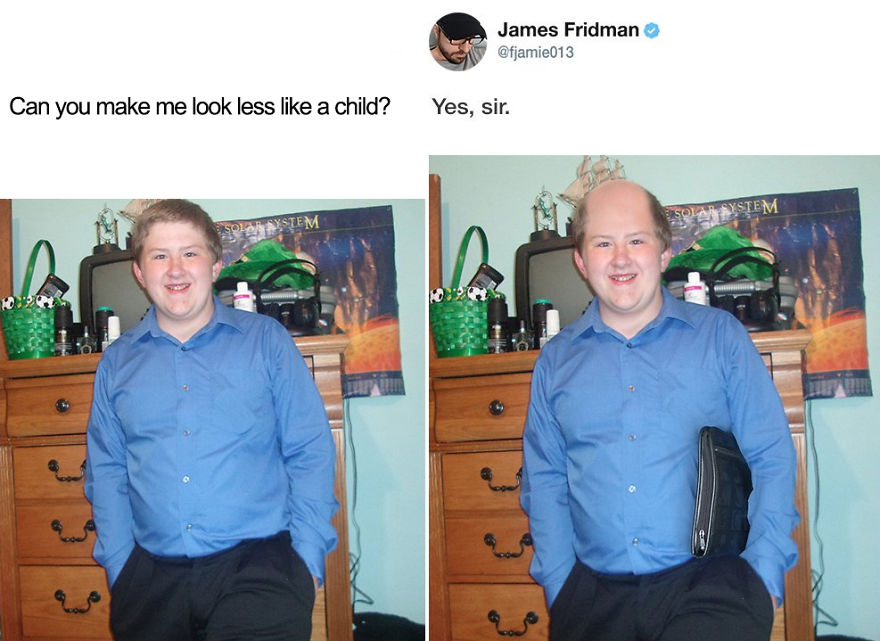 PLASTIC THING
I guess she meant that red red container on the corner. This is a subtle change, but when you see it cannot be unseen. I'm not going to say that she looks prettier, but she sure looks… different.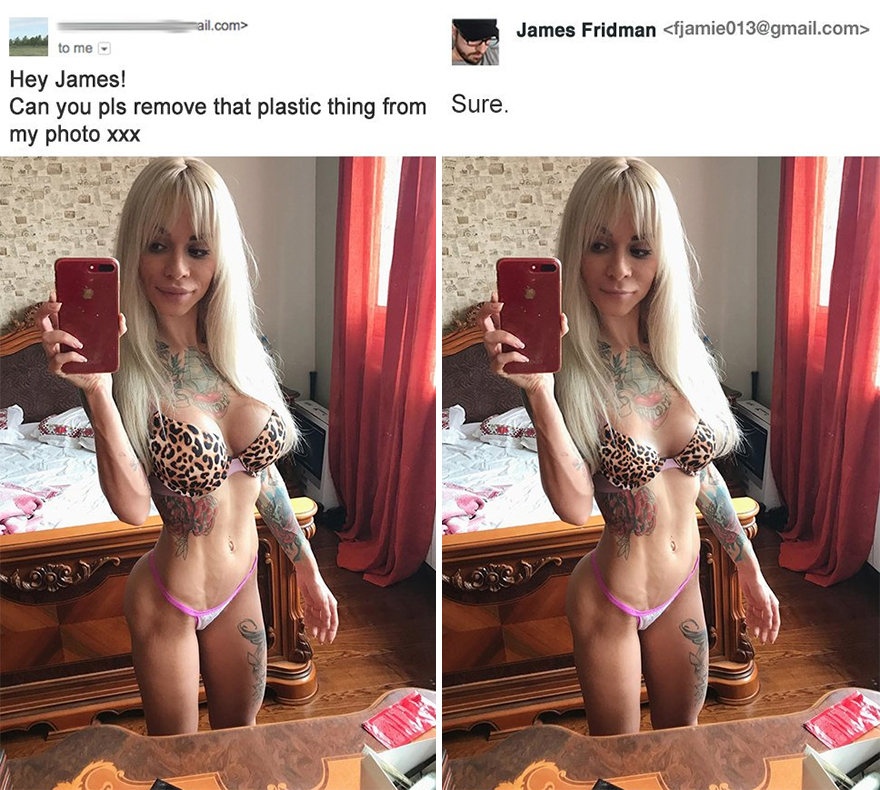 EYES WIDE SHUT
If you take your girlfriend to Disney the least she can do is closing her eyes while she kisses you. I wonder what she is thinking. I love the results, it looks so much better!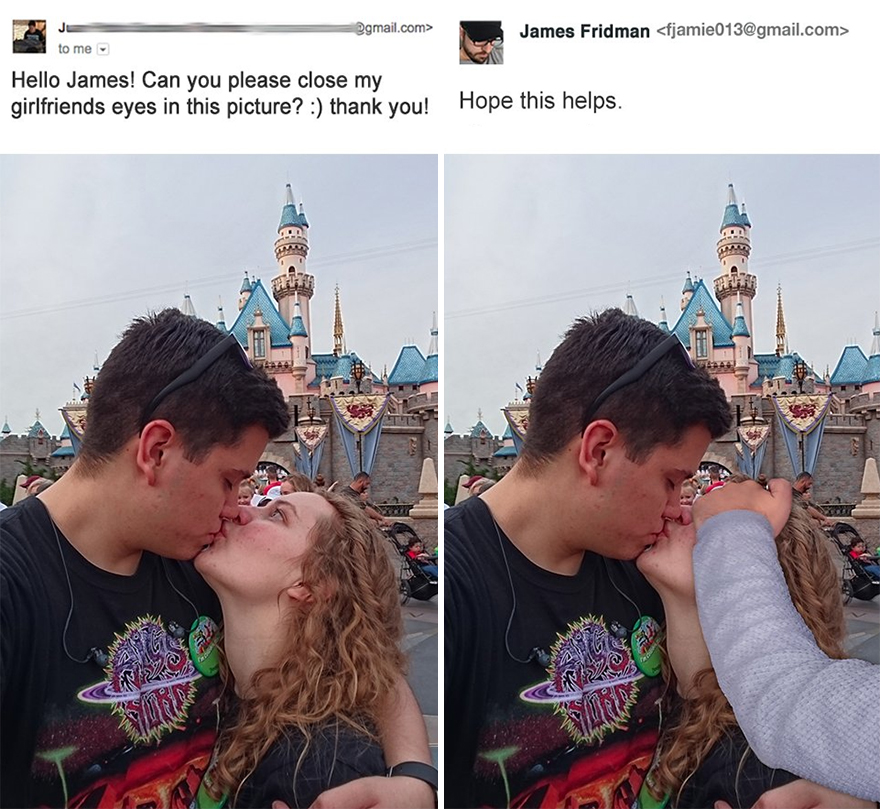 DABBING
This is more than hilarious. He is certainly not dabbing anymore. Look at this work, it is genious. I don't know how he does it and I think I don't wanna know.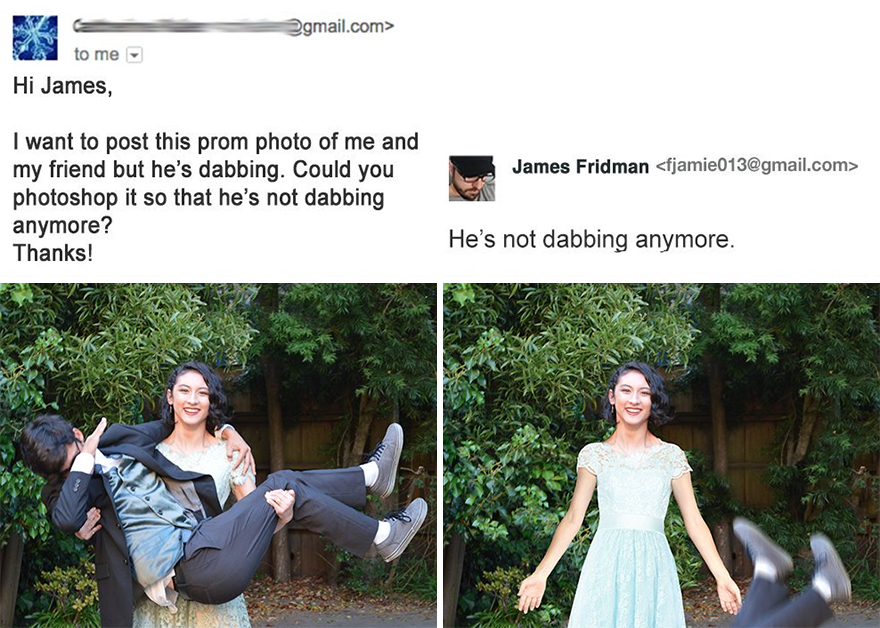 SHORTS
The funny thing about all these pictures is that there's really nothing wrong about them. I mean, you wore shorts, who cares? They are not even that short, I can't see the problem.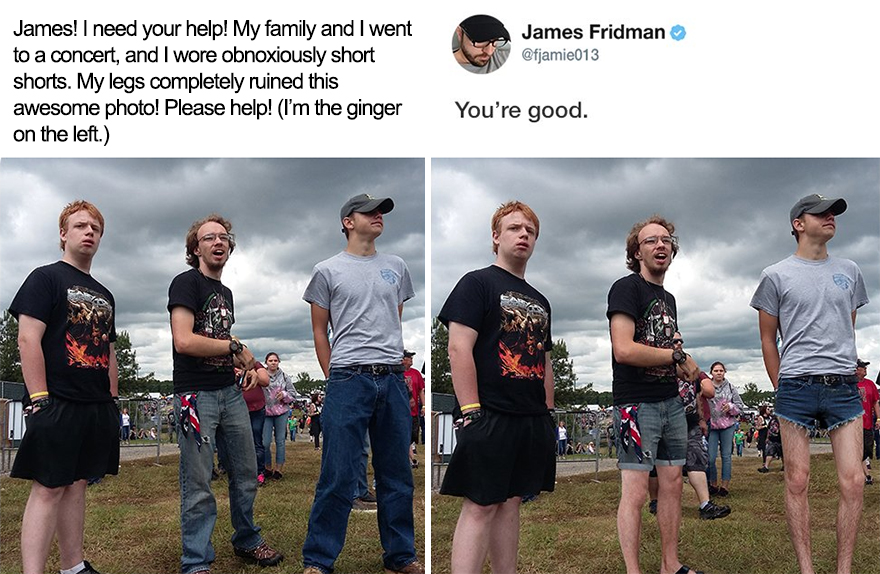 ALONE
I don't know what he was expecting. A crowd of made up friends in his living room? At least this way he is not alone anymore. Michael won't never leave you alone, kid.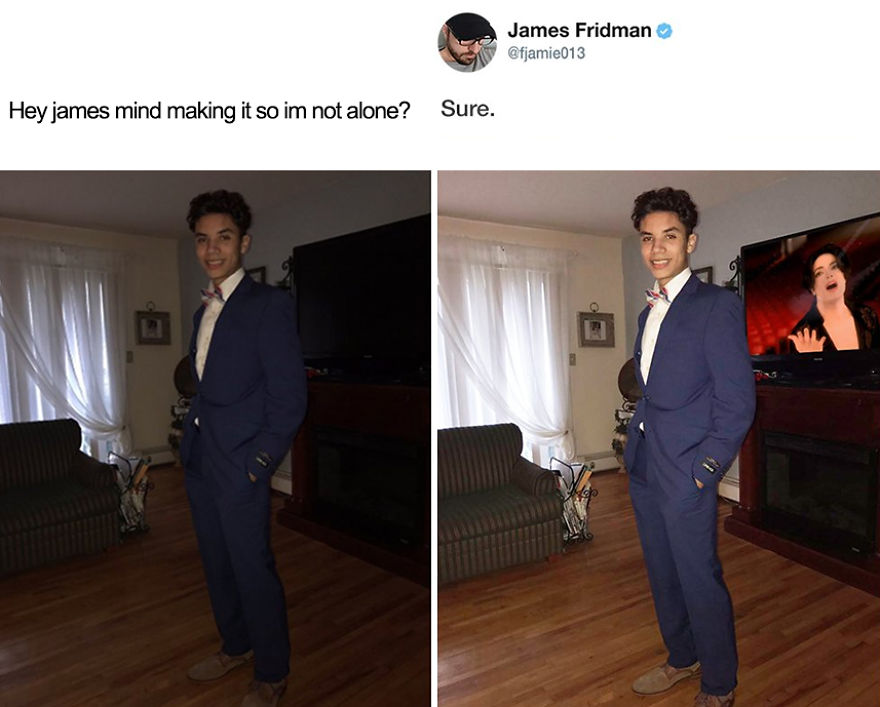 ACCURATE
This is a respectable request. She is not comfortable with her body and prefers to ask for an improvement. She should have chosen her words better, but I'm afraid to know what would happen then.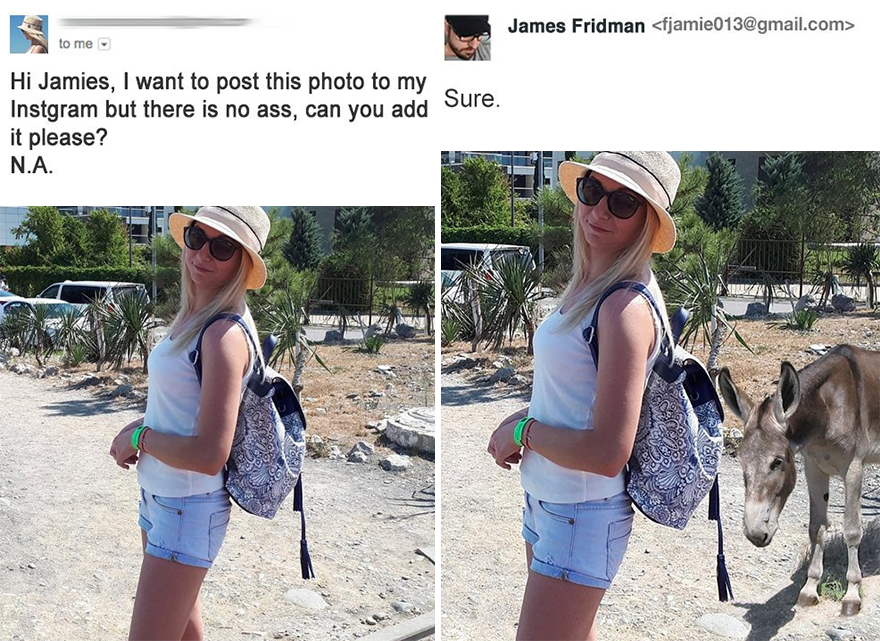 THAT FACE
Hey! Stop being so rude! There's nothing wrong with that kid's face! Well done, Jamie, that kid has the best face ever. Thumbs up for that kid's face. Awesome face.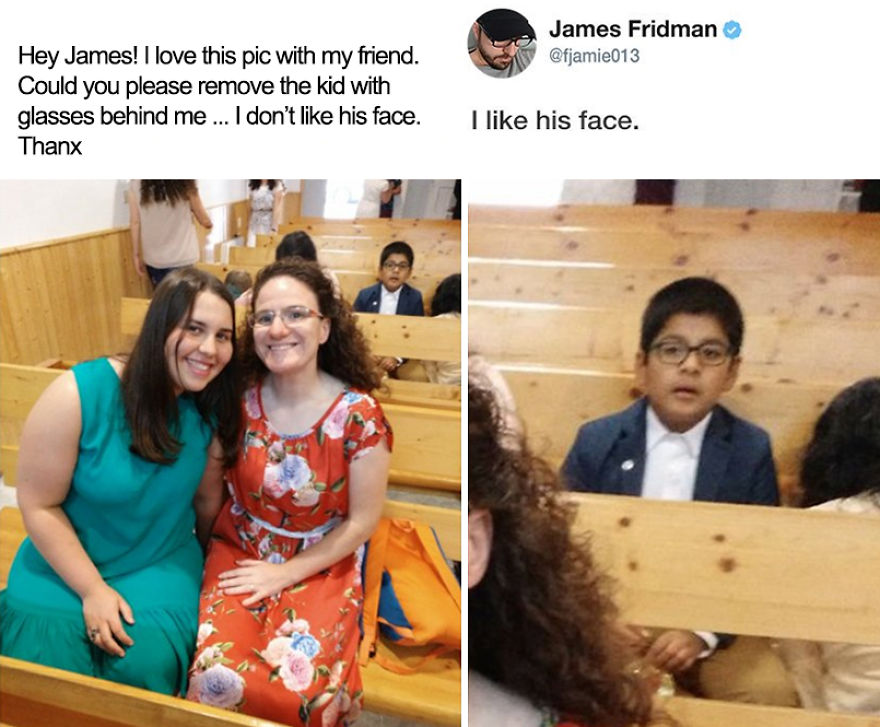 TALLER
If you want to be taller than your father this is not the best way. Just eat your vegetables, exercise and study (?). Trust in genetic and don't trust in Jamie.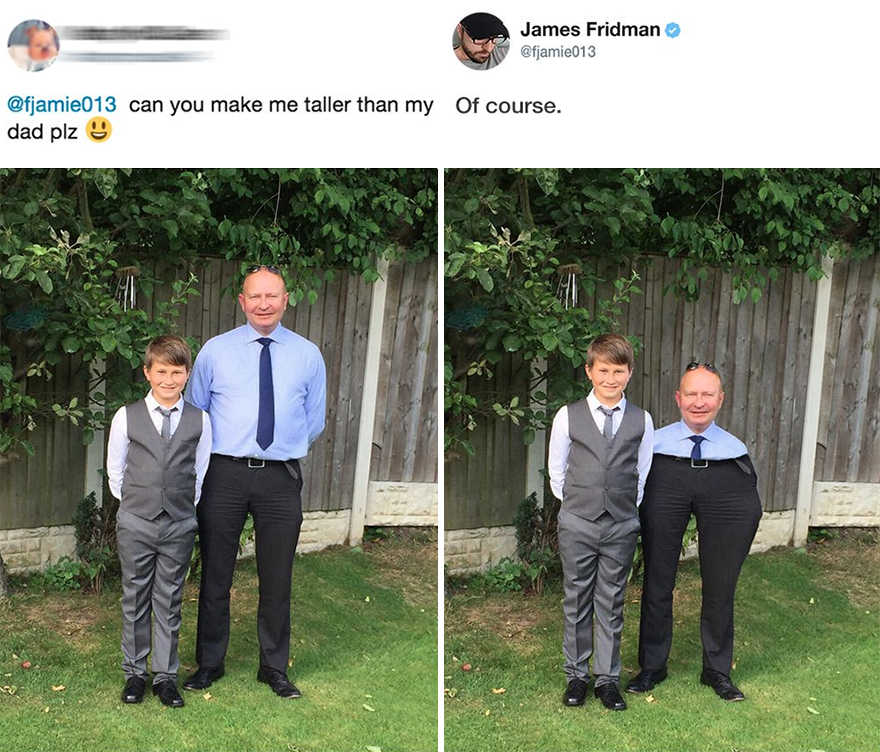 SHOES
First I need some explanation. How on earth someone FORGETS to wear shoes? This is a cute couple though, I hope they are still happy and together. Cute sockets too.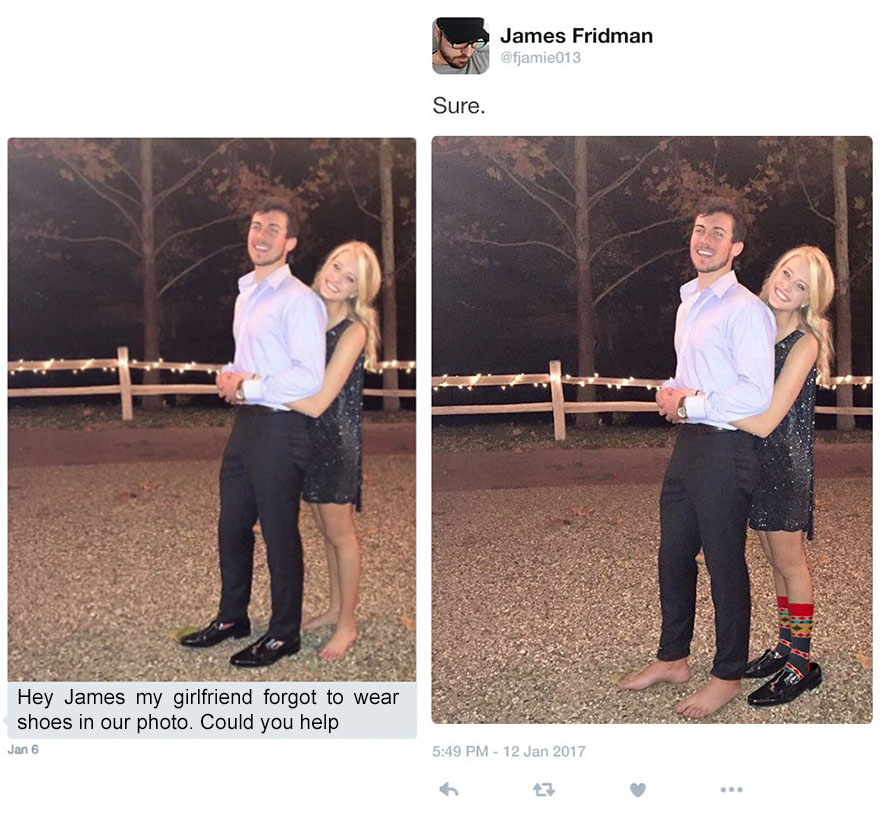 SMALLER
This is brilliant. Beyond brilliant. I'm laughing so much it hurts. This is a nice gesture. Friends usually just upload the pictures where they look the best and forget about the rest of the world.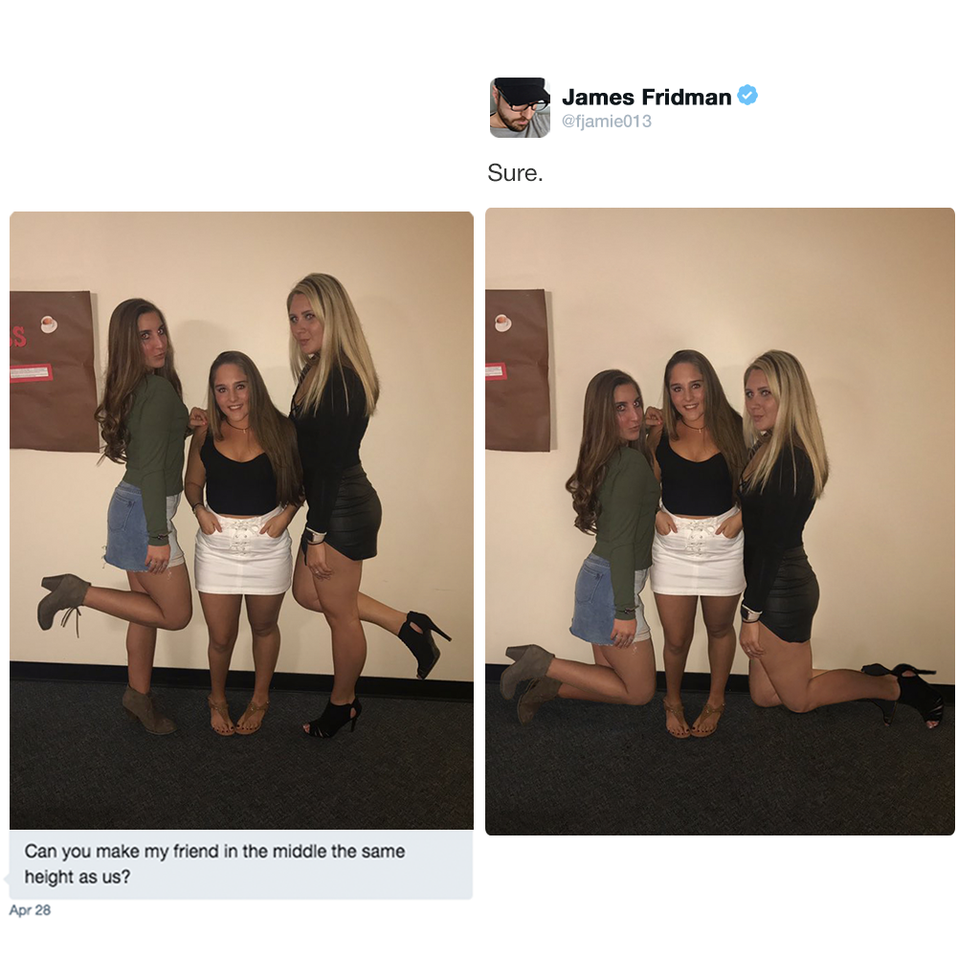 EX BOYFRIEND
Just take another photo, Cindy! Why do you even think about asking someone to take your ex boyfriend out of the photo? Good move, Mr. Fridman, that guy deserves that party.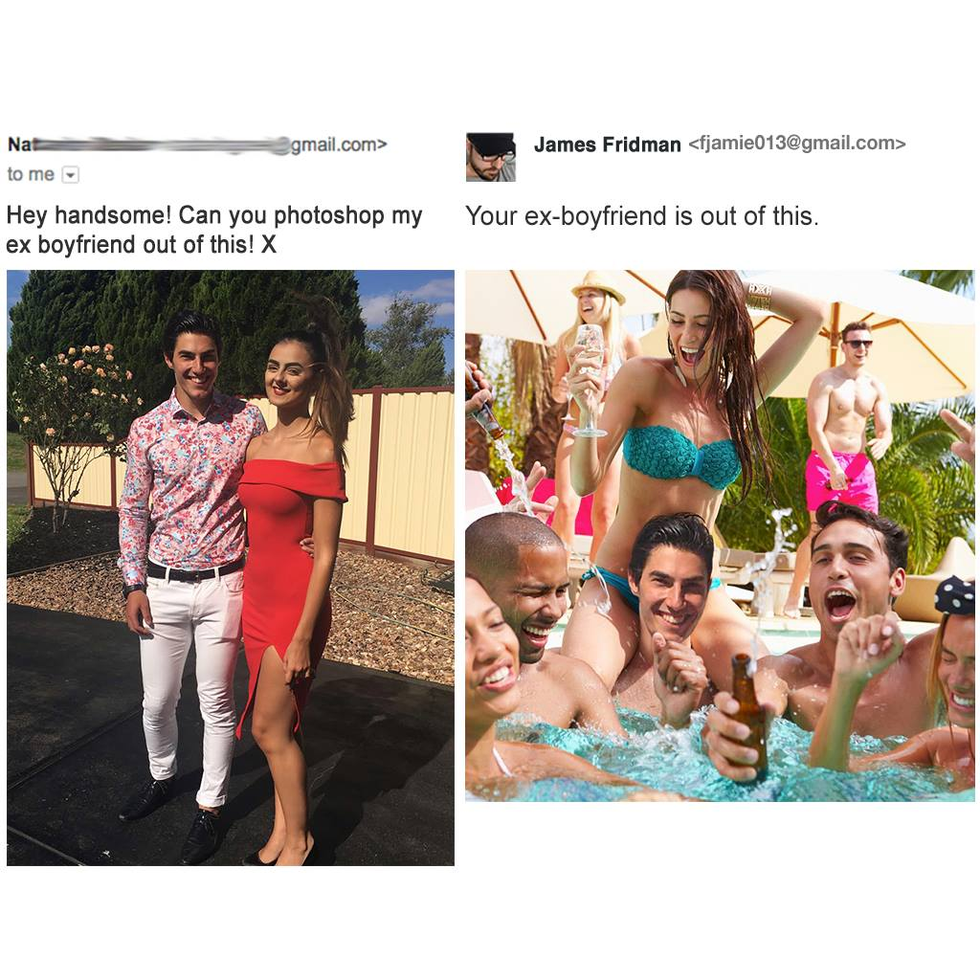 CRYING
Why didn't you take another photo at that moment? Just tell us the truth, you did this on purpose because you look lovely. Jamie should photoshop him in a party too.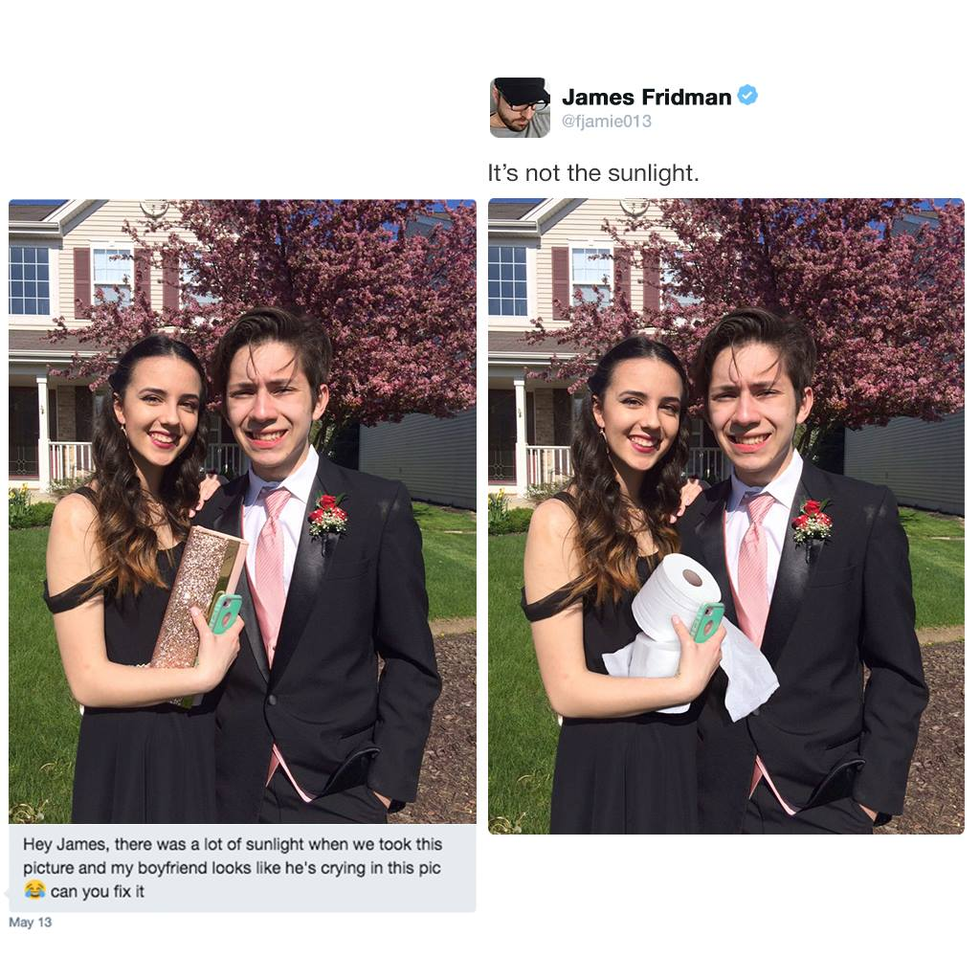 RICH
I am crying. I am literally crying. Run, Richard, run. This gold digger doesn't deserve you, pal. Anyway… I just hope they are happy, together or alone, rich or poor.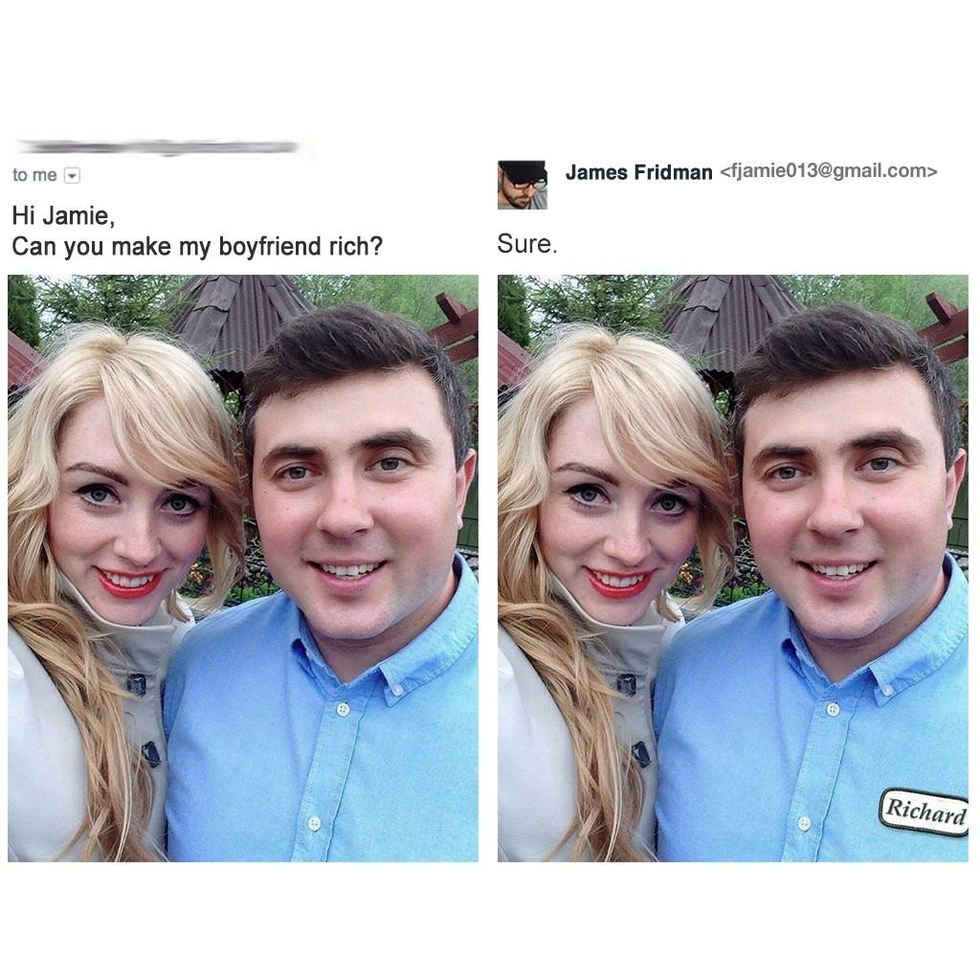 LONGER LEGS
Don't worry, Haley. If you want to be tall, Jamie Fridman makes you tall. What we can't assure you is how he will do it, because that's part of his art.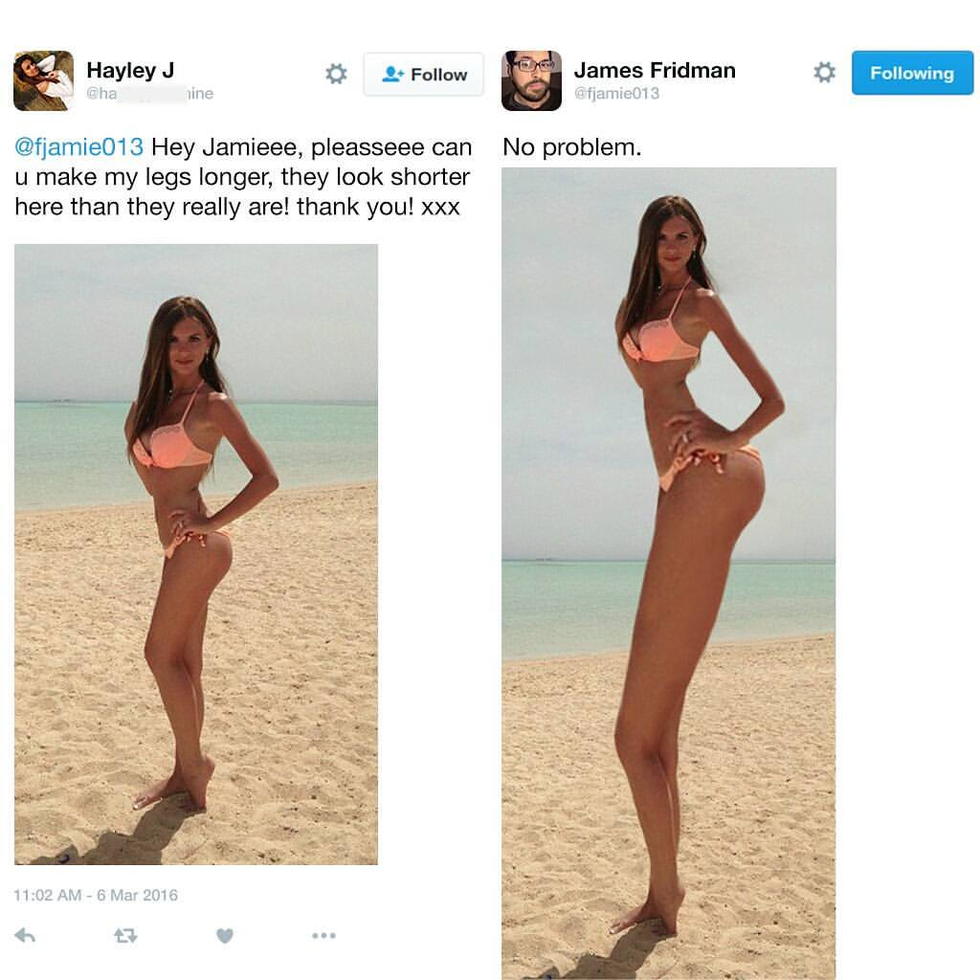 ROB
She sure looks like a Kardashian. You need to learn to ask for what you want, girl. Especially if you are asking it to James Fridman, the ultimate photoshop troll.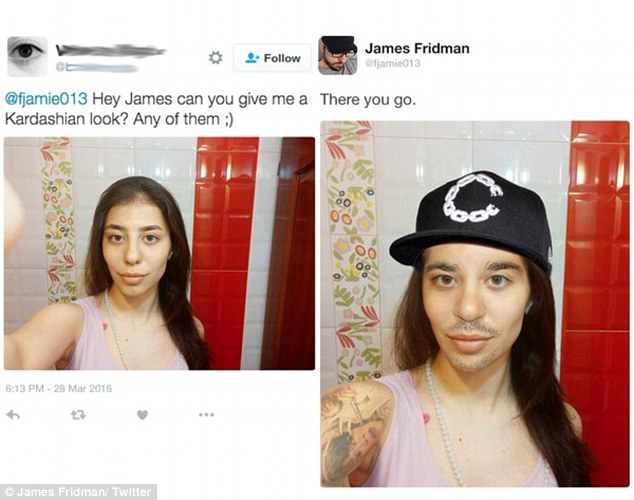 FRECKLES
Sometimes Jamie uses his social media for nice things, like this. She looks cute indeed, and actually there are people out there getting freckles tattoos! So don't blur them, love them!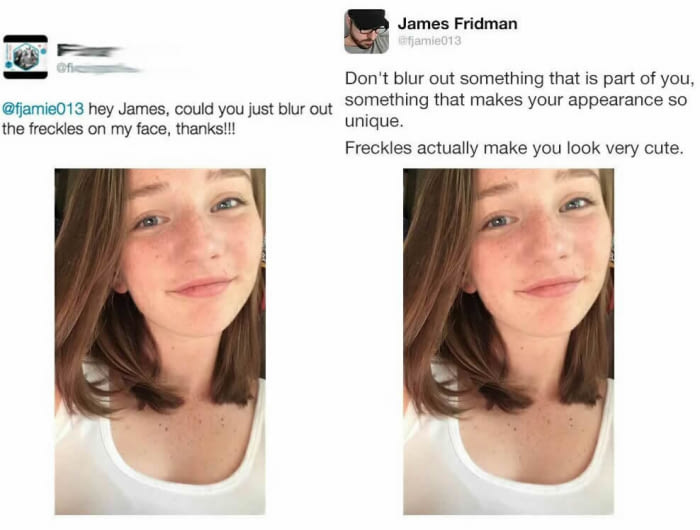 MESSI
Lionel Messi is the best soccer player in the world so this doesn't surprise me that someone would want to have his haircut, it actually looks good! She should consider getting "The Messi Haircut" for real.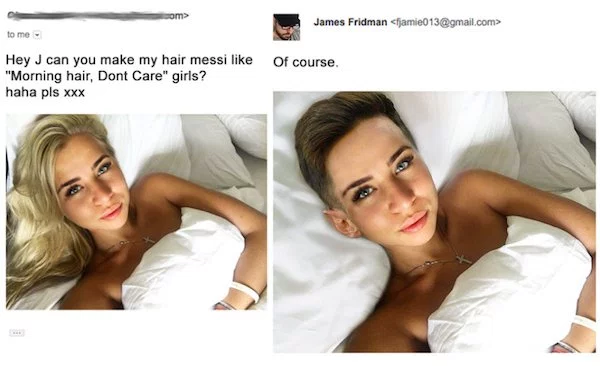 COFFEE
I'm starting to think that this people want to be bullied by James and that's why they send this pictures to him. Oh, you've already found that out? In the first picture? Maybe she is in a coffee drinking contest or something.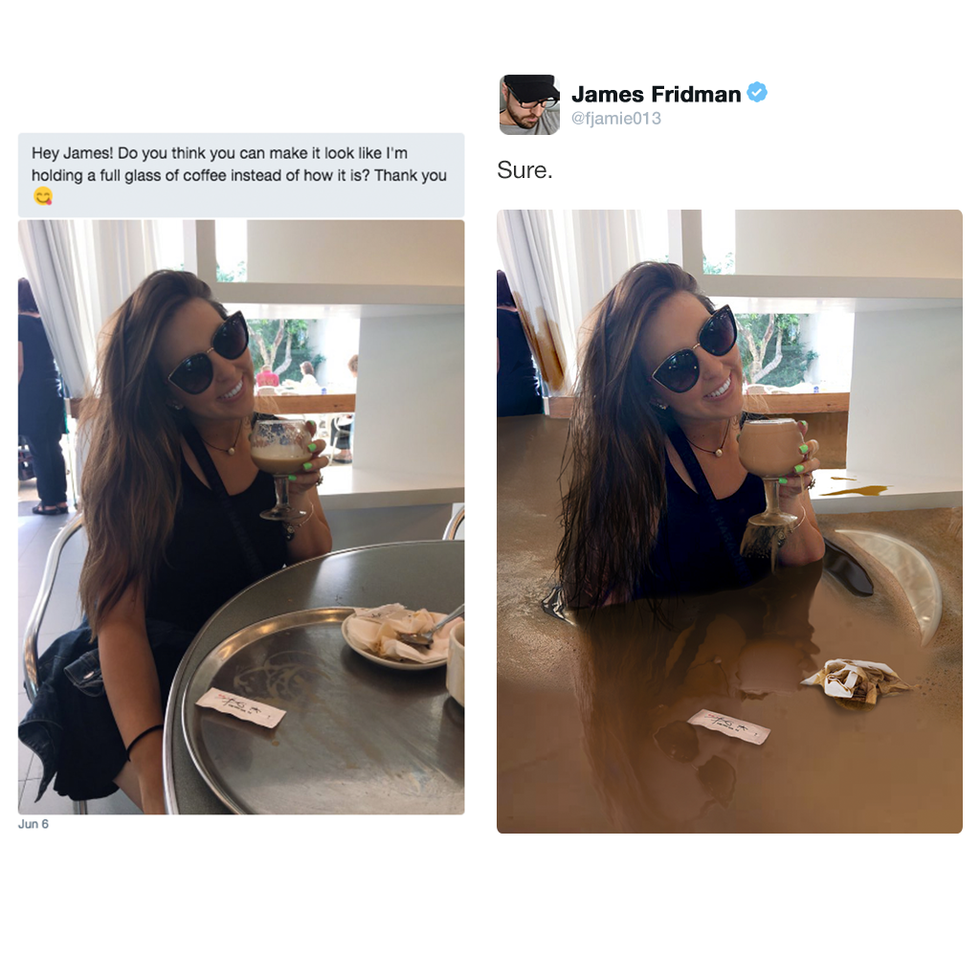 YOUNGER
This is some serious job, he takes the trolling very seriously! This looks pretty amazing and It's not only funny, It's almost emotive! I'm feeling ashamed that I only use Photoshop to delete wrinkles.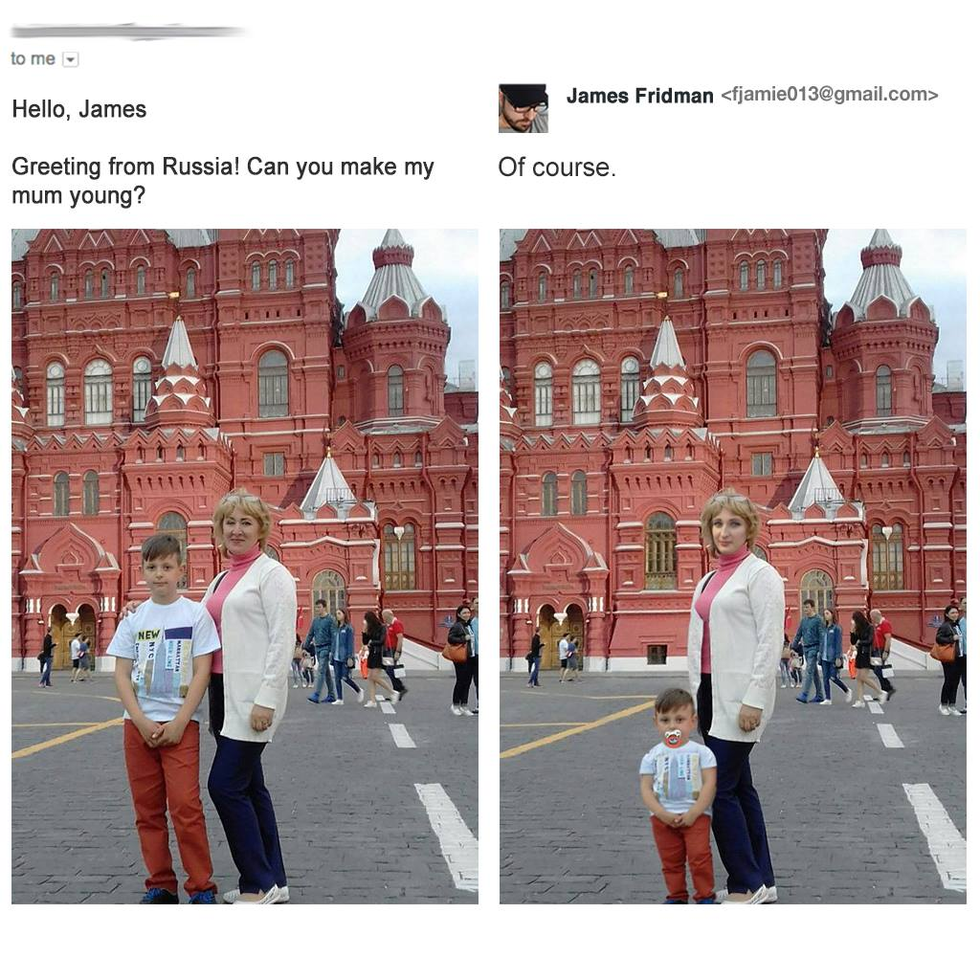 IRONING BOARD
He had it coming. He's is a douchebag. So I'm begging you, sweet girl: Stay away from him! If he has the nerves to asks this to a stranger, imagine the things he can do to you!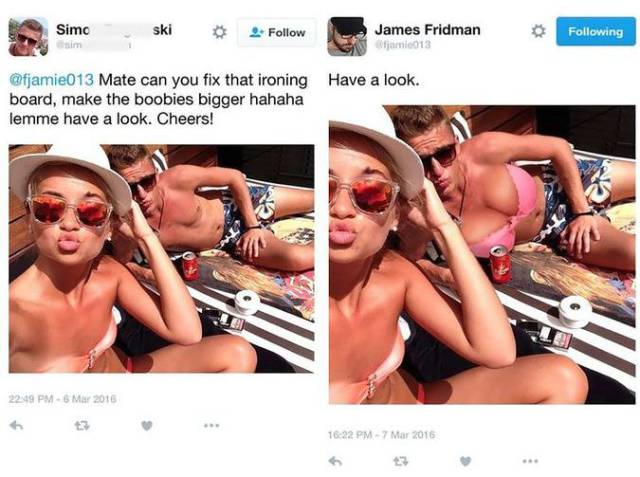 WOMAN
I told you, James takes requests quite literally. What really amazes me about this photo is that this guy probably set all this up and had the photo taken only so he can later edit it.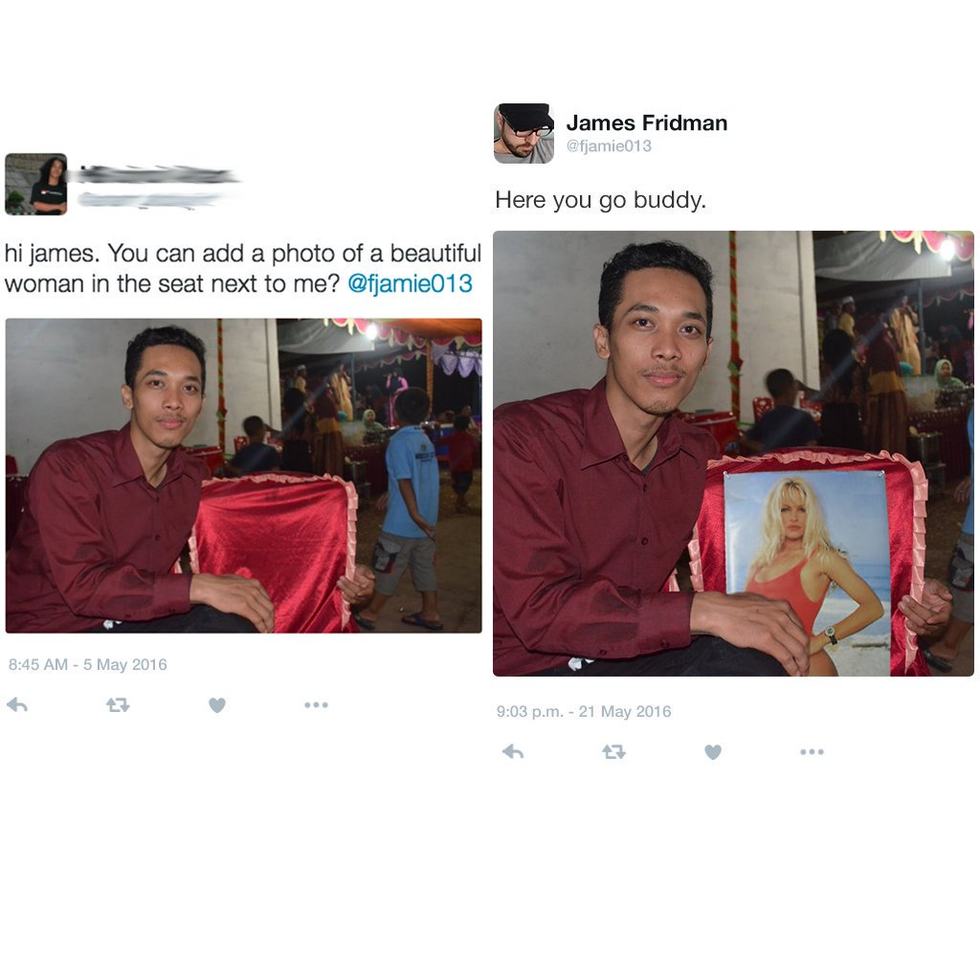 TANK
Why on earth do you want to be in a photo with a tank? I know he meant to say "With a tank behind me" but it's the same. I guess tanks are pretty cool.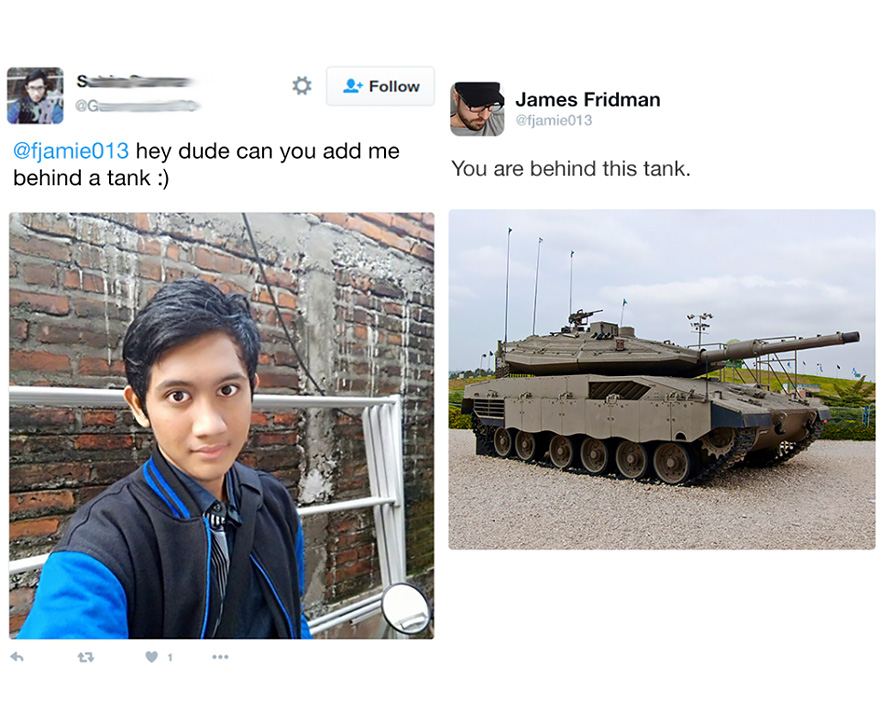 PRODUCTIVE
James may look like it, but he is not a magician, he's just really good with Photoshop. There's no photoshop tool that can make this guy looks productive. There's no tool at all.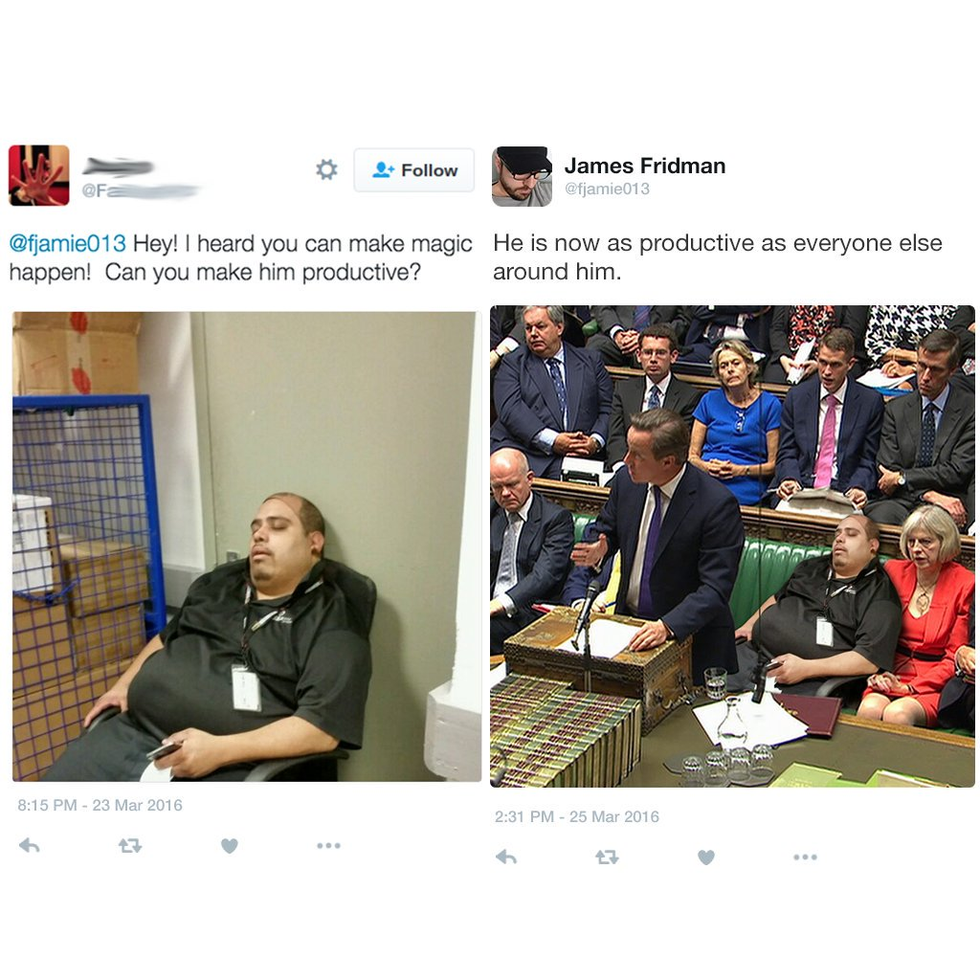 CYBORG DEMON
Friend, you look badass. Jamie was a bit lazy with this photo, but we're going to forgive him this time because even when he's lazy he's a genius, isn't he?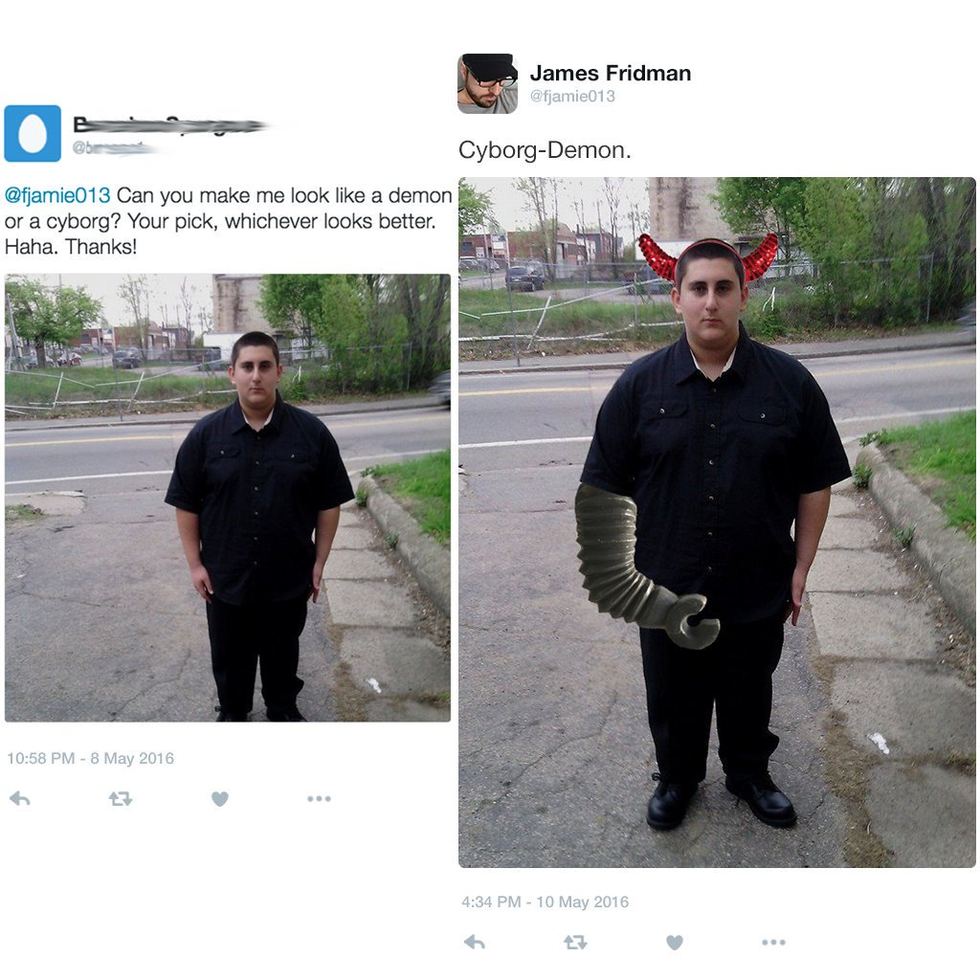 FIXED
You could just crop the photo, Brenda! I didn't think he looked like he was peeing on the kids before you told me, and now I can't stop seeing that.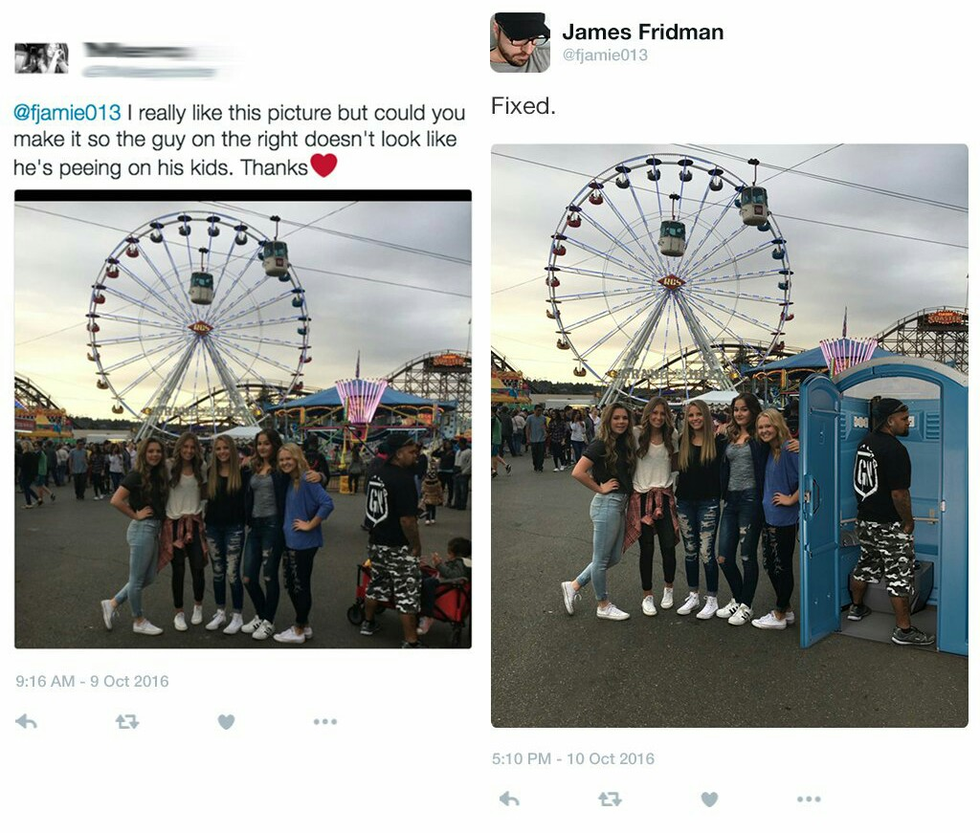 BIGGER AND CLOSER
This things happen all the time. You see a sign that reads "Biggest waterfalls in the world" and want to take a look and they are not that impressive. Or close.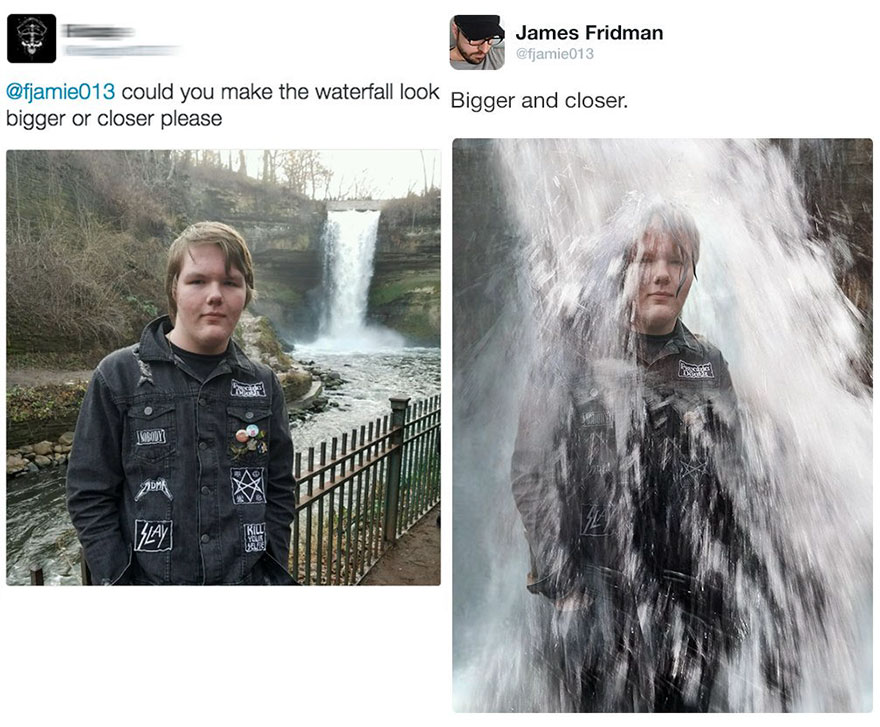 A CAT
I'm sure that's exactly what she meant. Who wouldn't love to be turned into this kind of cat? They are big, strong, yellow and they look like a Transformer. I want to be one of those.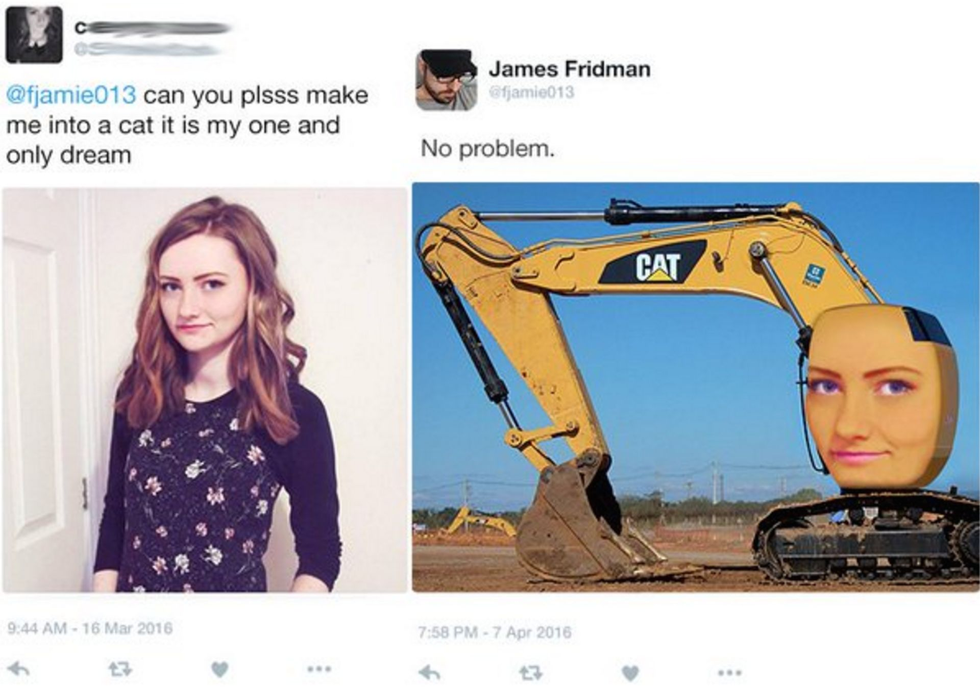 Psychological condition?
There's guys that don't want anything in particular, they just want to be bullied by James. Is there a name for that? It is some kind of psychological condition? I'm going to google that.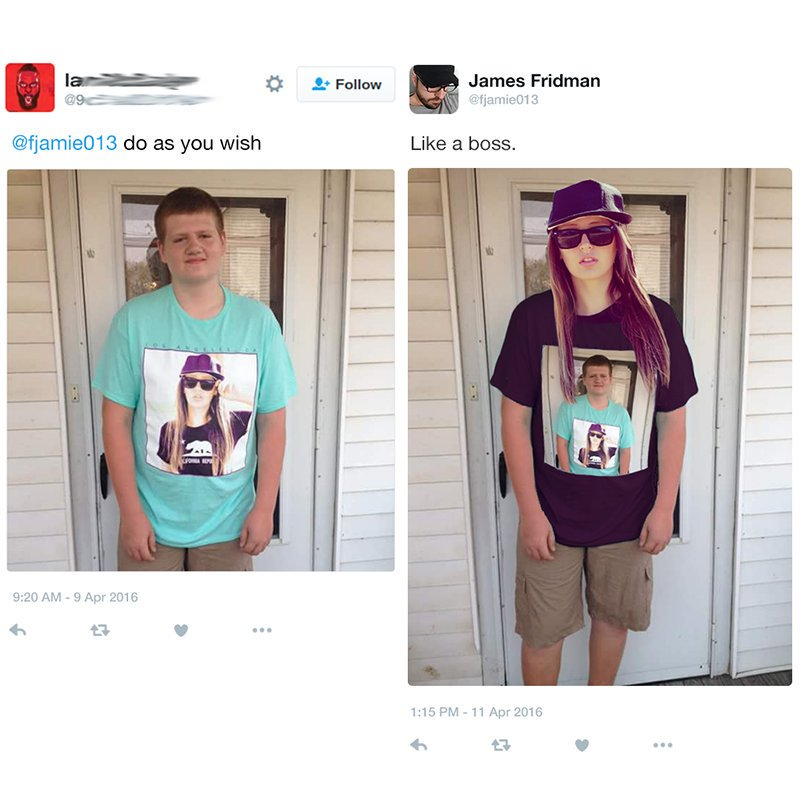 ELSA
Let it go! This is hilarious. The original photo was hilarious too, I love the face he is making and if you look Olaf carefully he seems to be in much pain!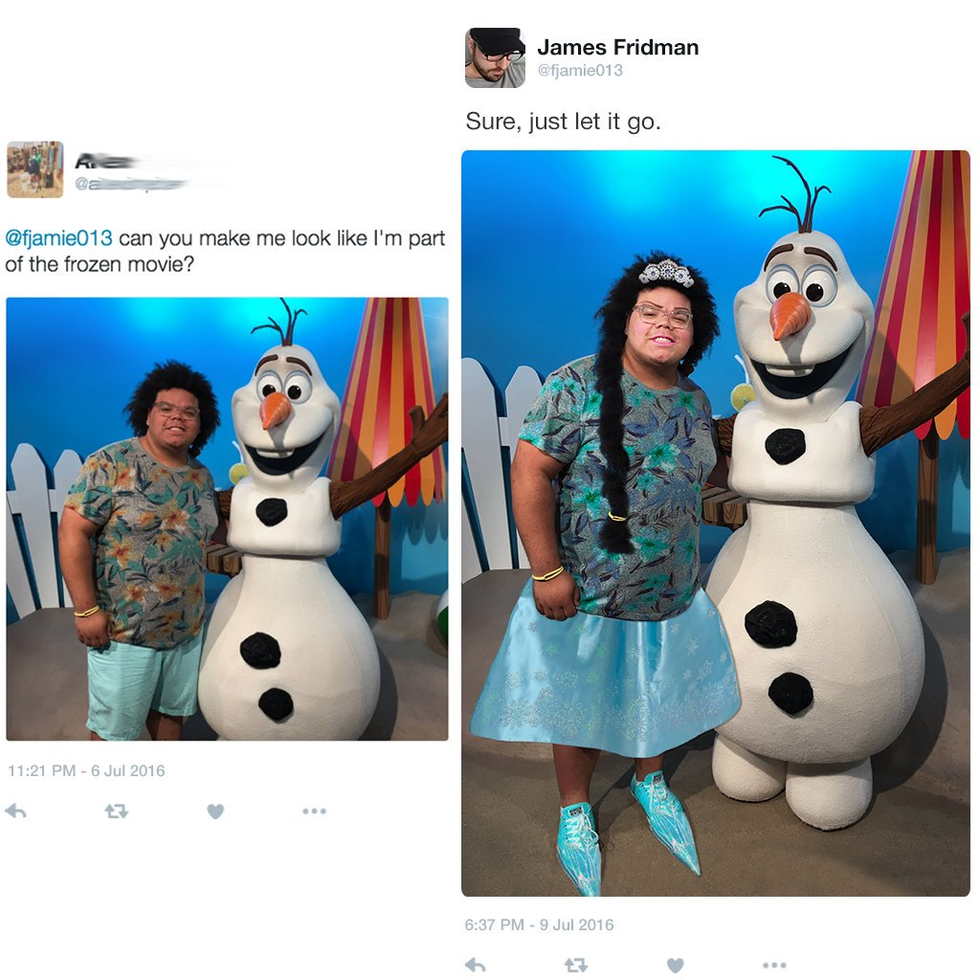 AWKWARD
Why were you looking at your friend while he was doing his exercises? And why are you looking at him now, after what it seems like a night of love?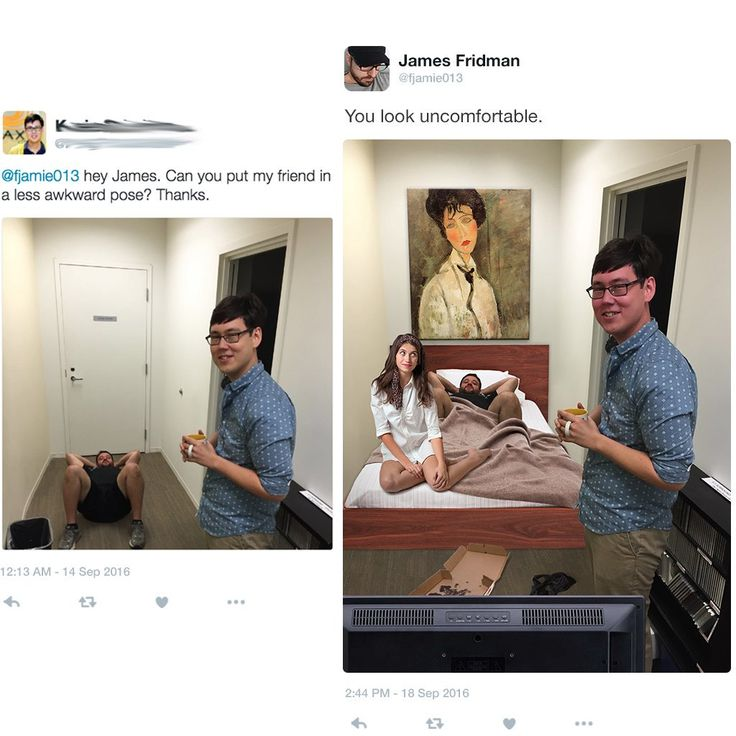 HOLDING HANDS
Another problem solved! This is not awkward at all! Don't you hate when you go to a restaurant and they don't give you plastic hands to hold? I really do!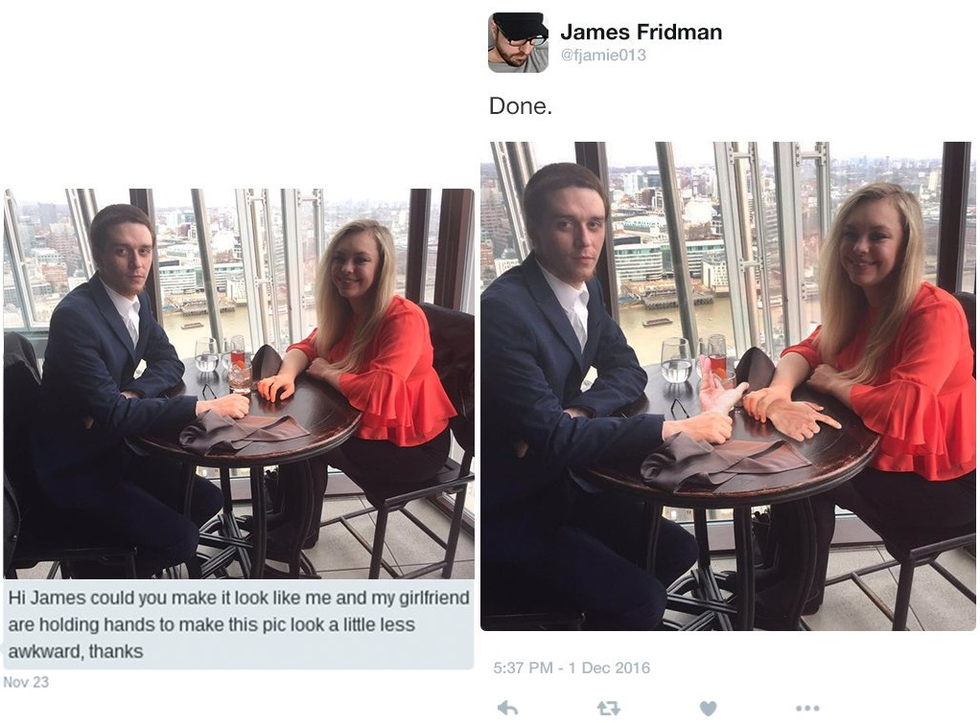 THE OTHER WAY
Why would this be awkward? It's just a regular dad looking at his beautiful daughter. If you really want to do your dad a favor just crop the photo, Susanna!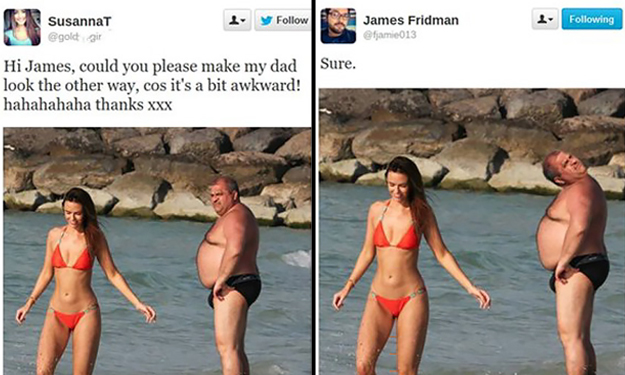 BUFFER
I told you, Jamie is not a miracle worker! And this kind of hard job requires a payment, dude. A big one. Just wake up and go to the gym, it would be cheaper.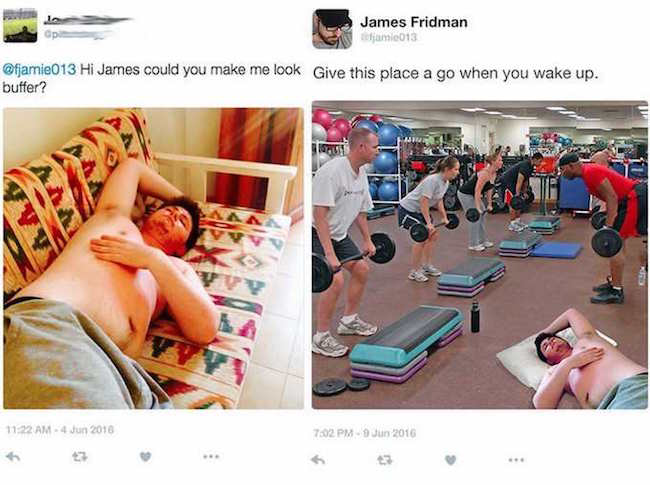 HAVING A GOOD TIME
I looked quickly and I thought she wanted to change that funny pose. But she was worried about her brother! Well, he is now having a good time, so there you have!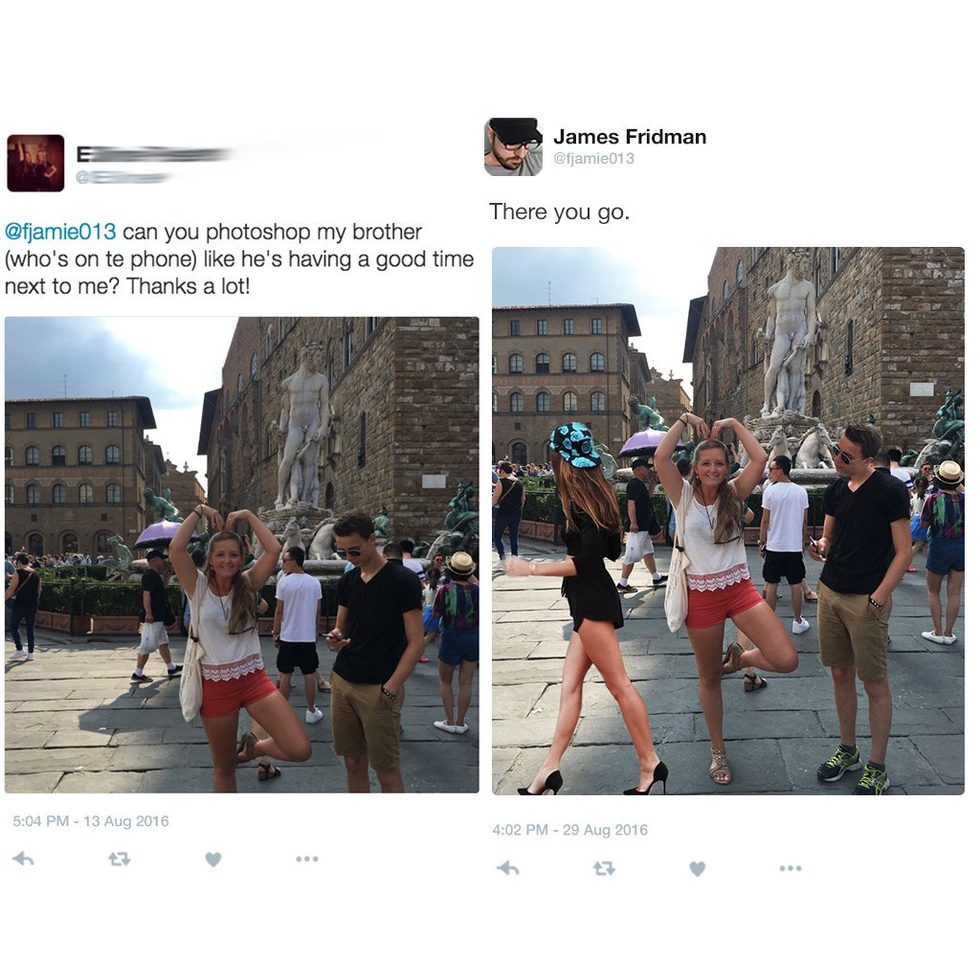 EYES
Ok, "Broham", here's the thing: You are wearing a cap AND sunglasses. Next time you want your wife to open her eyes just don't take the picture with the sun in front of you!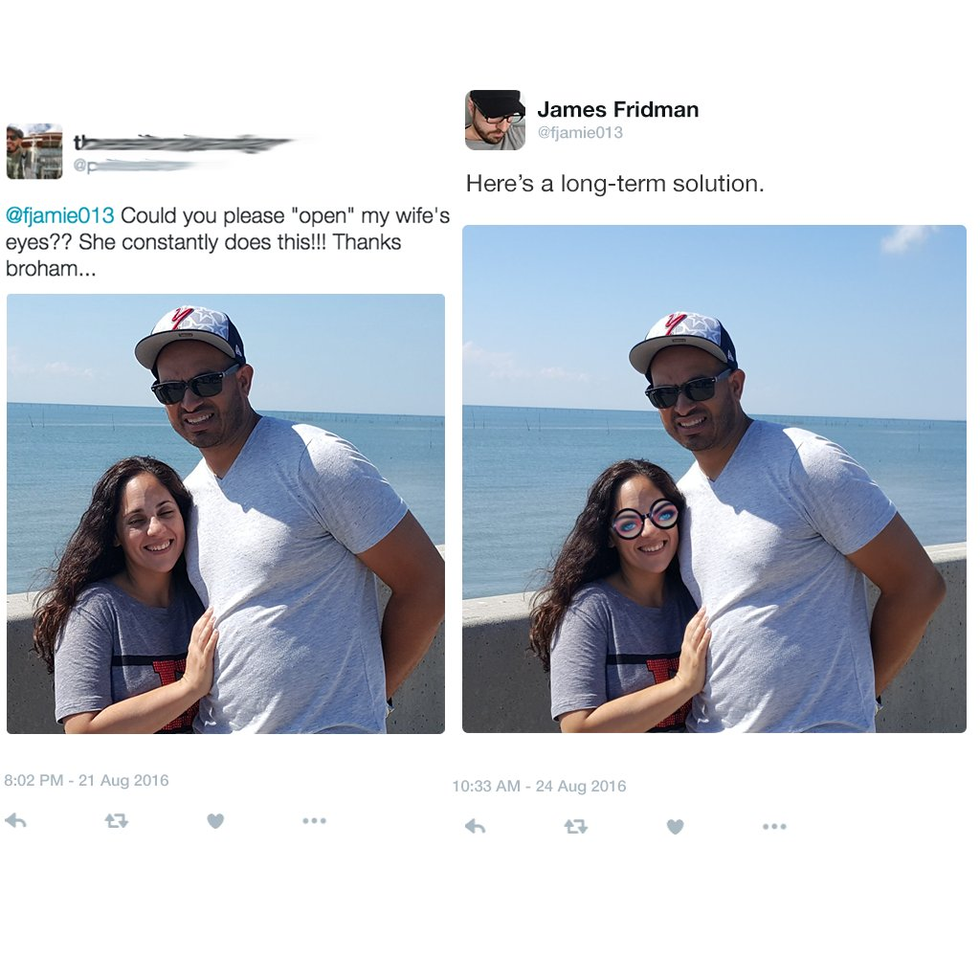 TAKE HER OUT
After all this work, Jamie sure needs to have a good time. So thank you, stranger, for accepting his invitation. But now it is time to get back to business.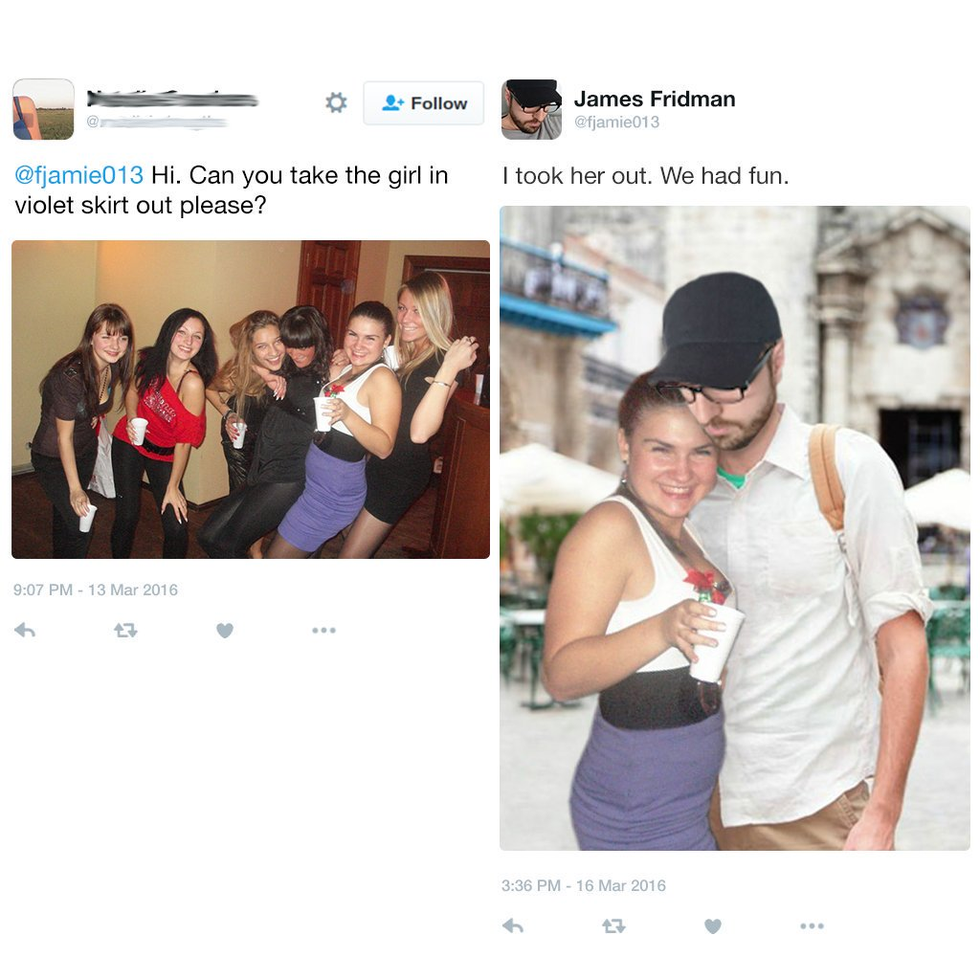 TRASH CAN
There's a lot of space without trash cans in the picture, but you decided to take the photo right in front of one. Stop wasting Jamie's time! There's more important things to do!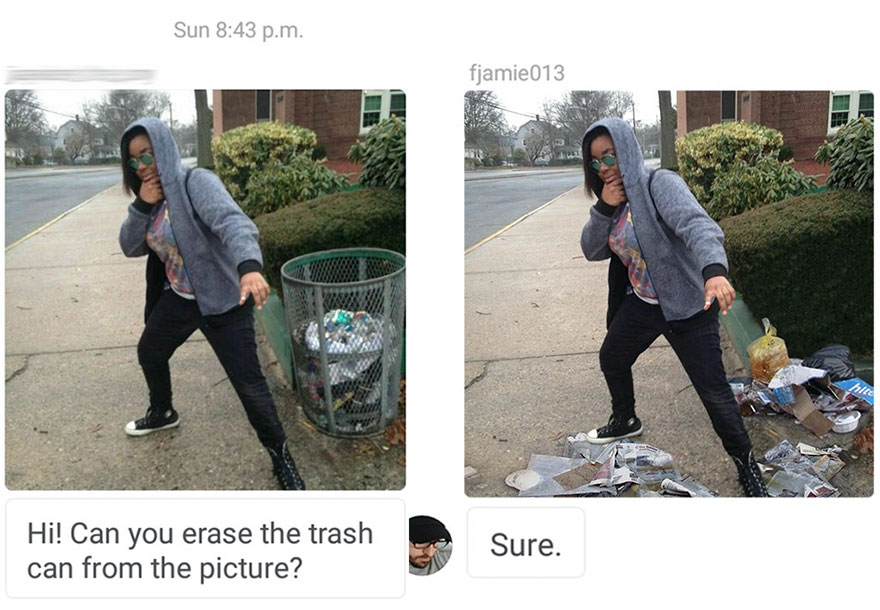 Cool and Tumblr
It took me a while figuring this out, but when I did it I couldn't stop laughing. I wonder what would he do if she asked to be "Kinda cool and Twitter"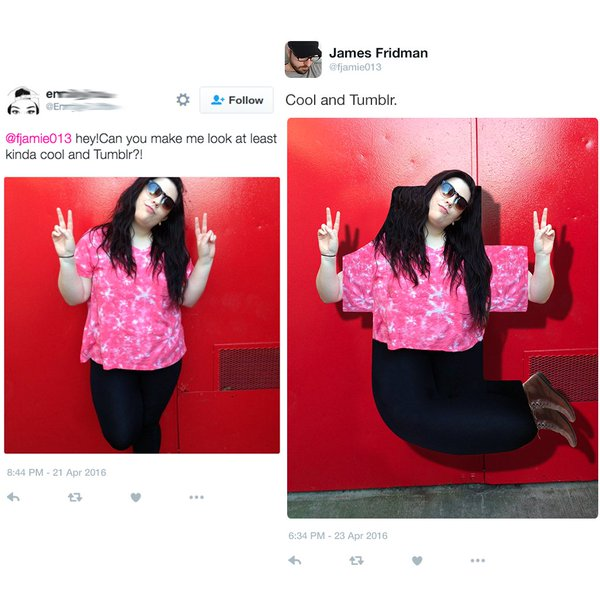 CONTEMPLATING
You are now contemplating the most important things in the world, kid. You should be thankful. I wonder what was he expecting? To be looking at the Theory of Relativity?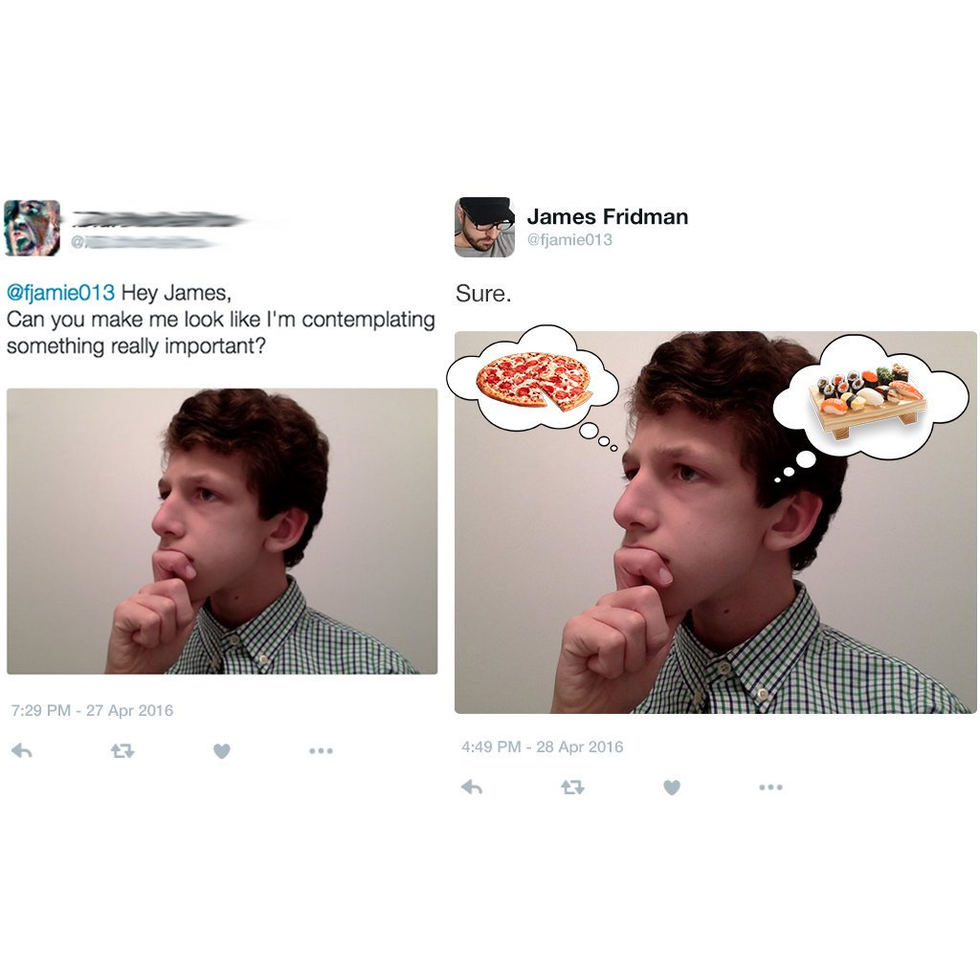 LOOK COOL
Oh my god, I now need to try that, I want to row in noodles too! The thing is I already find dangerous the waters where they were rowing in the original photo.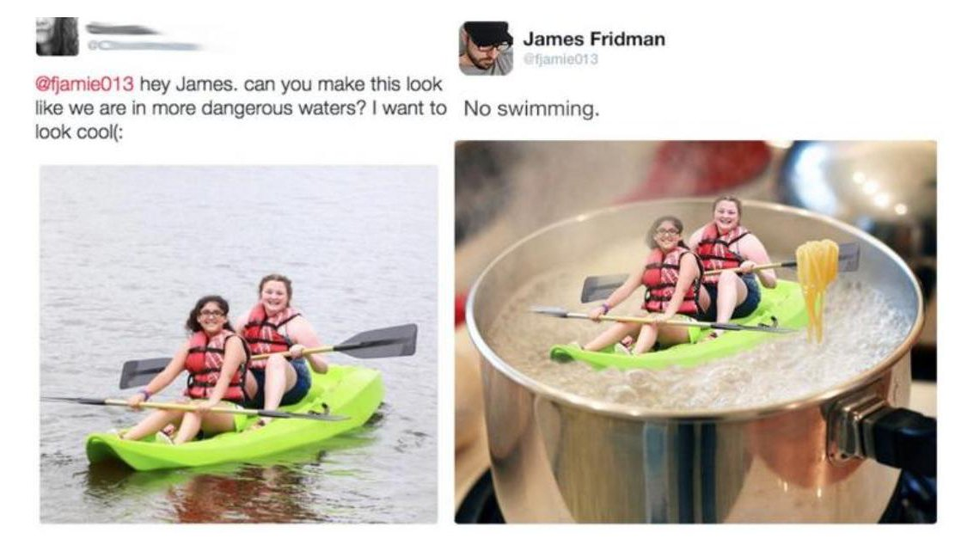 FIERCE
Hey girl, you look like you've been throwing some shade, so relax. No one likes a shady person. Just try to be nice and honest, people will like you even more. You're welcome.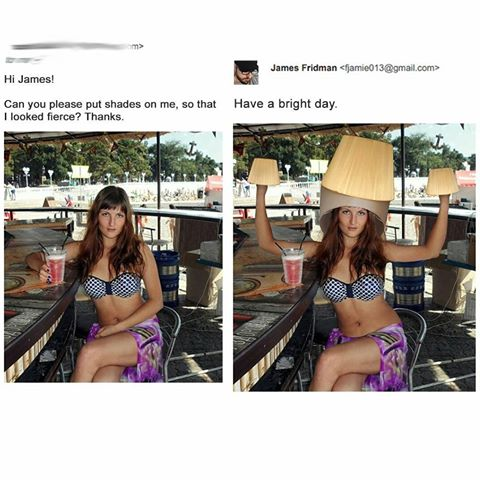 EYEFELL TOWER
Dear god, I'm really crying. This guy is beyond cool. He has a superb mind. I would never imagine this thing. And she is a lying bastard. I hate her.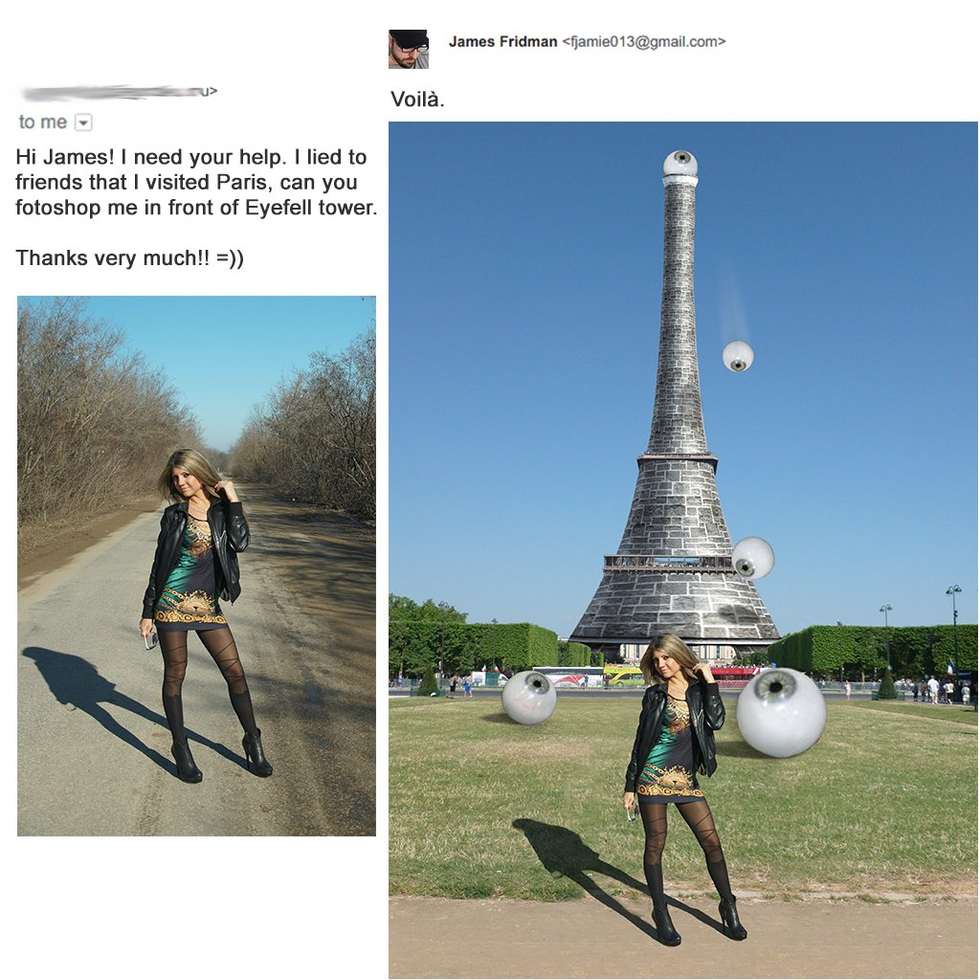 Nice Pool
Why would you be in a swimming pool wearing your underwears, Nick Marco? Don't you know there's children around? That actually looks like a sexy swimming pool or something so you can't complaint.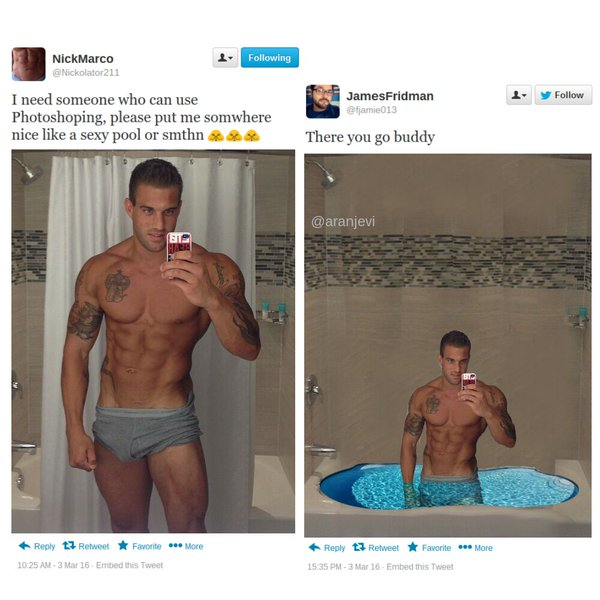 SUPER BIG
What's wrong with her body?? Maybe she just wanted a laugh. I hope that's the case because I think (and probably you too) that she looks perfect the way she is.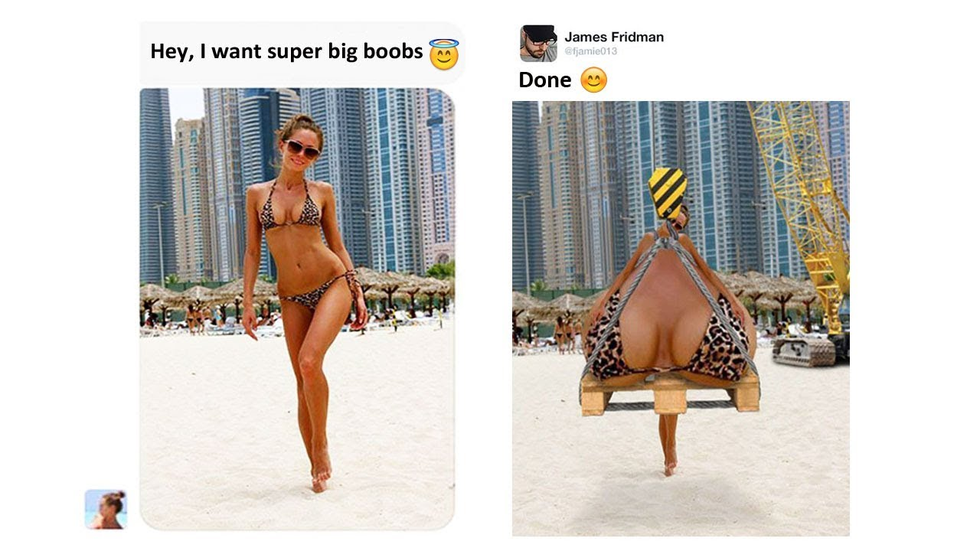 FLAMINGO
Maybe these people doesn't really know Jamie, maybe they were also trolled by a friend who told them that Jamie was a photoshop master and that he would help them to improve their photos.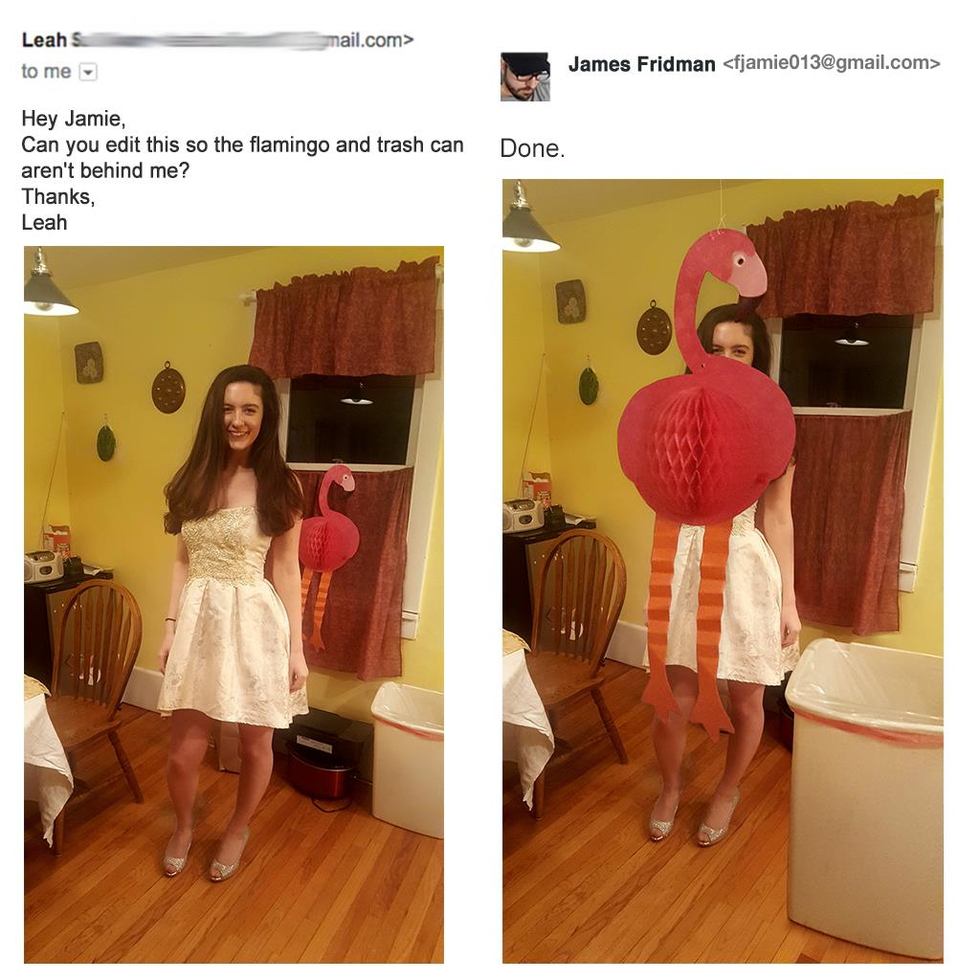 CLEAN UP
When I was his age there was nothing I could do to look badass. There was no photoshop, not even digital photography. I had to try to be a badass myself. I'm feeling like my grandad probably feels.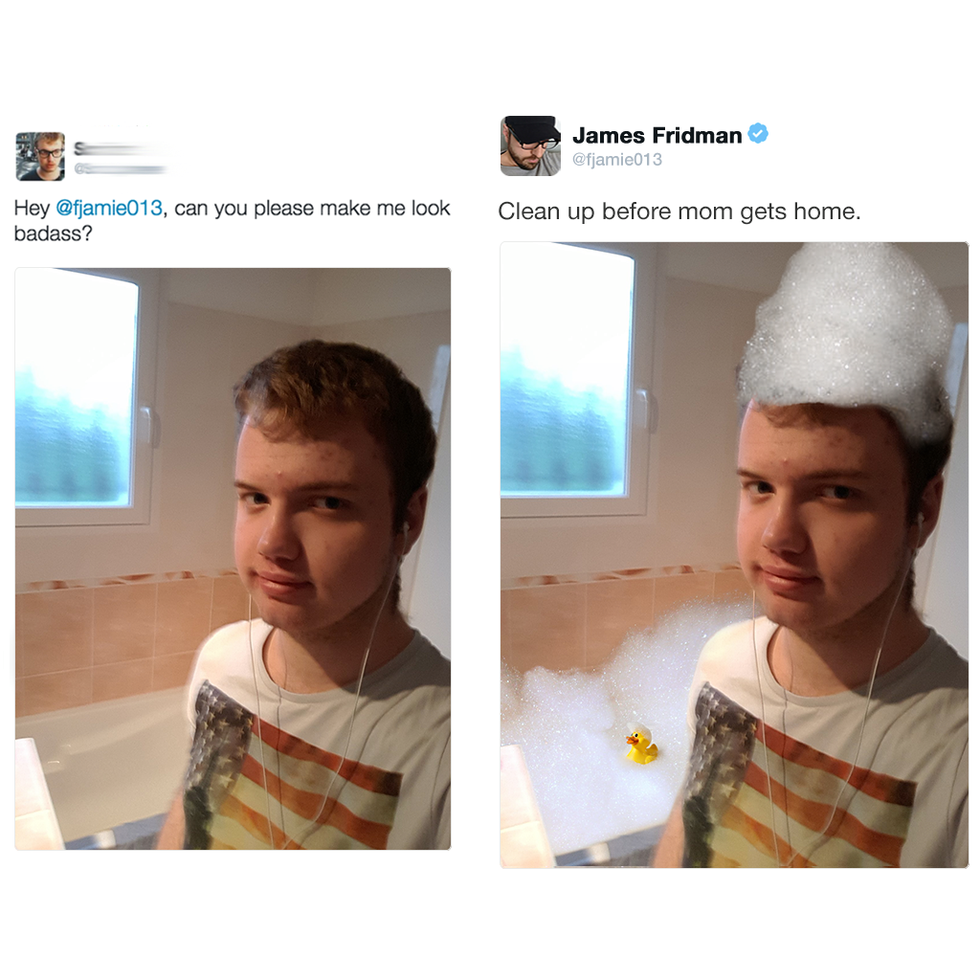 LESS ROUND
Your wish is my command, my lady. I'm really laughing because she looks like Sponge Bob Square Pants. Do you also think that there's nothing wrong with her original face?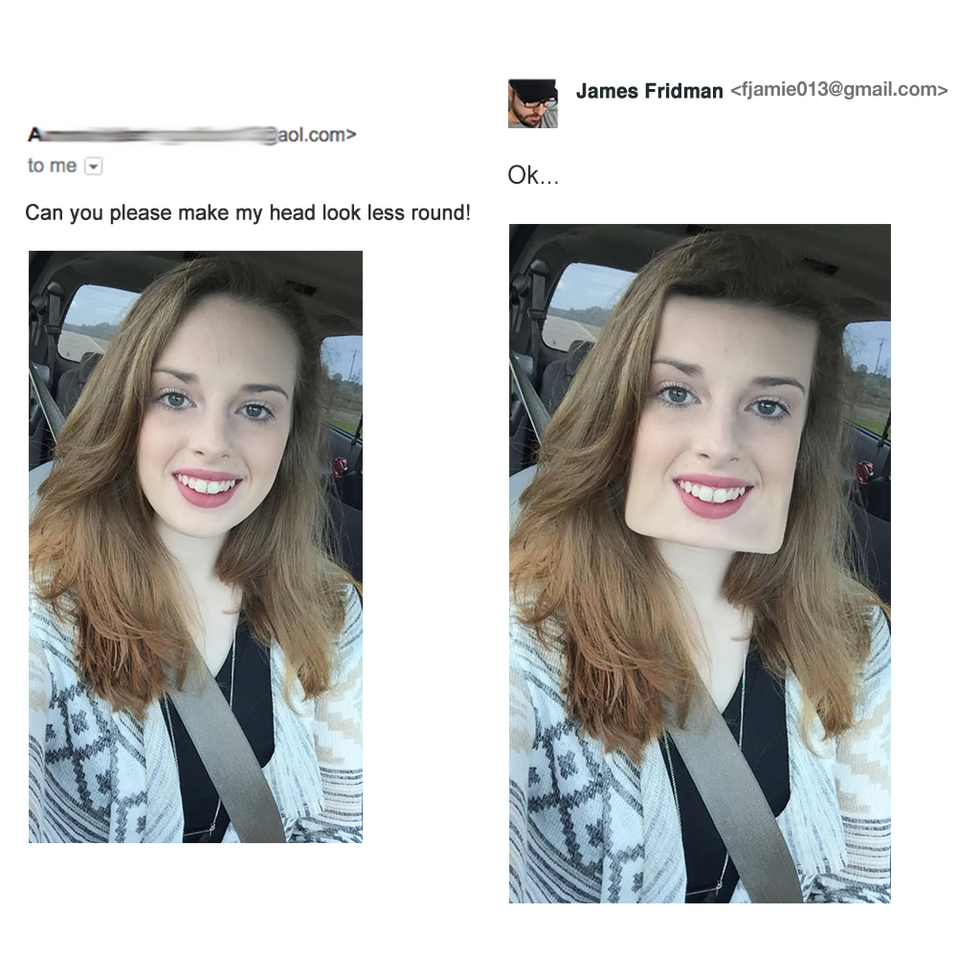 STADIUM
I spent almost an hour trying to find them and I couldn't do it. I'm sure she wanted to impress her friends by saying she is like a star or something. I guess she never watched Hannah Montana, that never works.