Cosplay (a contraction of the words costume play) is, by definition, a hobby in which participants called cosplayers wear costumes and fashion accessories to represent a specific character. But when Comic conventions around the world are taking place, this particular hobby is no joke. Every year thousands of cosplayers gather in those conventions and leave us begging for more.
You see, some of these guys are getting too amazing to be true. We selected a few photos from this year's Cosplayers and placed here in no particular order. Prepare to be amazed, tell us which one is your favorite and don't forget to share! you won't believe your eyes! here´s a collection of the greatest cosplayers around the world.
READY GO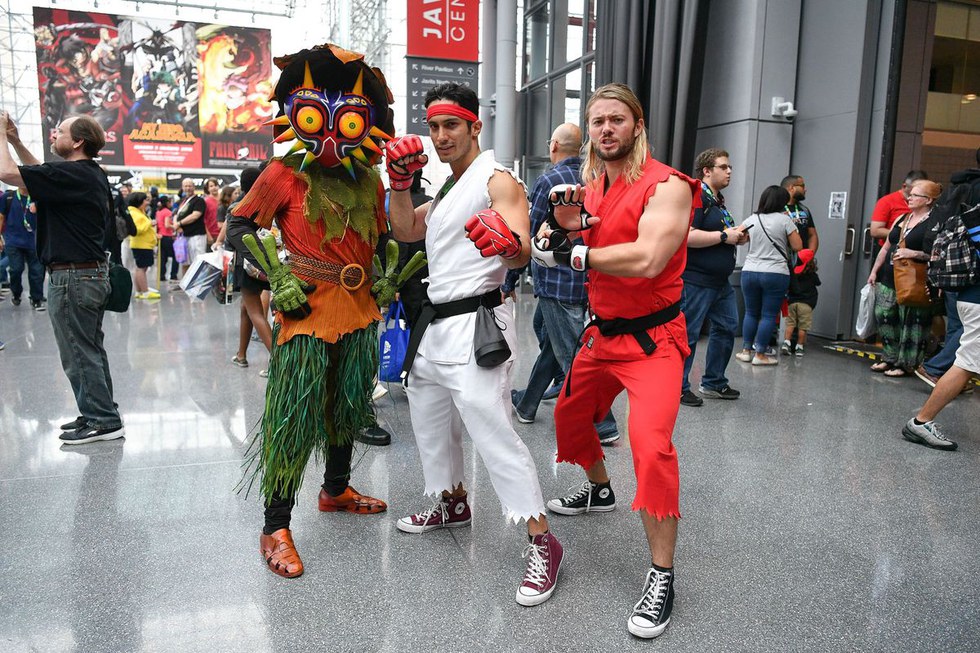 Cosplayers are taking over the Comic Convention Center and the boys are ready. Video game characters are becoming more and more popular when they choose who to impersonate this year.
HE LAST JEDI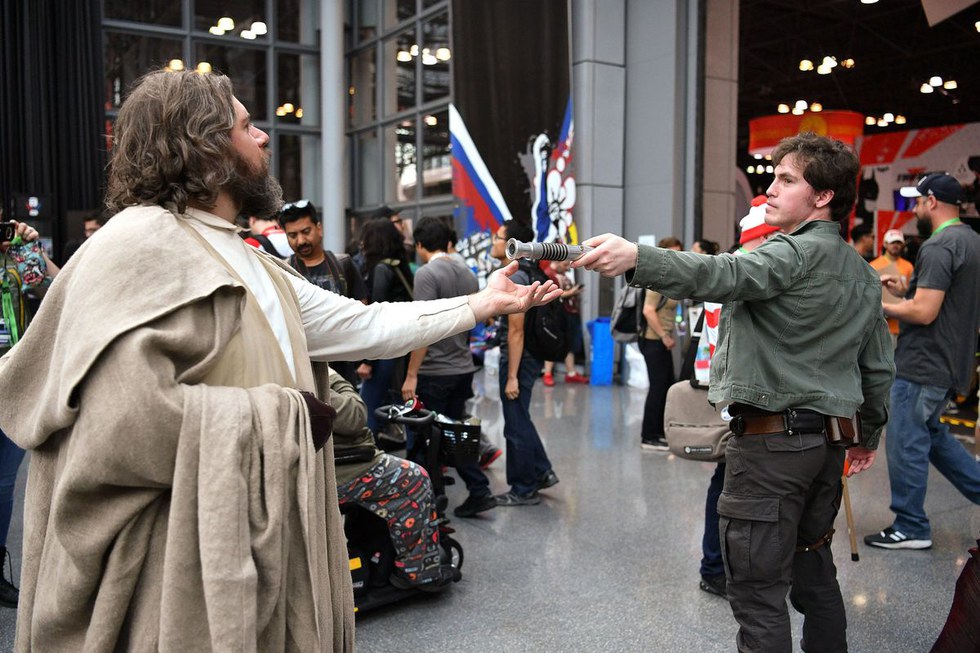 Star Wars fans are all over the place and their favorite jedi wouldn't miss a photo opportunity. Luke Skywalker returned from his own reclusion to meet his fans and sign some autographs.
MOM PLEASE.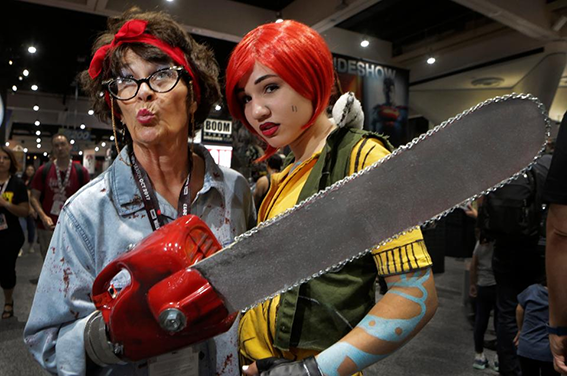 Cosplay is not just for kids. Every day we see more families brought together in this passion of recreating famous characters and scenes from their most beloved movie or book.
COUPLE FUN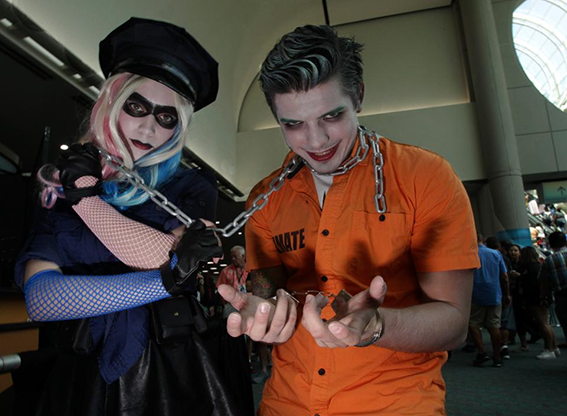 How about some fun for couples? We love to see awesome duos portraying all those amazing character we always loved. Hey! It´s The Joker and Harley Quinn! Aren't you just crazy for them?
MORE FUN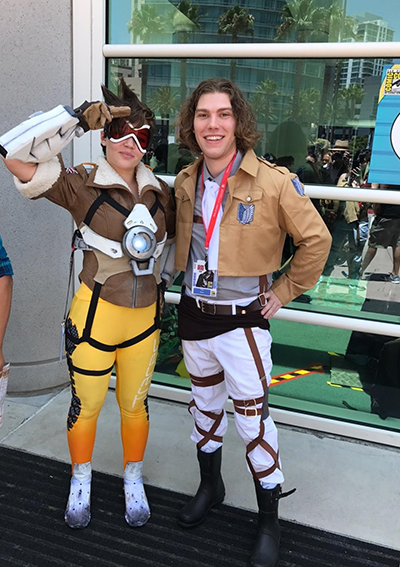 Though we are not entirely sure of who these two are supposed to be, we can see how detailed their costumes are. your job is done, guys! you are having a blast!
SHE, THE GREATEST OF THEM ALL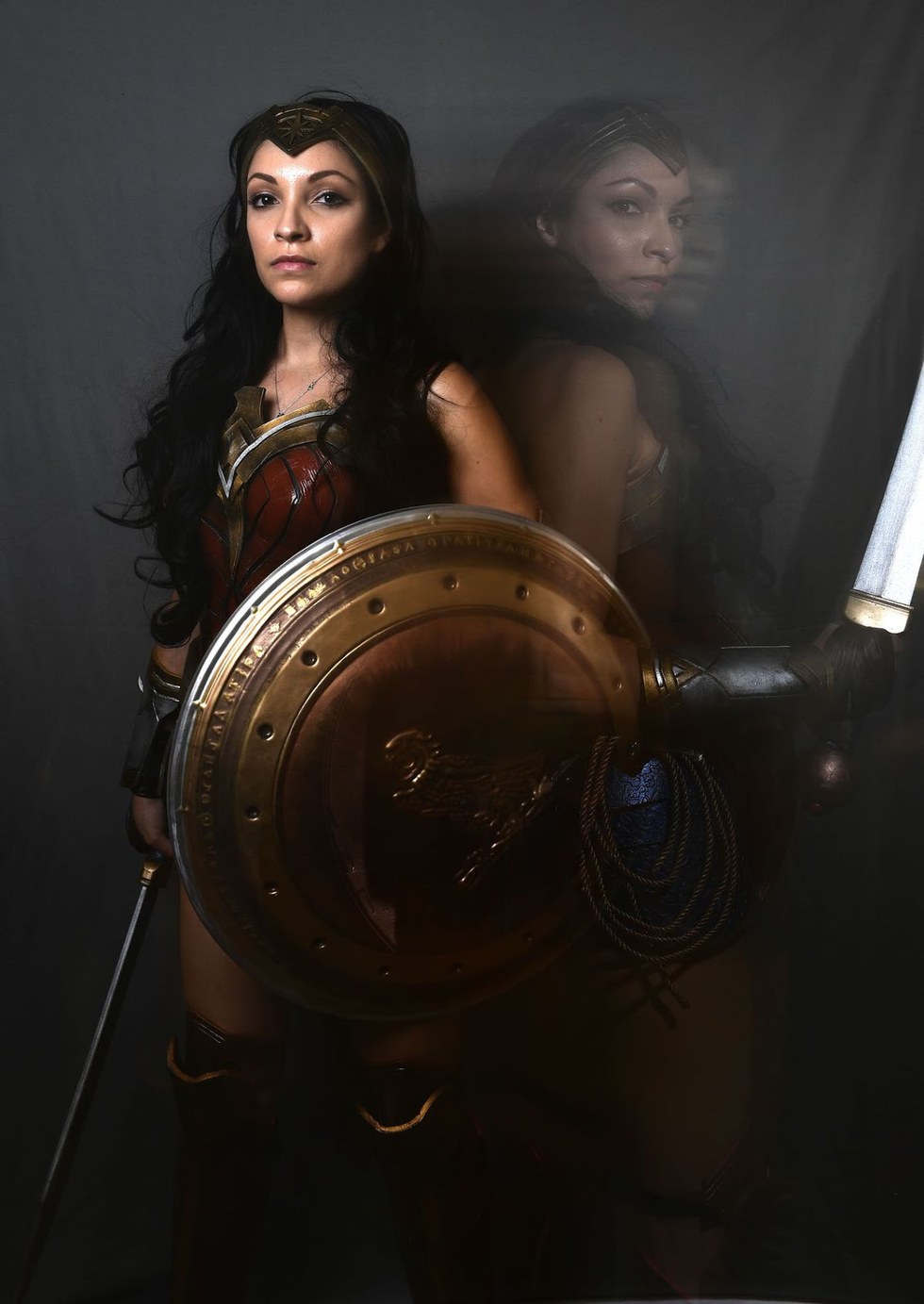 Before she was Wonder Woman, she was Diana, princess of the Amazons, trained to be an unconquerable warrior. Raised on a sheltered island paradise, AND NOW THE MOST AMAZING COSPLAY YOU WILL SEE TODAY…
ASHI AND SAMURAI JACK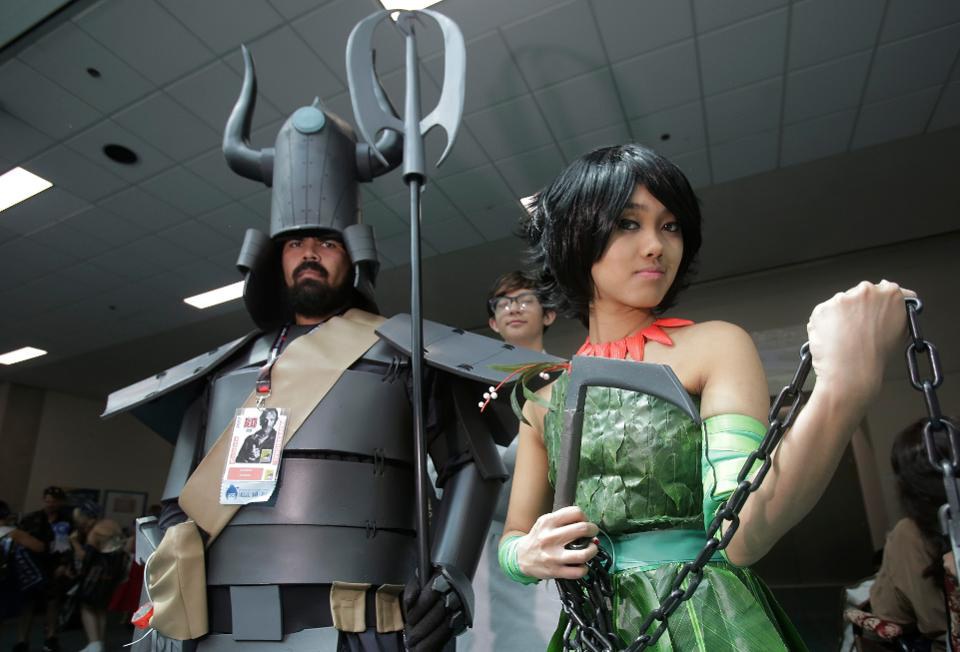 ASHIi from the cartoon show Samurai Jack is followed by a man playing the character Samurai Jack. I don't know if they were cosplaying together or if it was a coincidence, but this is fantastic!
NIGHTWING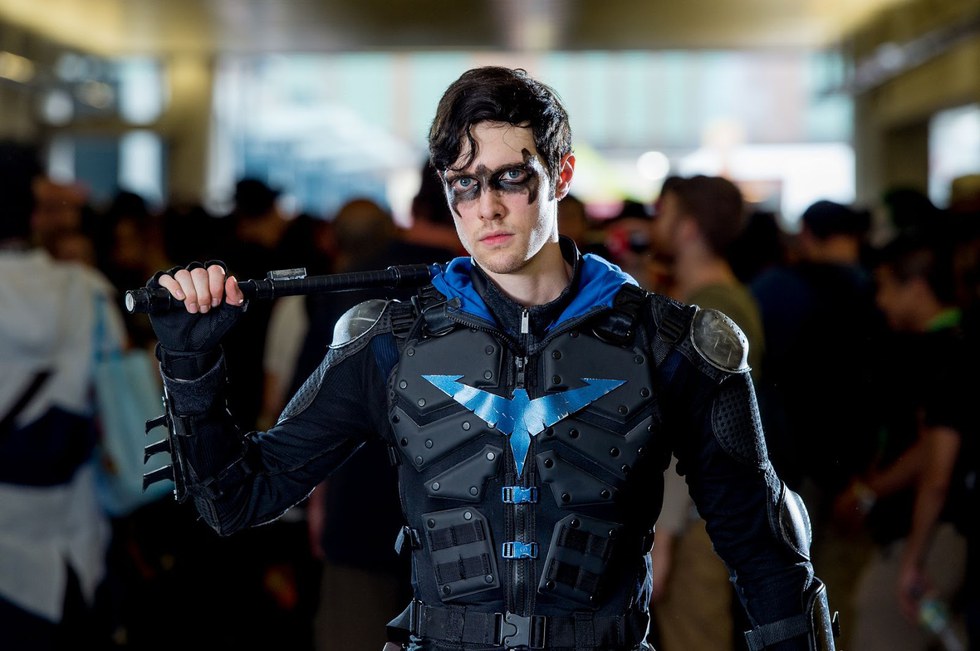 The sexiest guy in Gotham City (I'm so so so sorry Bruce Wayne!) is here. Nightwing, former member of the Dynamic Duo (yes, he used to be Robin) is all grown up and helping Batman Whenever he needs him.
ORANGE IS THE NEW WOW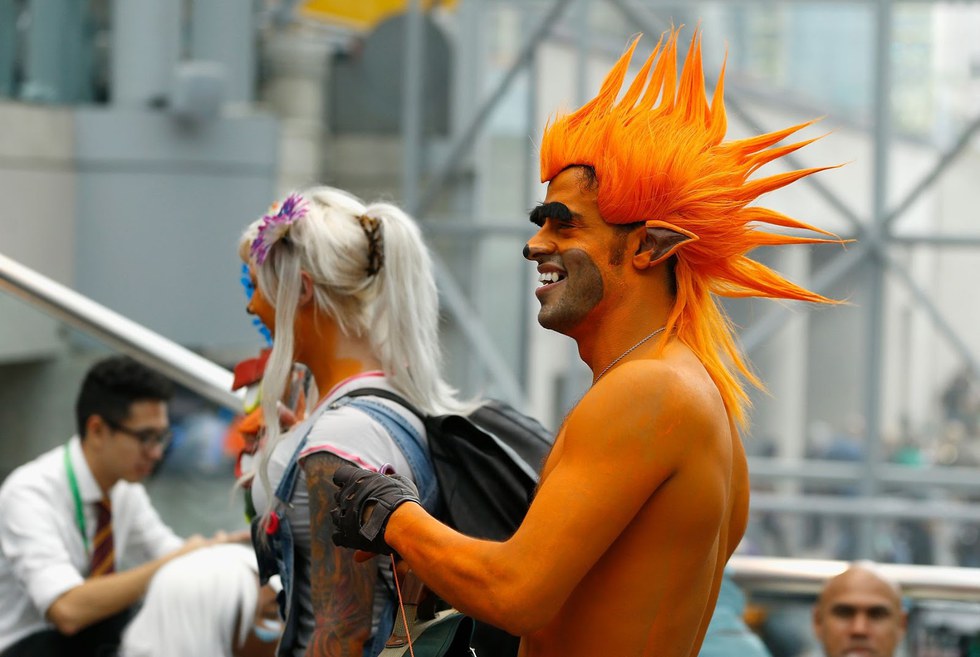 Ok, you got me here, I have no idea of what this guy is supposed to be but, hey, he is covered entirely in orange paint, that´s a great start don't you think?
SUPERMAN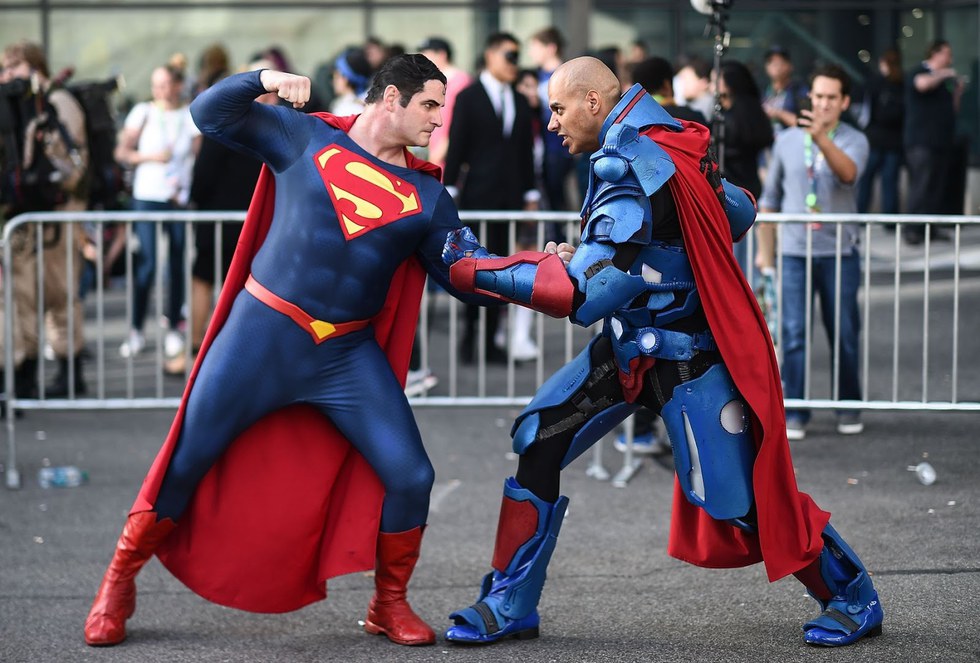 As far as dark, twisted shadows go, Superboy Prime (the guy on the right) may not be our favorite character. Great cosplay, though. And Supes is super hot, everything we need is there already.
THE HAWKS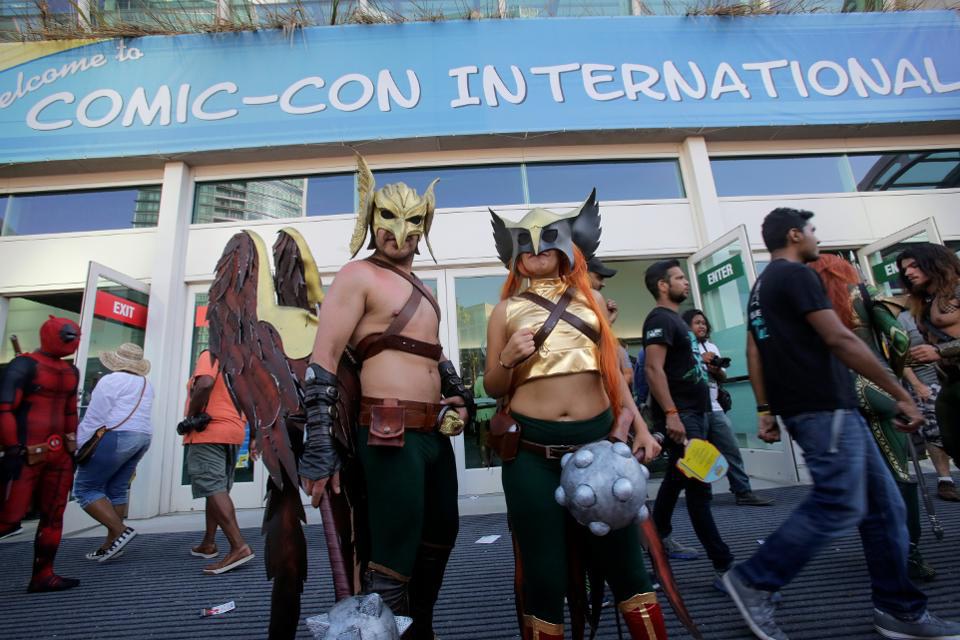 All props are on its place, cosplayers all over the world spend fortunes on ebay trying to find the perfect accessories for their costumes. If they can't find it, they build it themselves.
GROUP FUN1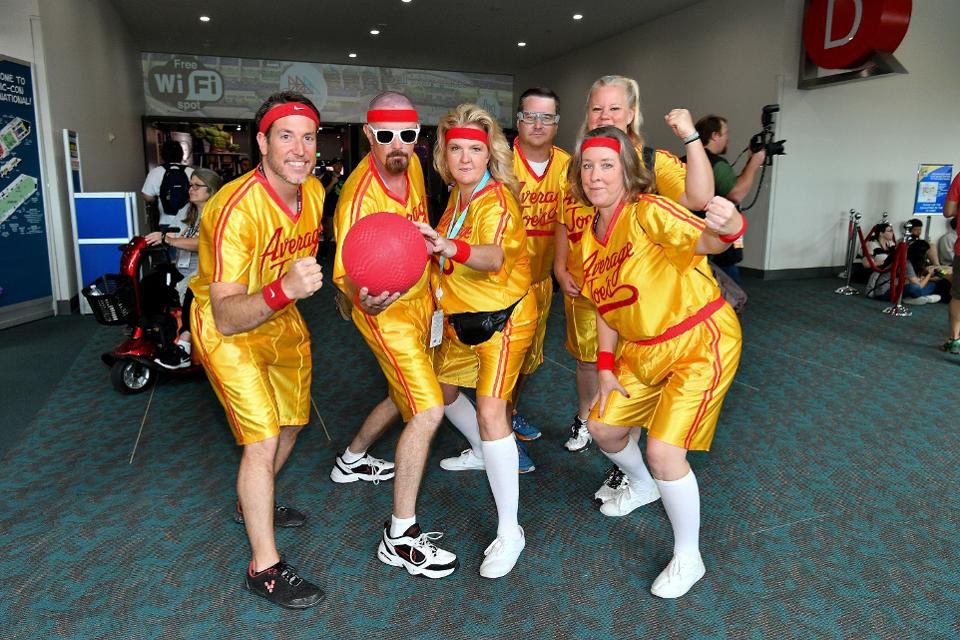 It doesn't matter where the characters displayed were born. Just make sure to have fun with your friends. It is pretty common to see a group of people stageing all together a scene from a movie.
CONTEST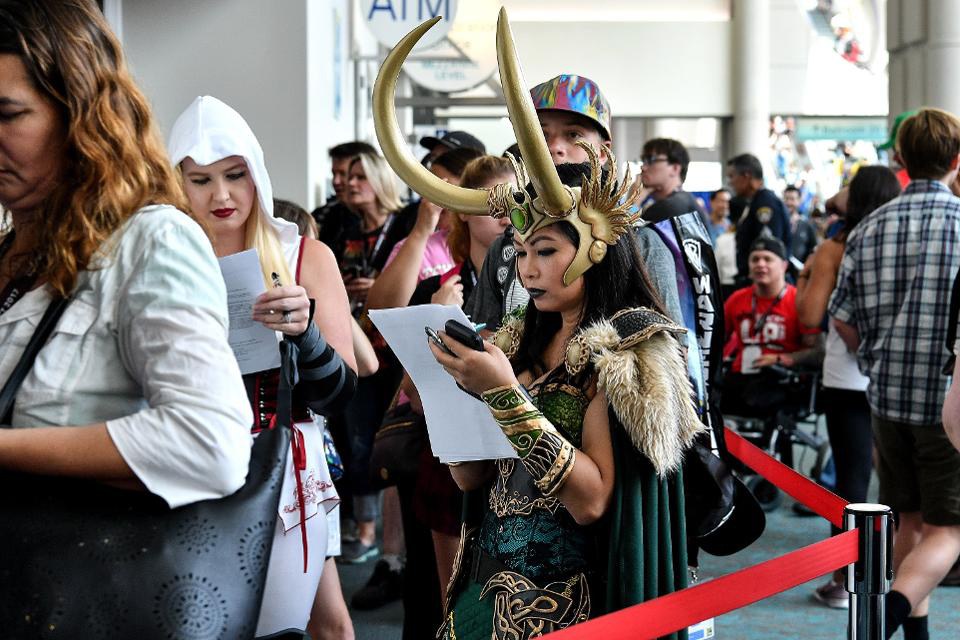 You can always apply to a cosplay contest while at comic con, even winning a great prize. But the real fun is to walk around the aisles of the convention celebrating your favorite character.
PICTURES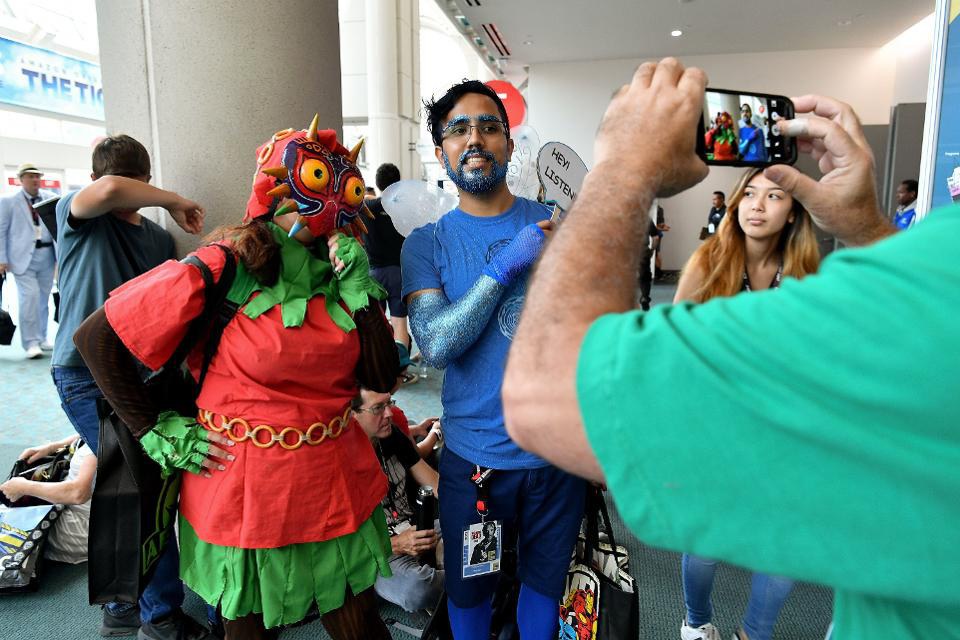 Hey! we've seen this character before! another fun thing about doing cosplay is to pose for a million photographs from absolutely everyone who passes by. The better your costume is, the more photos are requested.
WHO IS SHE??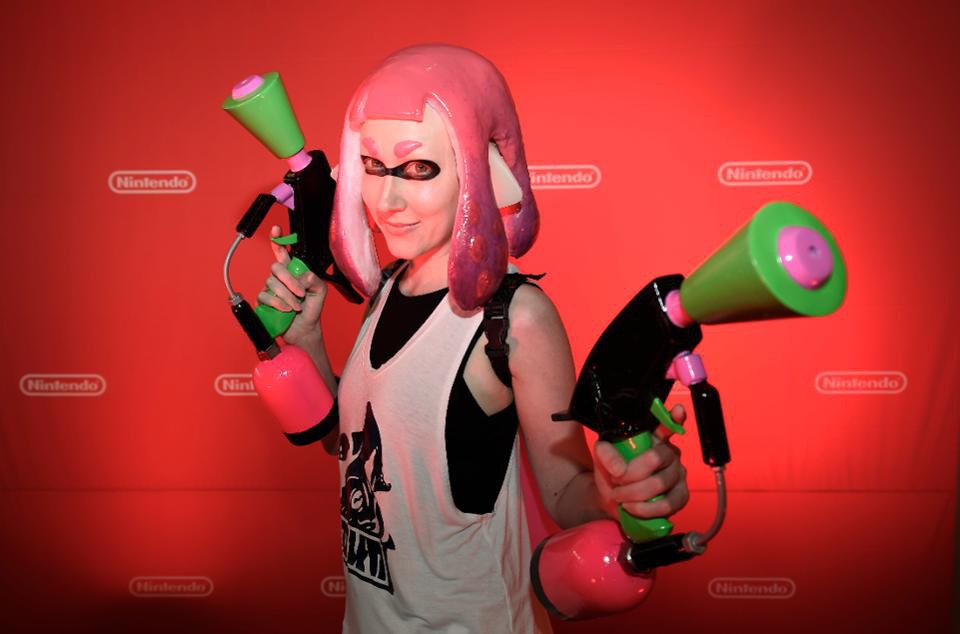 Her name is Heidi O'Ferrall she is now dressed as a Splatoon 2-inspired character and she is killing it! So awesome the way you have no clue of where the real Heidi ends and where the mask starts. Great job!
A GOOD CAUSE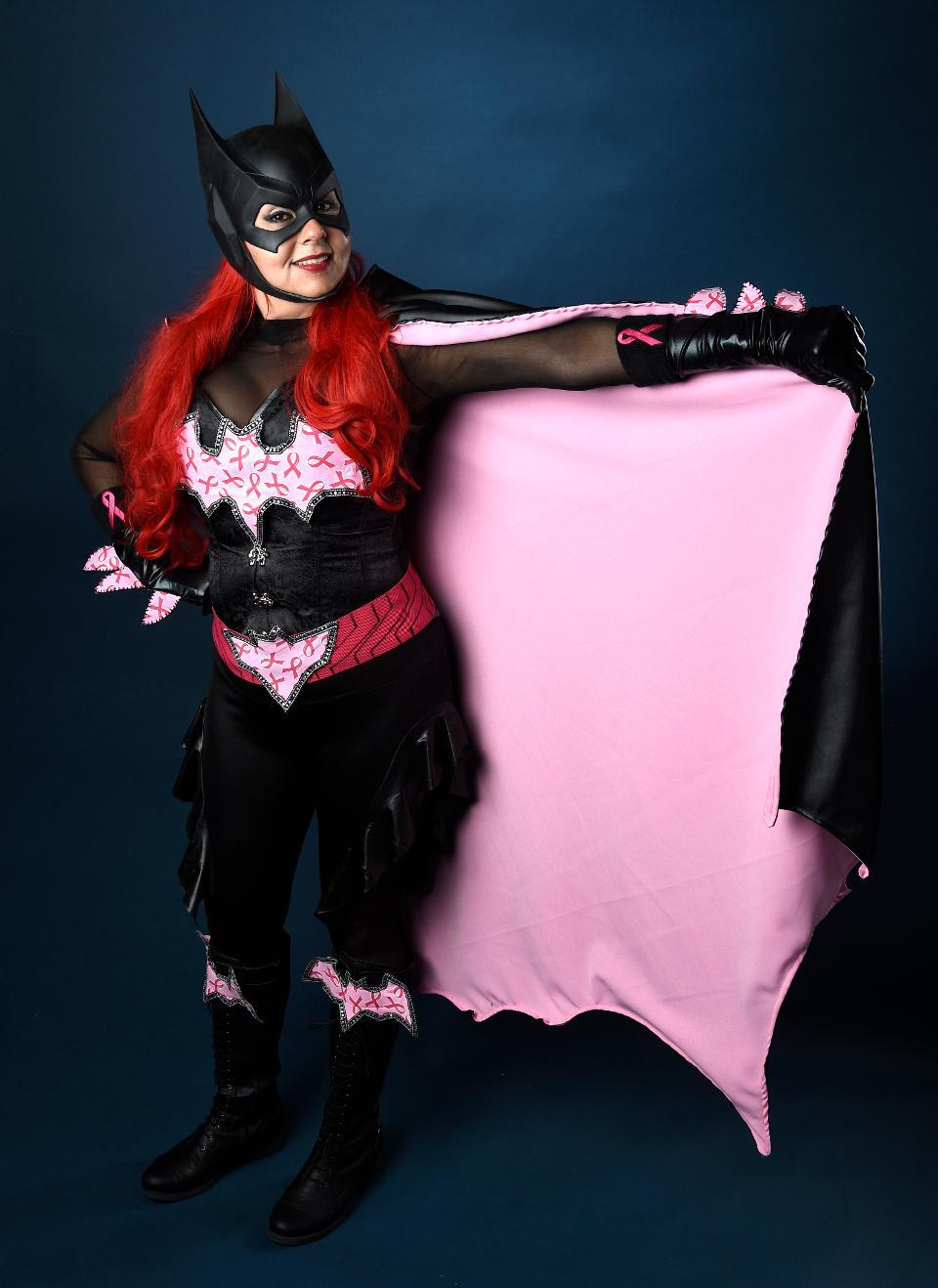 Aurora Ortiz, is dressed as Batgirl, but modified her costume in support of Breast Cancer Awareness. Some would say she is not being true to the character she is displaying, I say it was a great idea.
POISON IVY IS IN DA HOUSE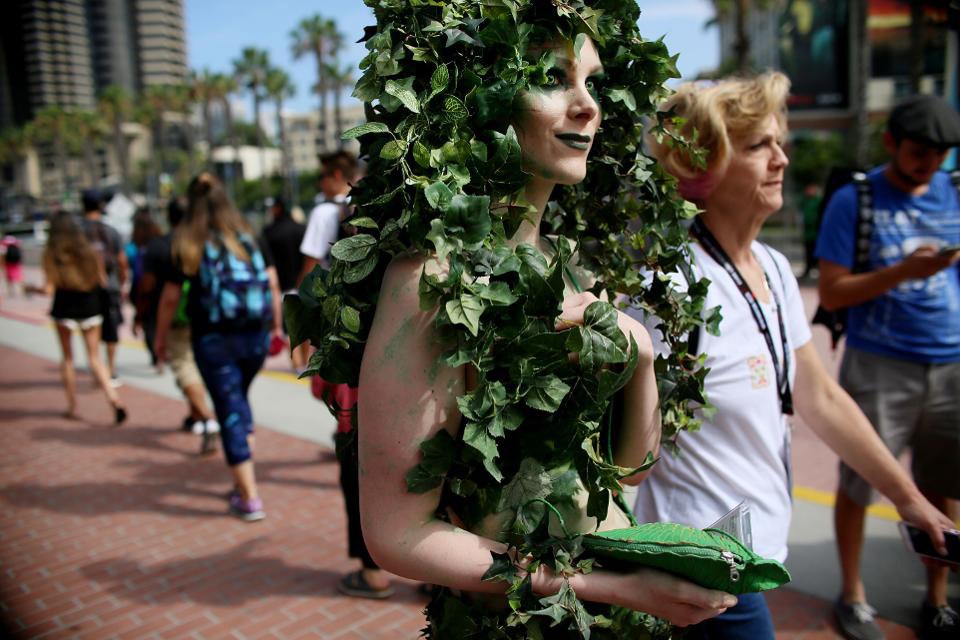 Don´t ask me why but Poison Ivy has been my personal favorite villain since I was a kid and this one in particular won my heart. Please, beautiful lady, marry me!
MARKETING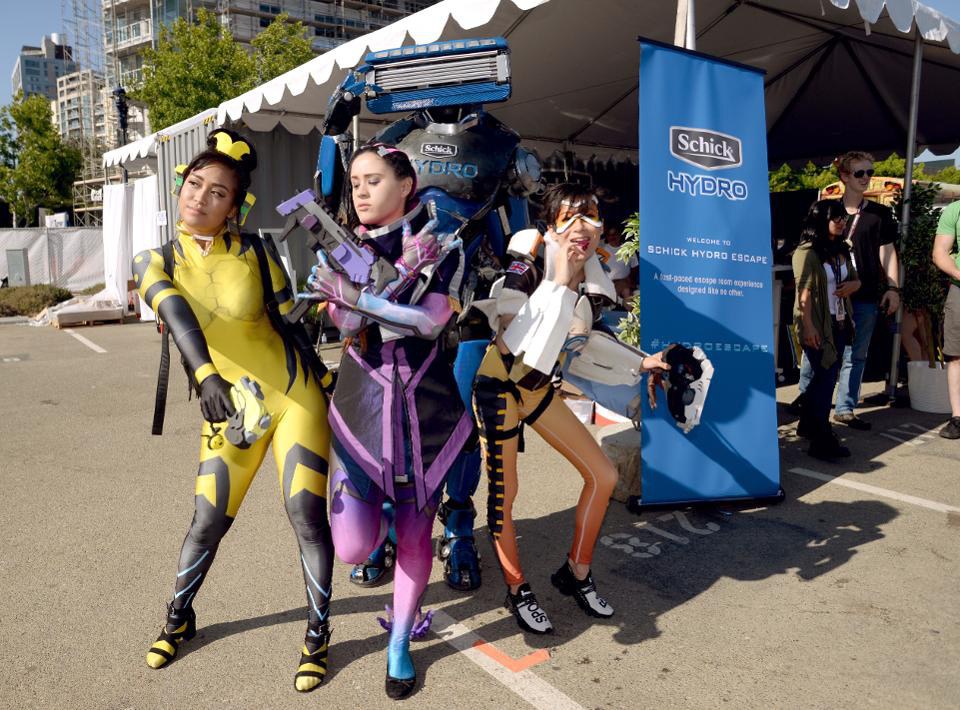 Brands from all over the world now understand they have to be at the game to play the game. Here, a razor brand is cosplaying one of their promoters as an actual razor machines.
A COSPLAY FAMILY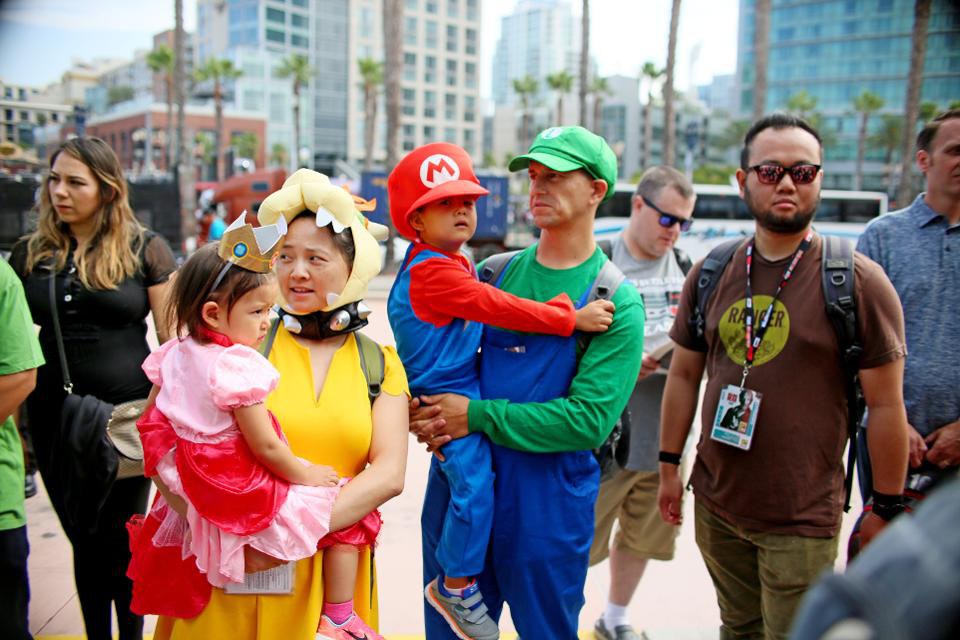 Mom, dad and the kids are making of cosplay a family affair. And they look too adorable! I wish my dad had brought me to one of those conventions when I was a little child, if they'd existed then.
PORTRAITS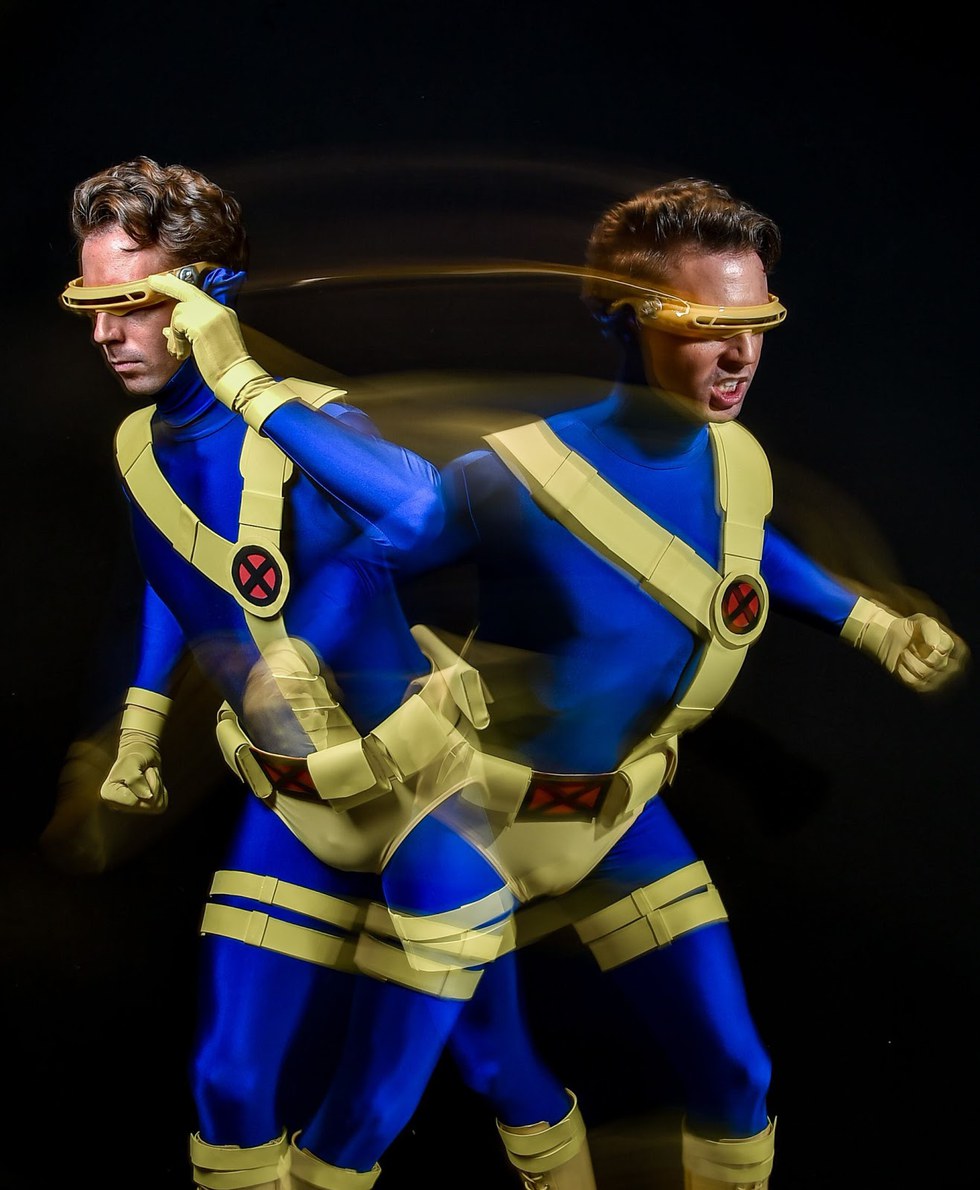 If you are good enough you could be selected by some of the sponsors to be professionally photographed for the official portraits of the convention, like cyclop, the one above.
BATMAN VS SUPERMMAN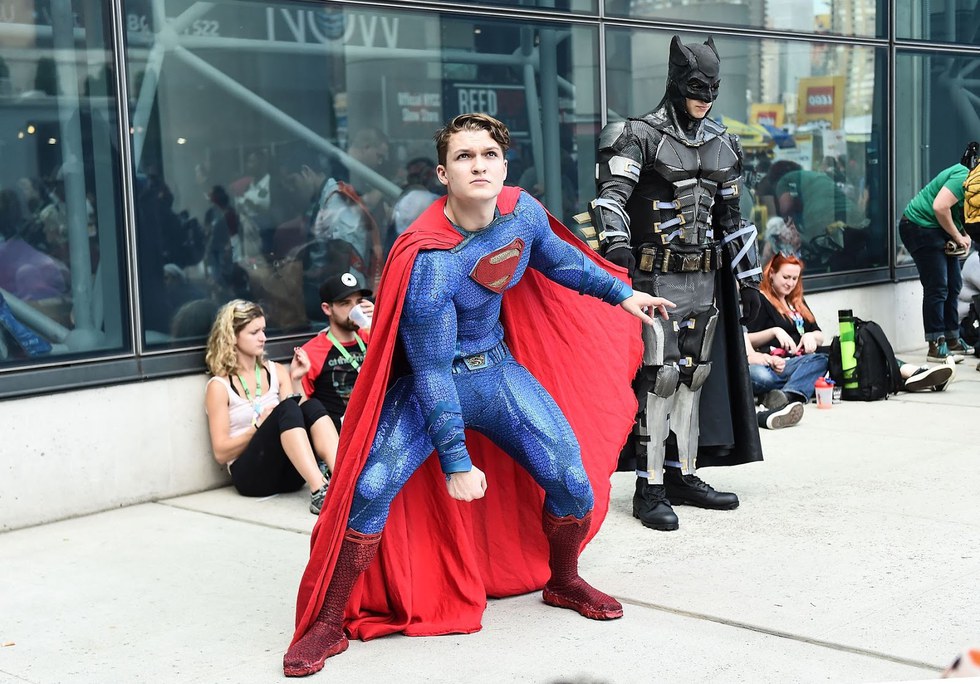 A good cosplayer is always taking care of the details and they are very specific about which version of the character they are impersonating. In this picture, both Batman and Superman are wearing distinctive elements from the mayor movie.
RIP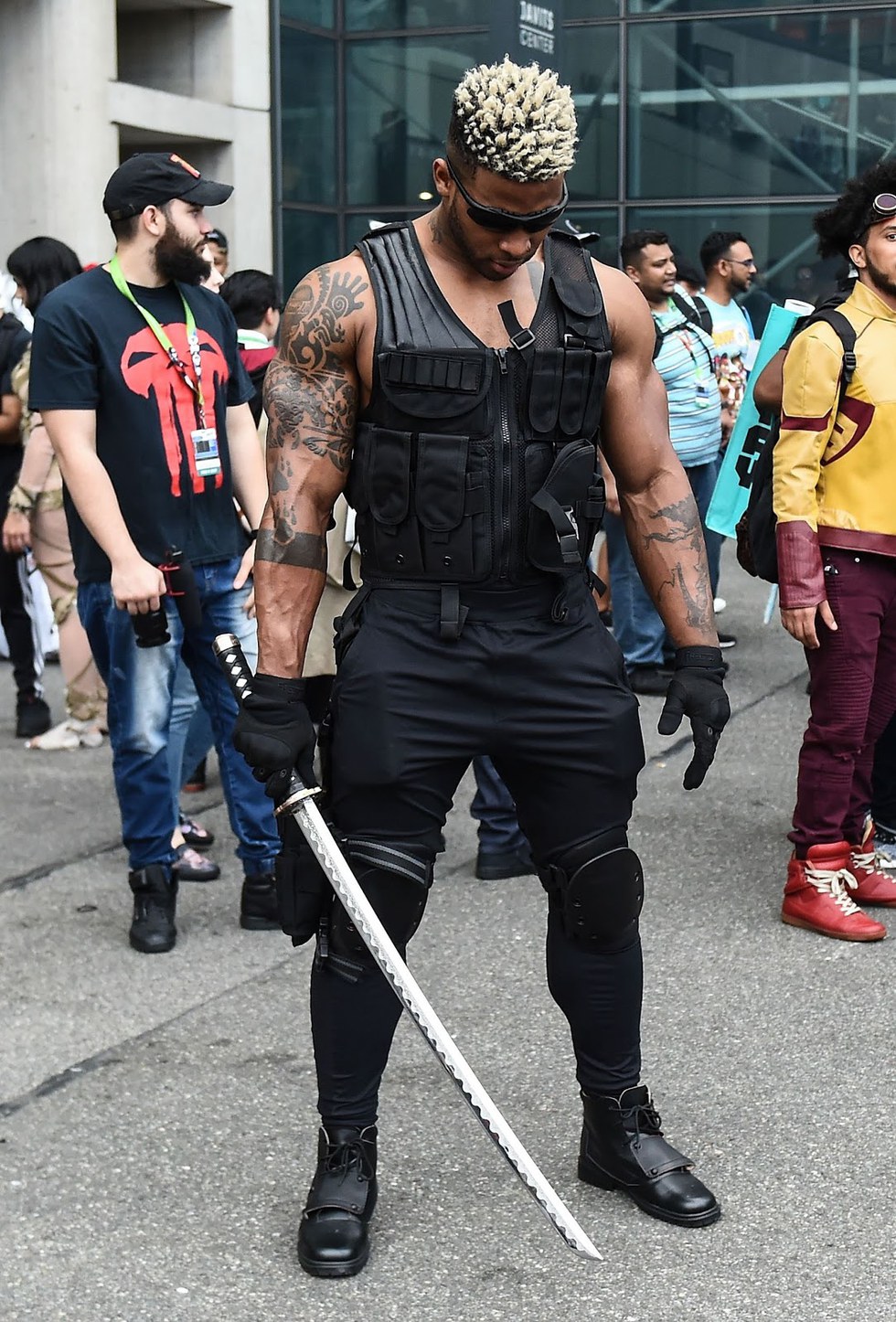 Guys with smocking hot ripping bodies are always ready to display some guns. And their choices of cosplay are always right. Who wouldn't love to show off some fire muscles if we had them?
OFF WITH THEIR HEADS!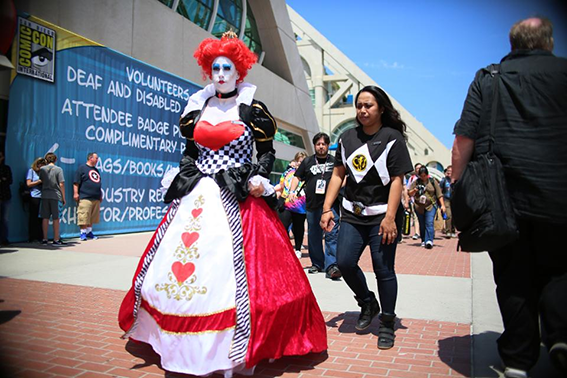 Not even Her Madjesty the Queen of Hearts herself wanted to miss a comic convention. There will be a lot of head rolling if she gets there late. Crazy lady!
BANANA BOY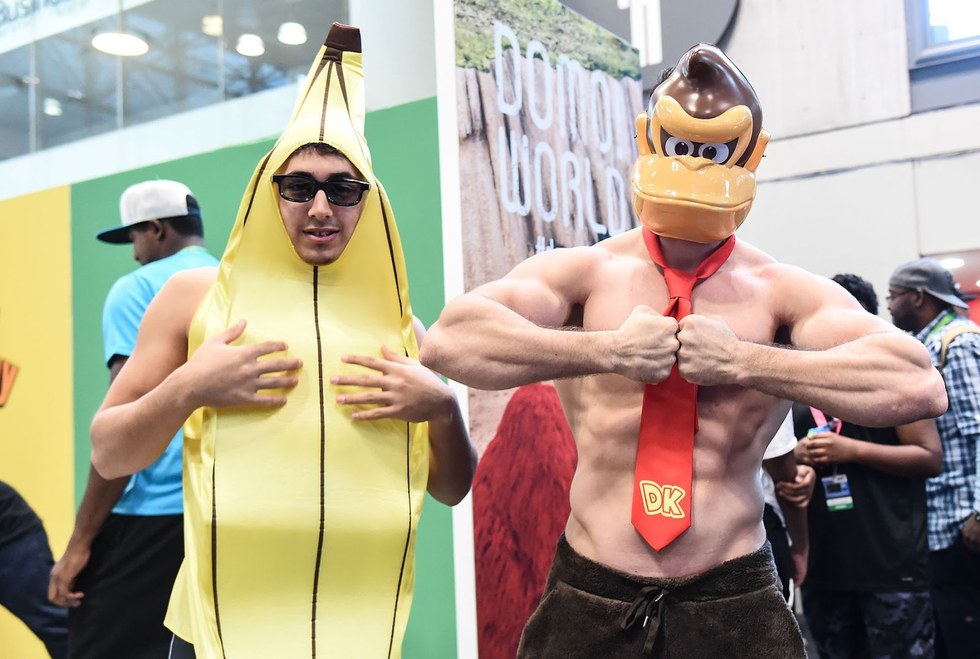 Yes, I told you ripped guys love to show off at Comic Con, but this Donkey Kong cosplayer went for the extremes. Quite Hot I must say, but, sweety, try a little.
MOVIE POSE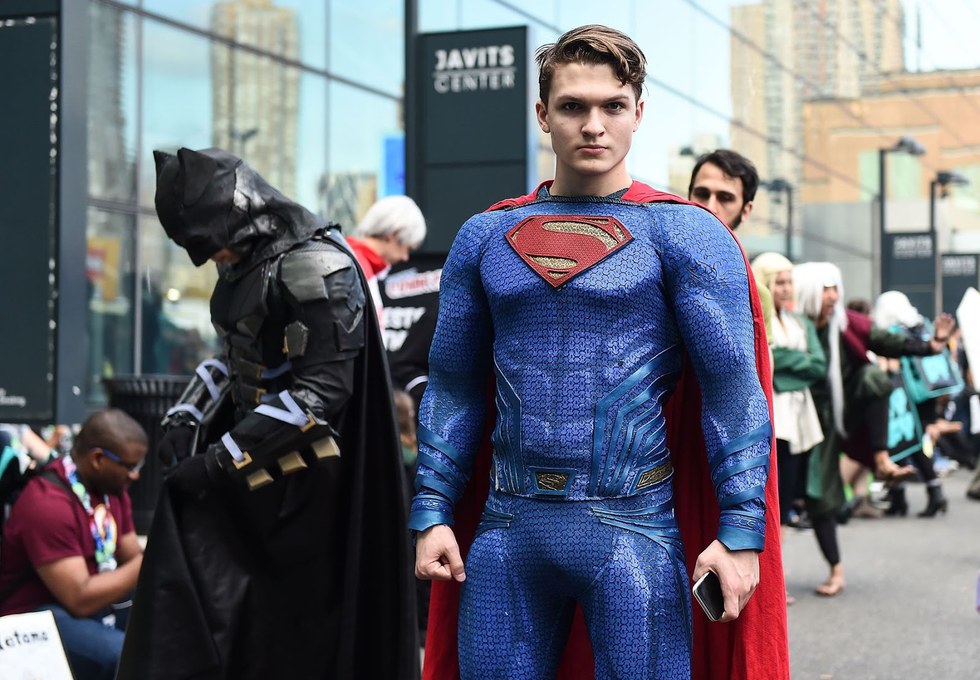 Another fun thing (yes, another) of cosplayers is the ability to recreate movie posters, scenes and vignettes from famous pictures, series or books when someone is taking their photo. This guys are doing one of the Batman v Superman Dawn of Justice promotional images.
DRAGON BALL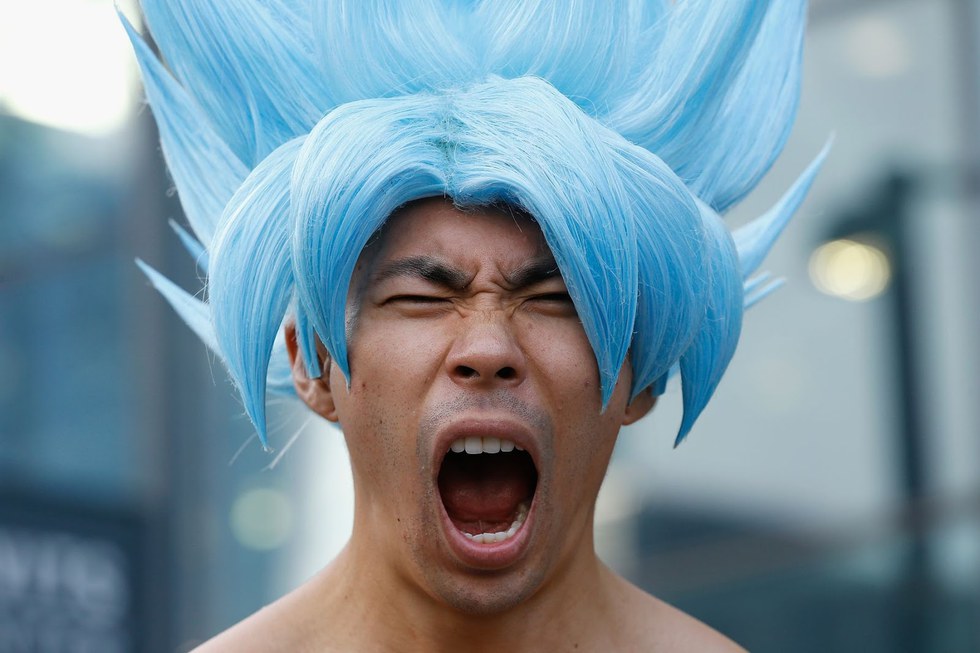 I´m not sure if the guy in the picture is doing Dragon Ball but look at that wig, I have no idea of how they do it, but if any of those guys from the DB universe were flesh and bone, that´s how their hair would look like.
MARIO KART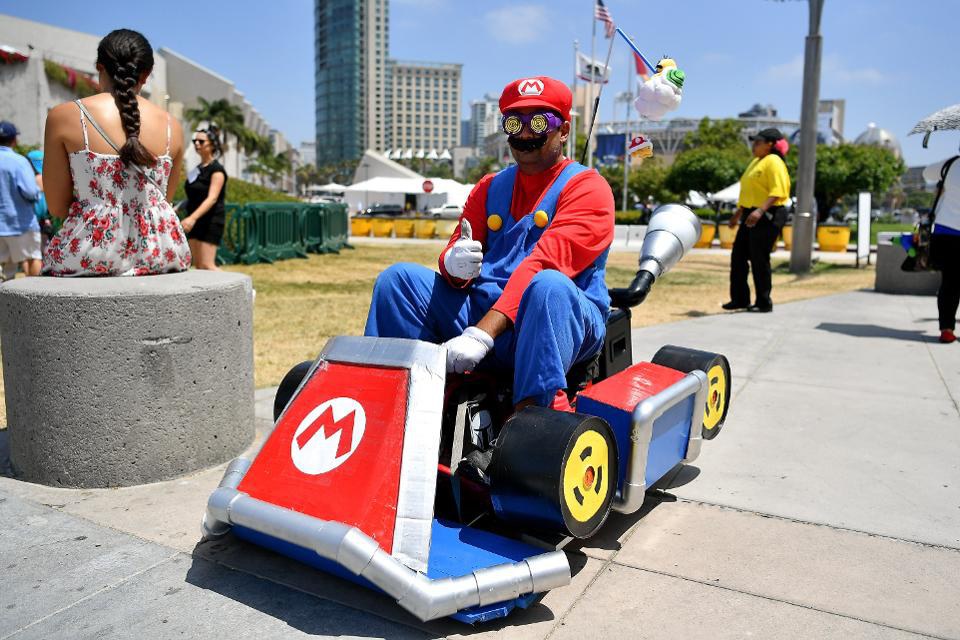 Super Mario Kart might not have been my first choice while asked for my favorite video game, but after seeing all the details this guy got on his costume I am really looking forward to get home and turn that old console on for a ride.
GETTING READY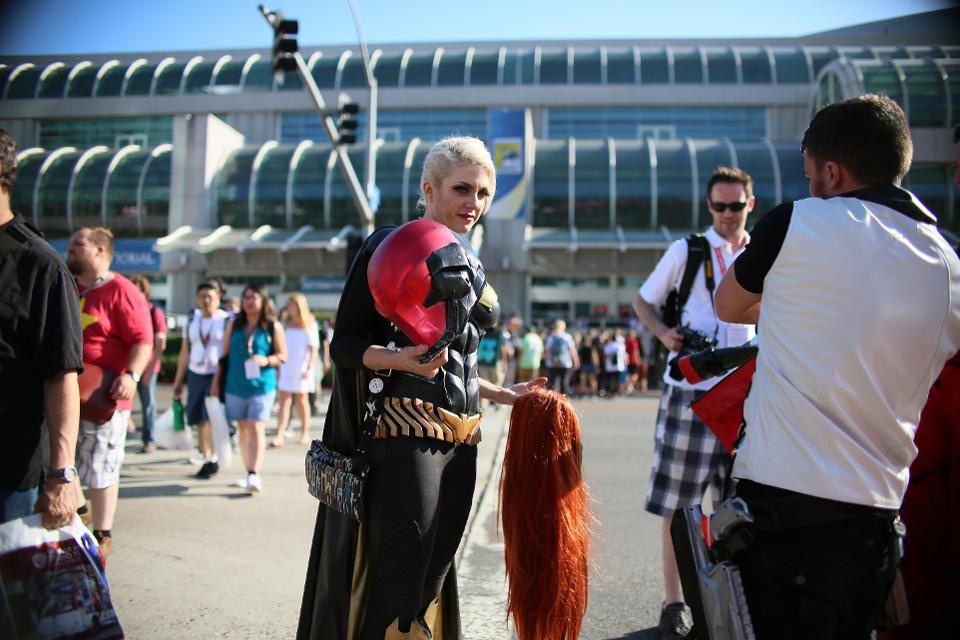 We know, darling, it's too damn hot outside and you are allowed to carry your wig and helmet like that, but once you get inside the Convention Center you are becoming your character. We know.
COLORS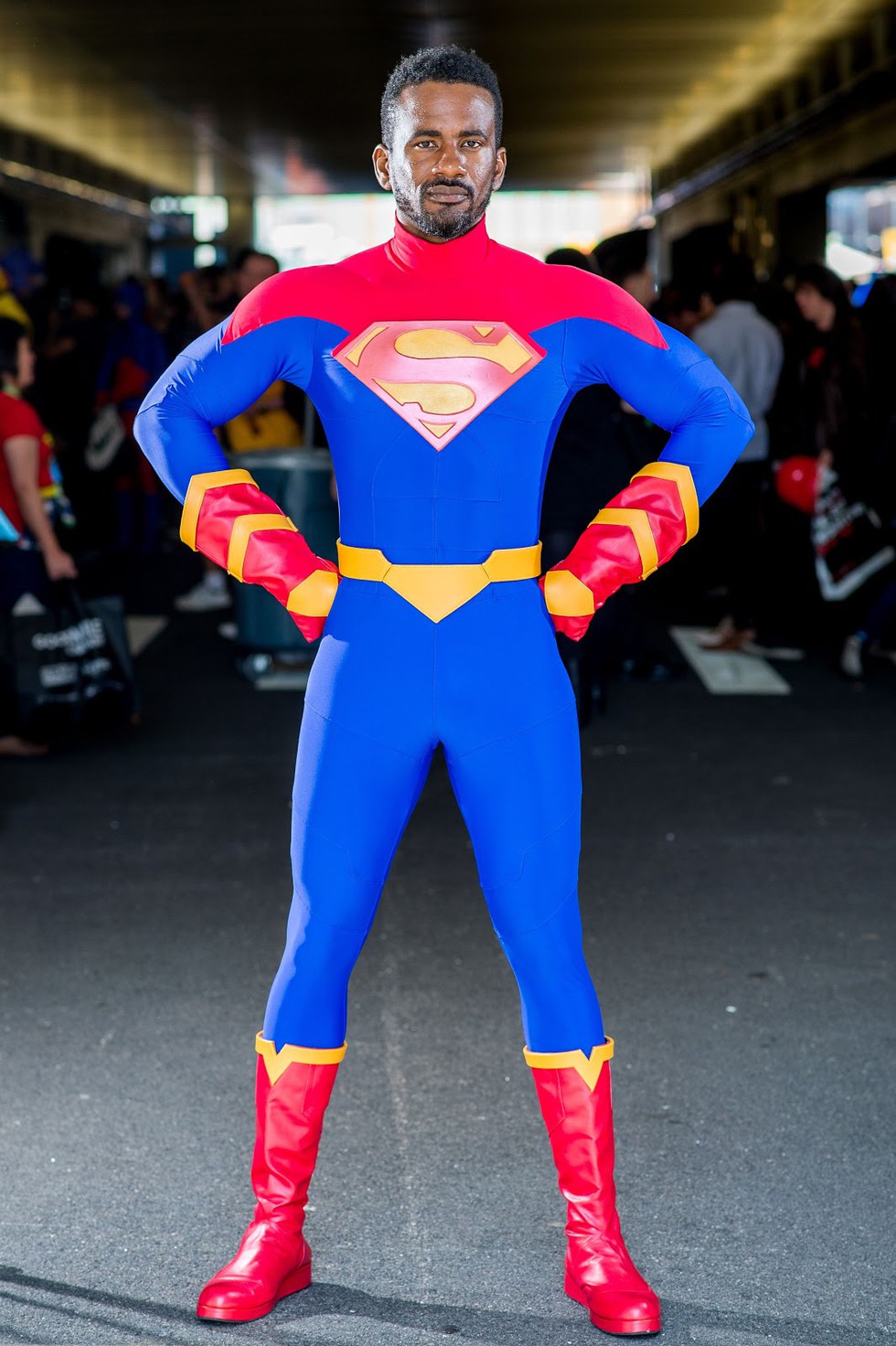 I love this one! The amazing colors in this guy´s costume are like taken from an actual comic book page. It´s brilliant, stunning and so damned sexy! Just like our kryptonian hero.
ELEMENTS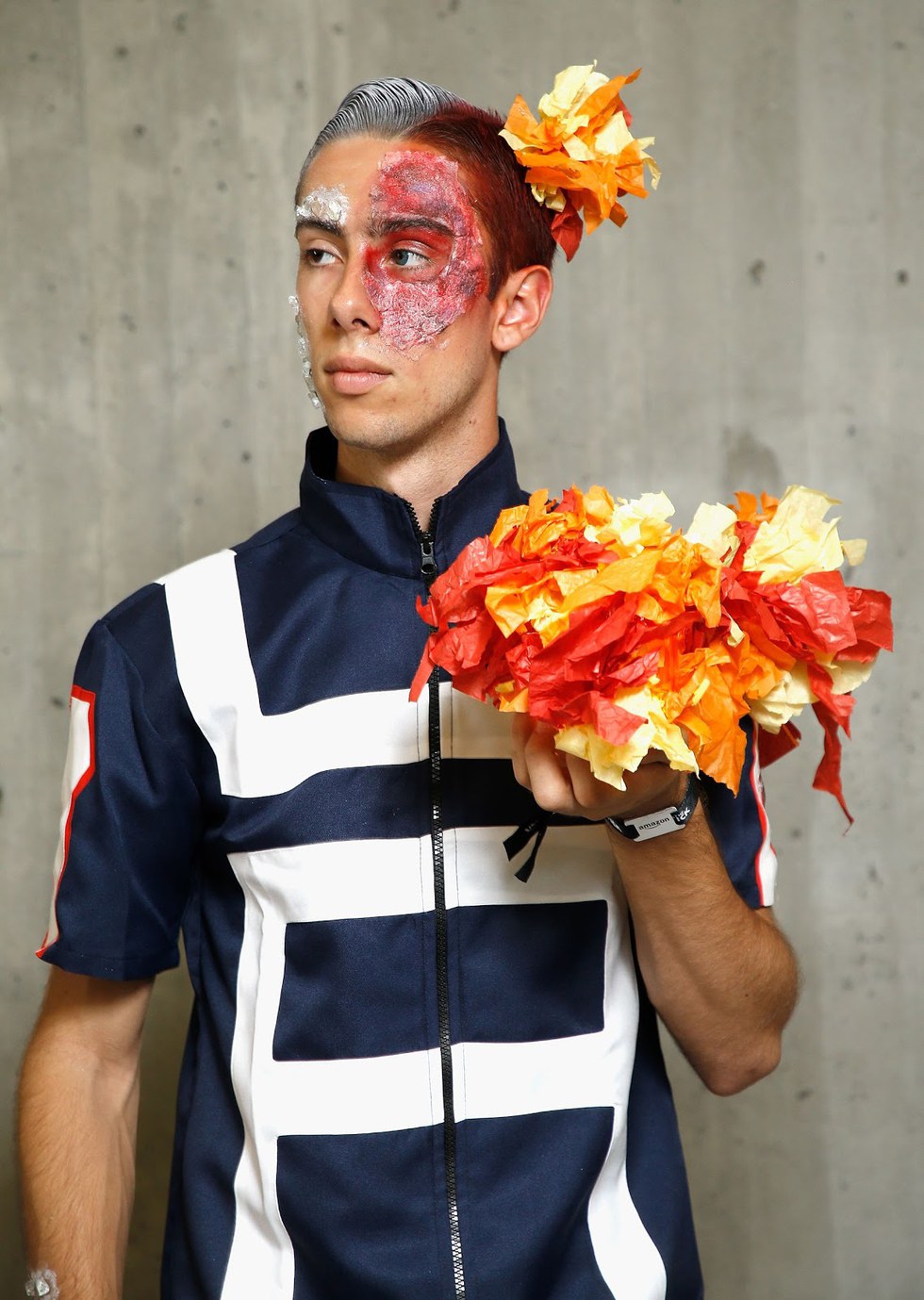 Elements are represented in the most clever ways. Cosplay knows no limits. Look at this guy representing fire and ice all over his costume. Challenge accomplished! We have a winner.
GENDER BENDERS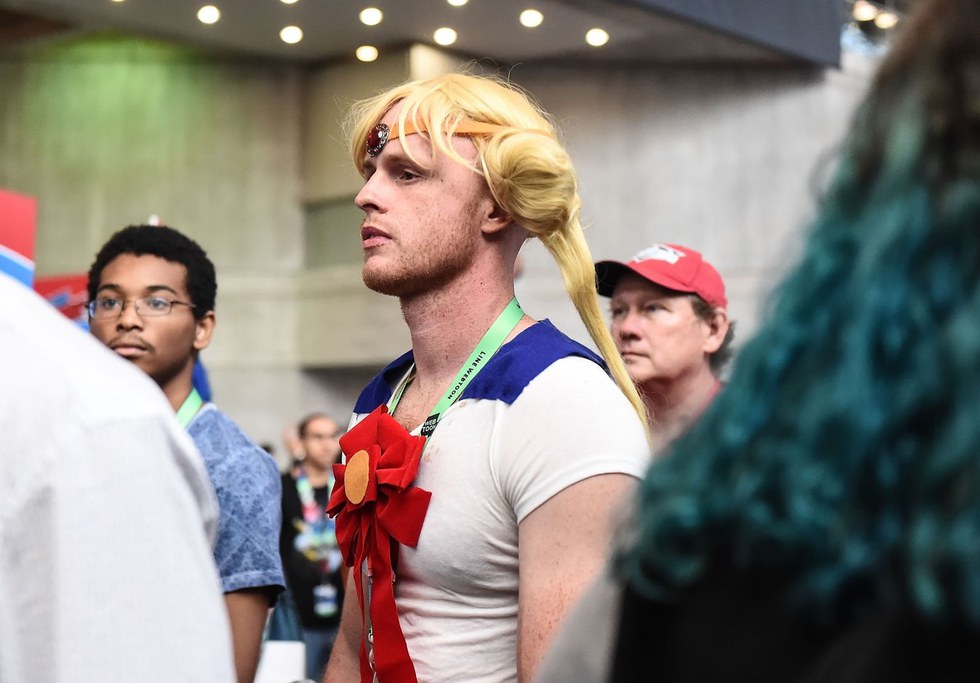 Cosplay knows no gender and everyone is free to pick their favorite character to represent. There is also a Gender Bender category where cosplayers creatively create a costume representing a character in the opposite gender.
NO MATTER WHAT HAPPENS: HAVE FUN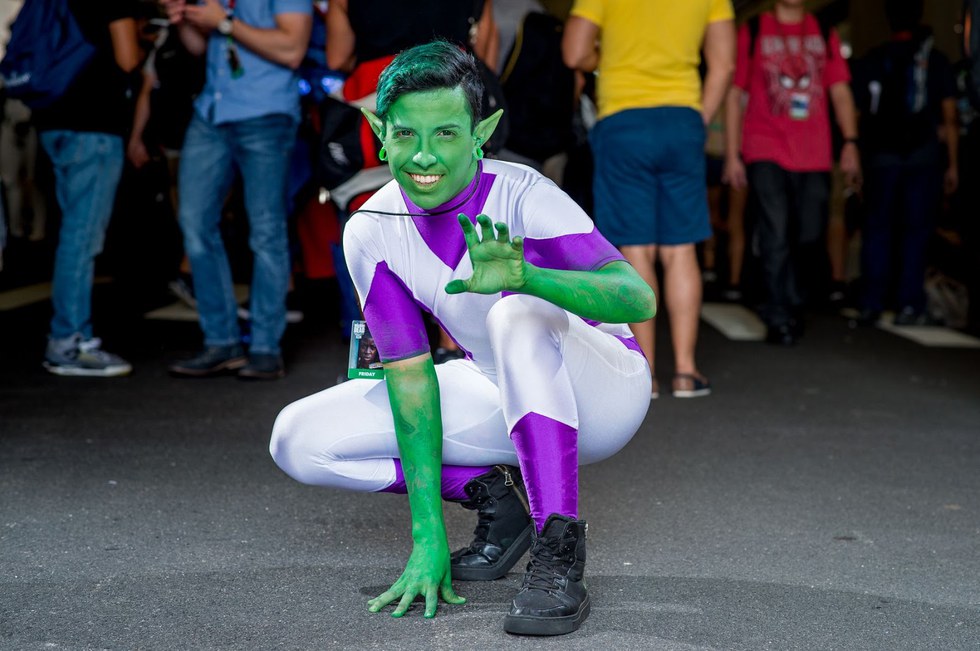 It could take long hours for a cosplayer to get ready.. But once the full costume is ready, he/she will have the time of his / her life . I wish I had the skills to do this, it looks like they are having a blast!
JEDI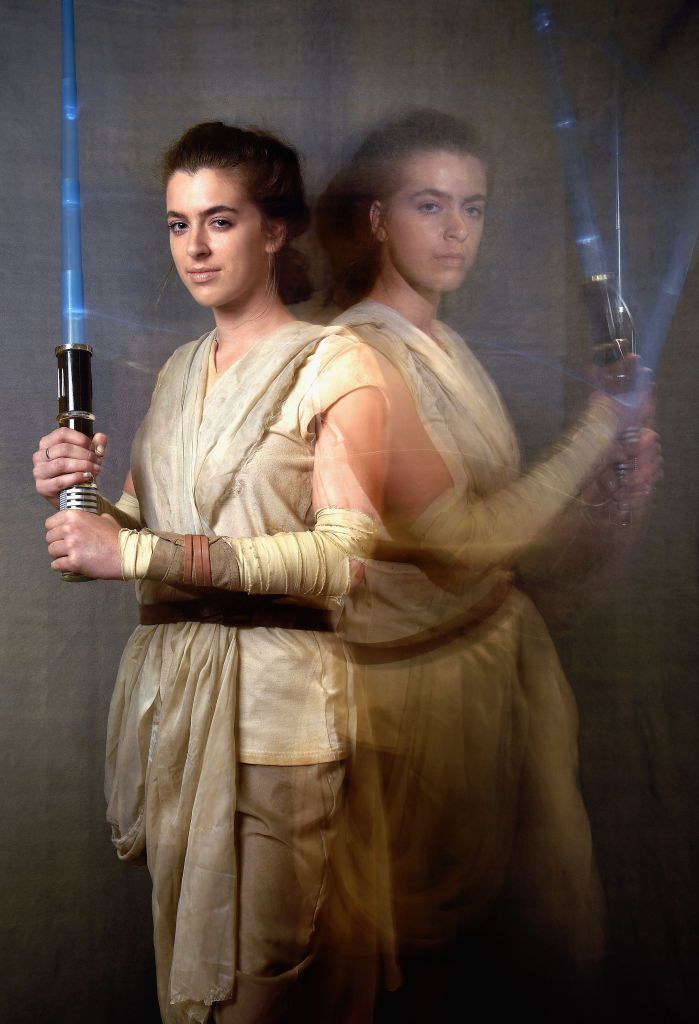 Every movie of the Star Wars saga comes with hundreds of different characters to be cosplayed. If you want to pick the leads, you better do it right. Like the girl in the picture.
GO BIG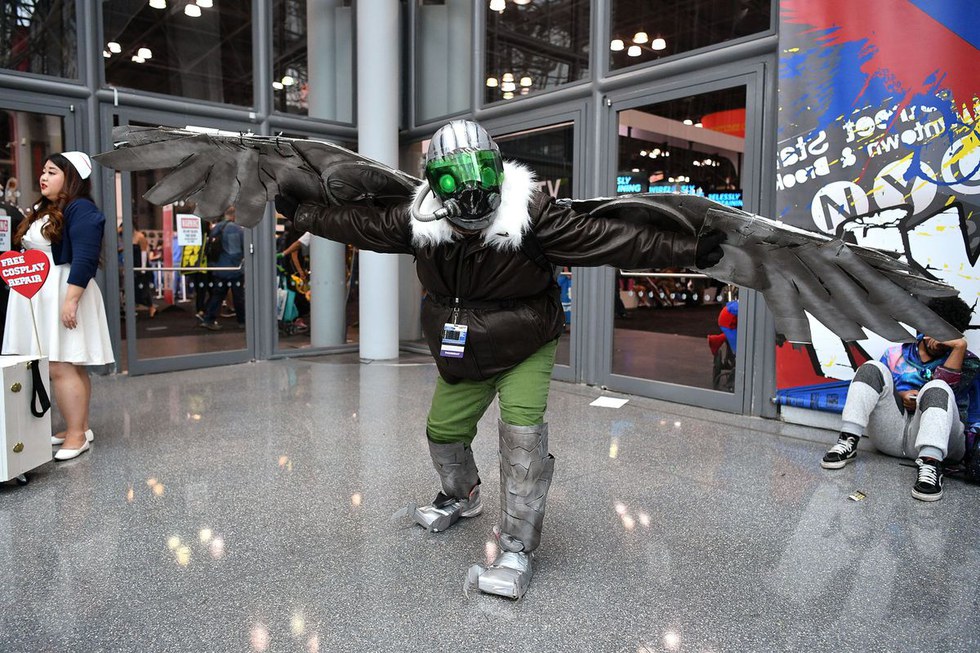 The bigger you get, the most eyes will be on you. It could get a little uncomfortable to walk around these narrow aisles in the convention on a huge costume, but it is totally worthy.
USE YOUR IMAGINATION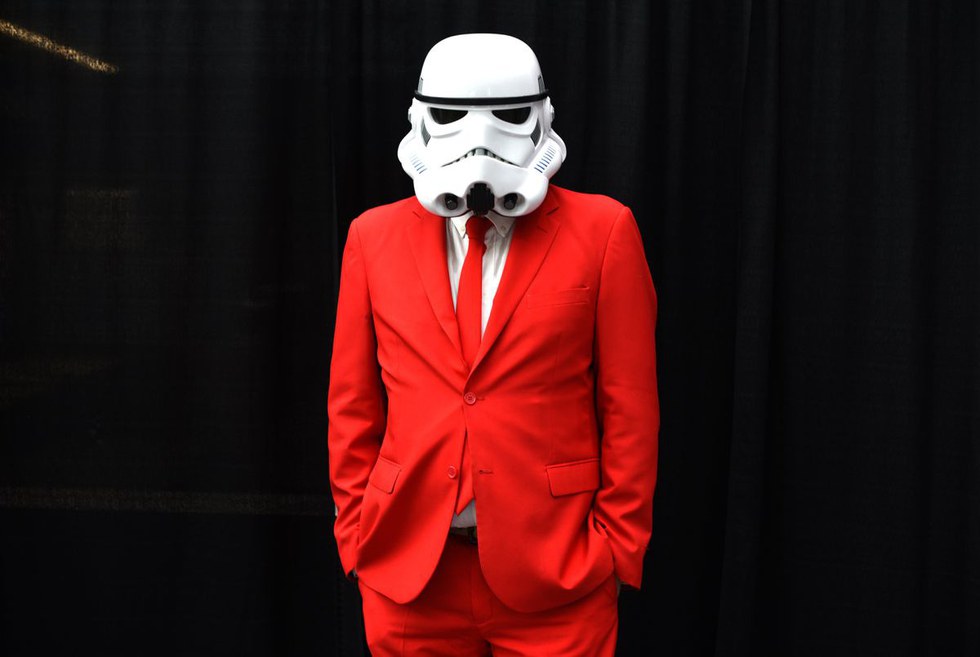 Even the most simple things look amazing in cosplay. Take a look at this red stormtrooper, isn't he just stunning? I know, it's just a helmet and a red suit. But you wish you hat thought it first, right?
TALE AS OLD AS TIME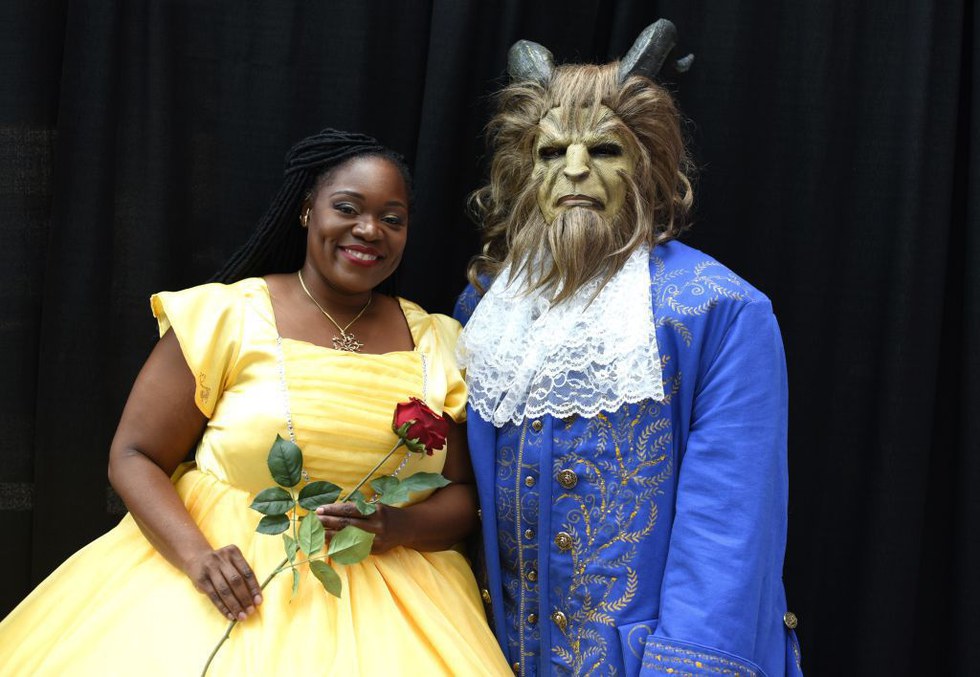 This is what dreams are made of. You can be whatever you want, even your favorite princess from your childhood. If you had the chance of becoming any character you wanted, who would that be?
SUPER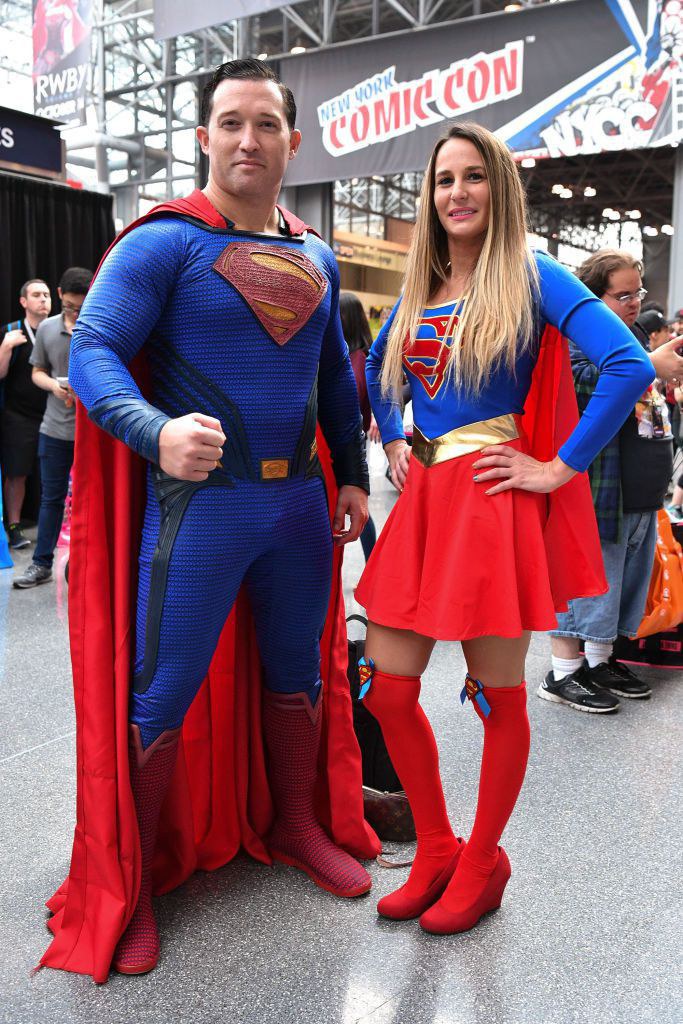 Superman and Supergirl prevent various accidents and crimes together in National City. But now here they are, ready for a thousand photos with their fans (I have my camera ready!).
MAKE UP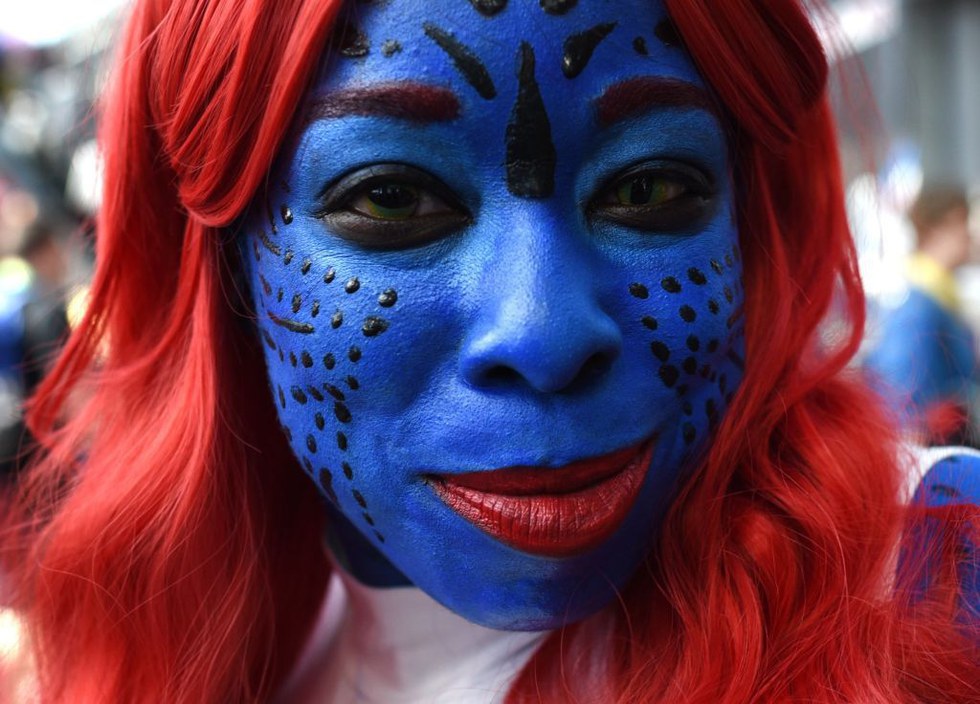 Some of this guys are amazing make up artists and they give a hundred and ten percent on each work. You never get tired of seeing them go by. They are awesome!
CONTACTS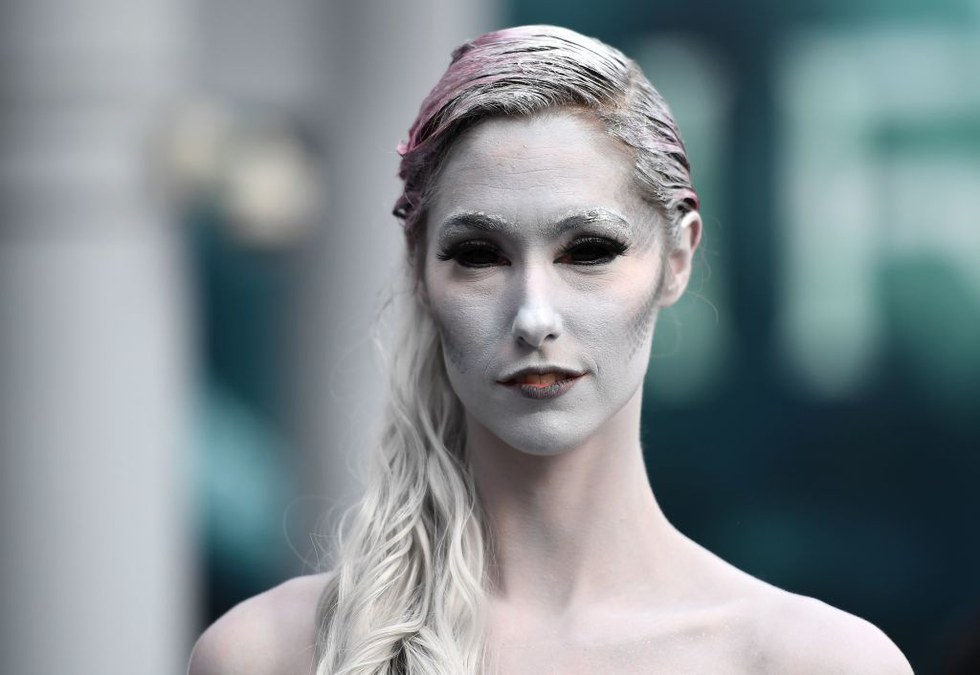 In later years, contact lenses technology has been improving a lot in the fantasy department. Hundreds of new looks are being displayed every year and cosplayers are going bananas over them.
DEMONIC FIGURES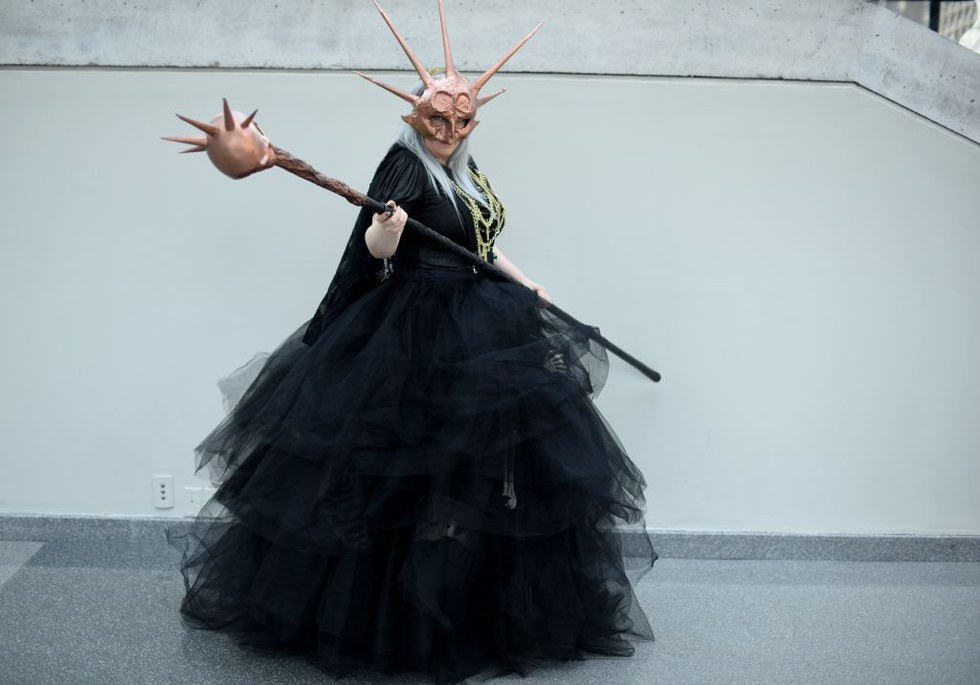 Latex, horns, prosthetics, everyday they are presenting new techniques and Oh my God! They are amazing. There are several youtube tutorials on how t get believable fake skin and other FX.
DAD KNOWS BEST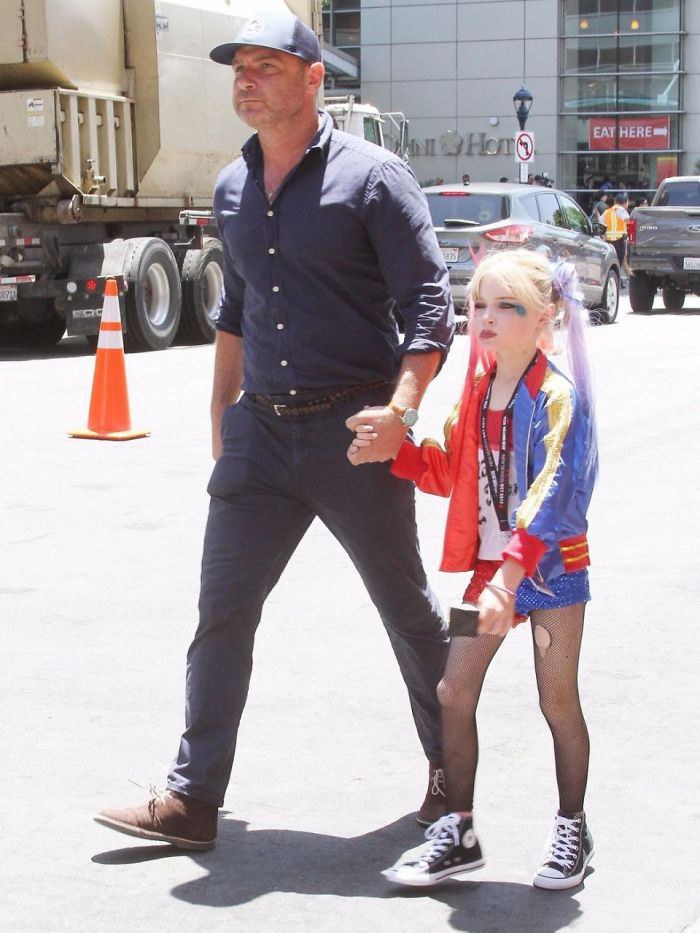 Liev Schreiber Took His Son To Comic Con Dressed As Harley Quinn. Here's an awesome example of how good parenting could get. Plus he is hot, and we love hot guys.
INCLUSION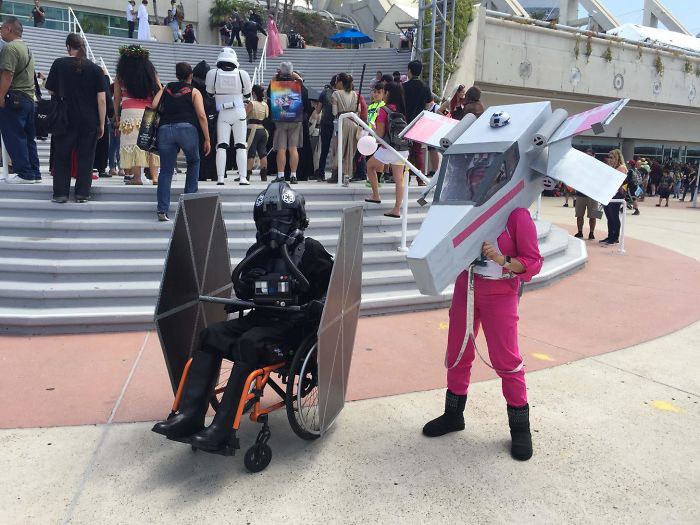 Just a little bit of creativity and you make cosplay ready for everyone. Look at this picture. It makes you wanna take a ride on his spaceship. And to be that cool!
DETAIL DIVA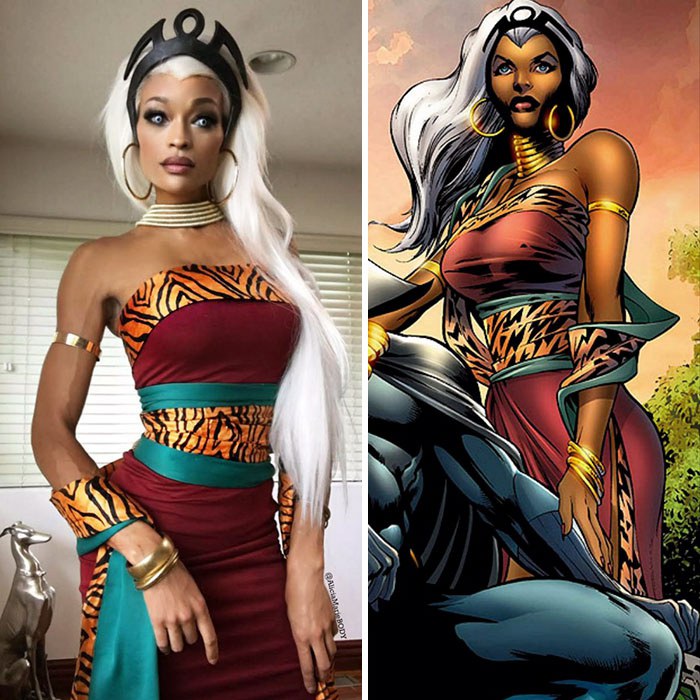 As we stated before, cosplay is all about the details. This girl got everything right on its place. See how specific she was about this particular version of Storm from the Xmen.
PERFECT WINTER BOY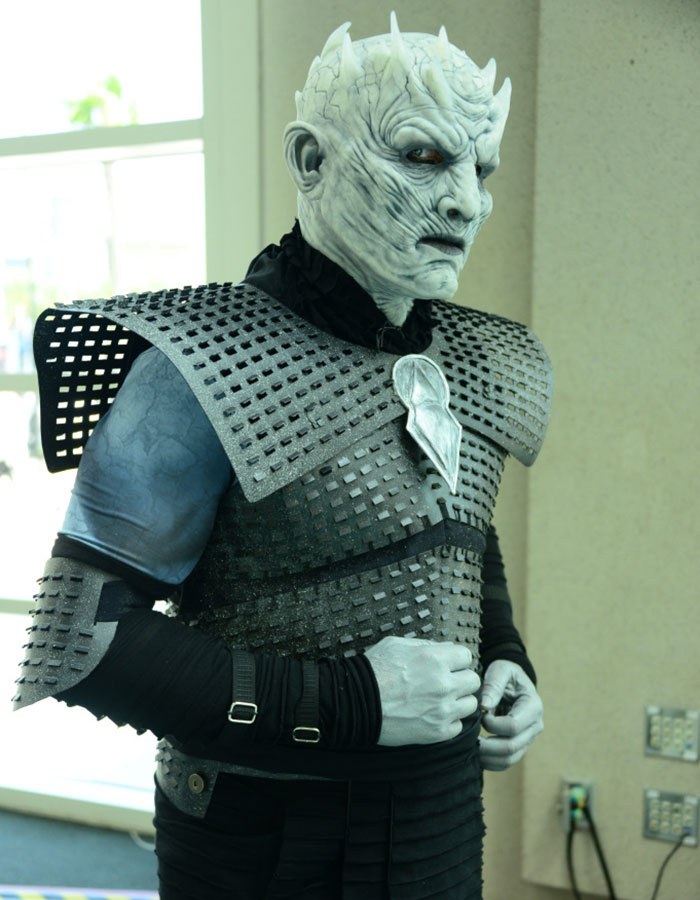 And speaking of getting it right, we are absolutely amazed by this portrayal of the Night King. Our favourite villain from Game of Thrones since last season. It's giving us the chills!
MAD AS A HATTER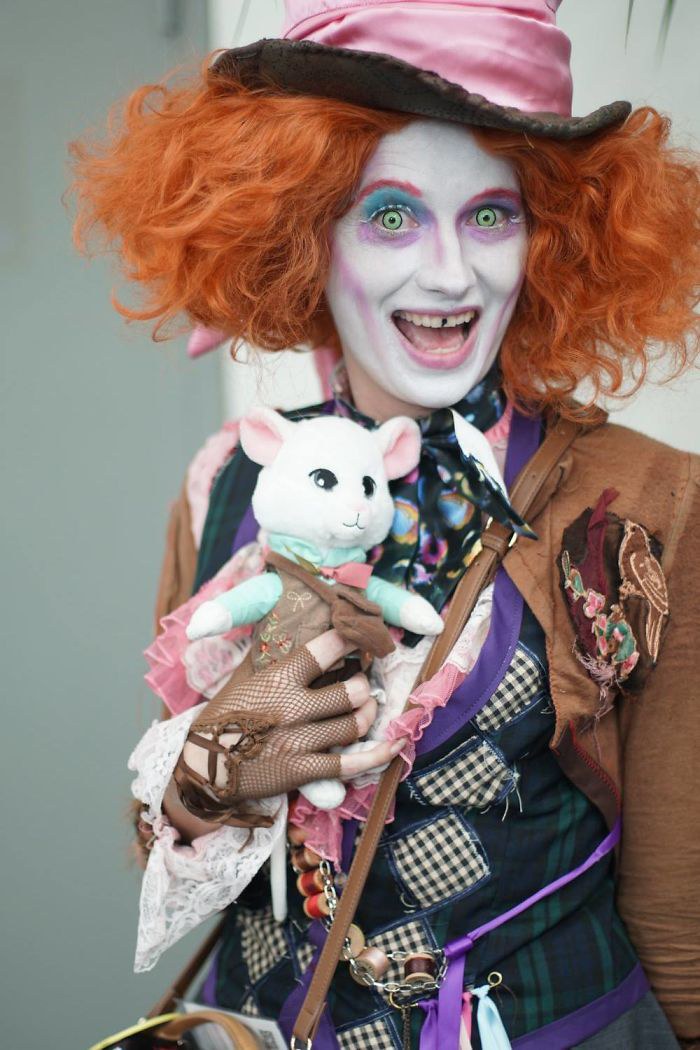 Mad about this Mad Hatter! We love him here more than the one in the movie. Oh c´mon! let's face it, nobody likes him in that lame movie! Or do you?
GUESS WHO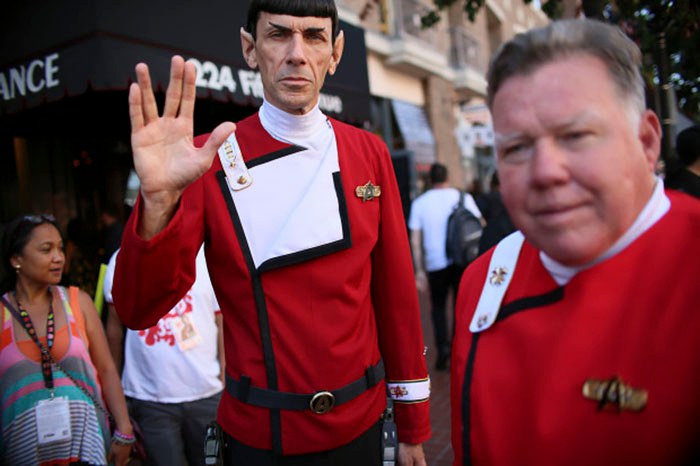 Are these two the real thing or ARE they just fooling everyone around them? I don't really want to know! They're too perfect! I wish I was there to have my picture taken with them both.
YOUR VOICE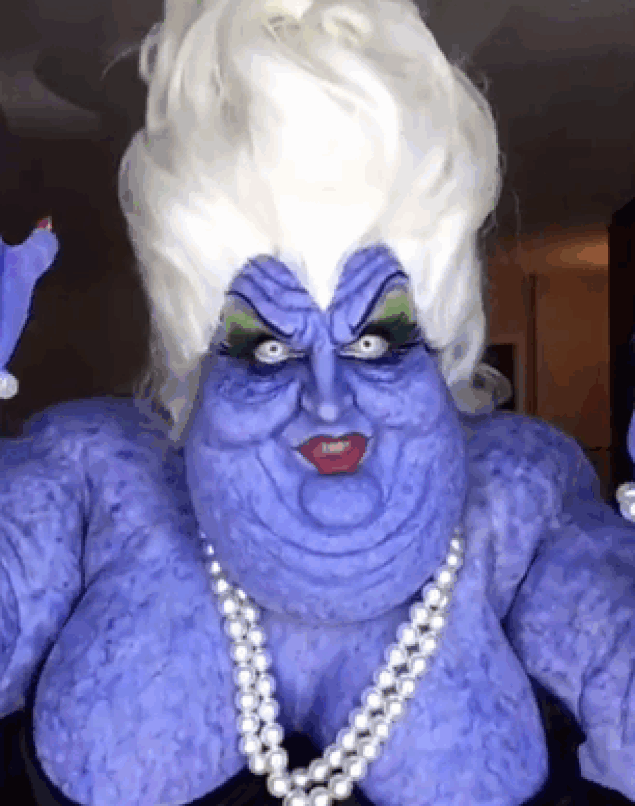 Cosplay (コスプレ kosupure), a contraction of the words costume play, is a hobby in which participants called cosplayers wear costumes and fashion accessories to represent a specific character.[1] Cosplayers often interact to create a subculture, and a broader use of the term "cosplay" applies to any costumed role-playing in venues apart from the stage. Any entity that lends itself to dramatic interpretation may be taken up as a subject and it is not unusual to see genders switched. Favorite sources include anime, cartoons, comic books, live-action films, television series and video games.
The rapid growth in the number of people cosplaying as a hobby since 1990s has made the phenomenon a significant aspect of popular culture in Japan and some other parts of Asia and in the Western world. Cosplay events are common features of fan conventions and there are also dedicated conventions and local and international competitions, as well as social networks, websites and other forms of media centered on cosplay activities.
The term "cosplay" was coined in Japan in 1984. It was inspired by and grew out of the practice then-known as fan costuming at science fiction conventions, beginning with the 1st World Science Fiction Convention in New York City in 1939.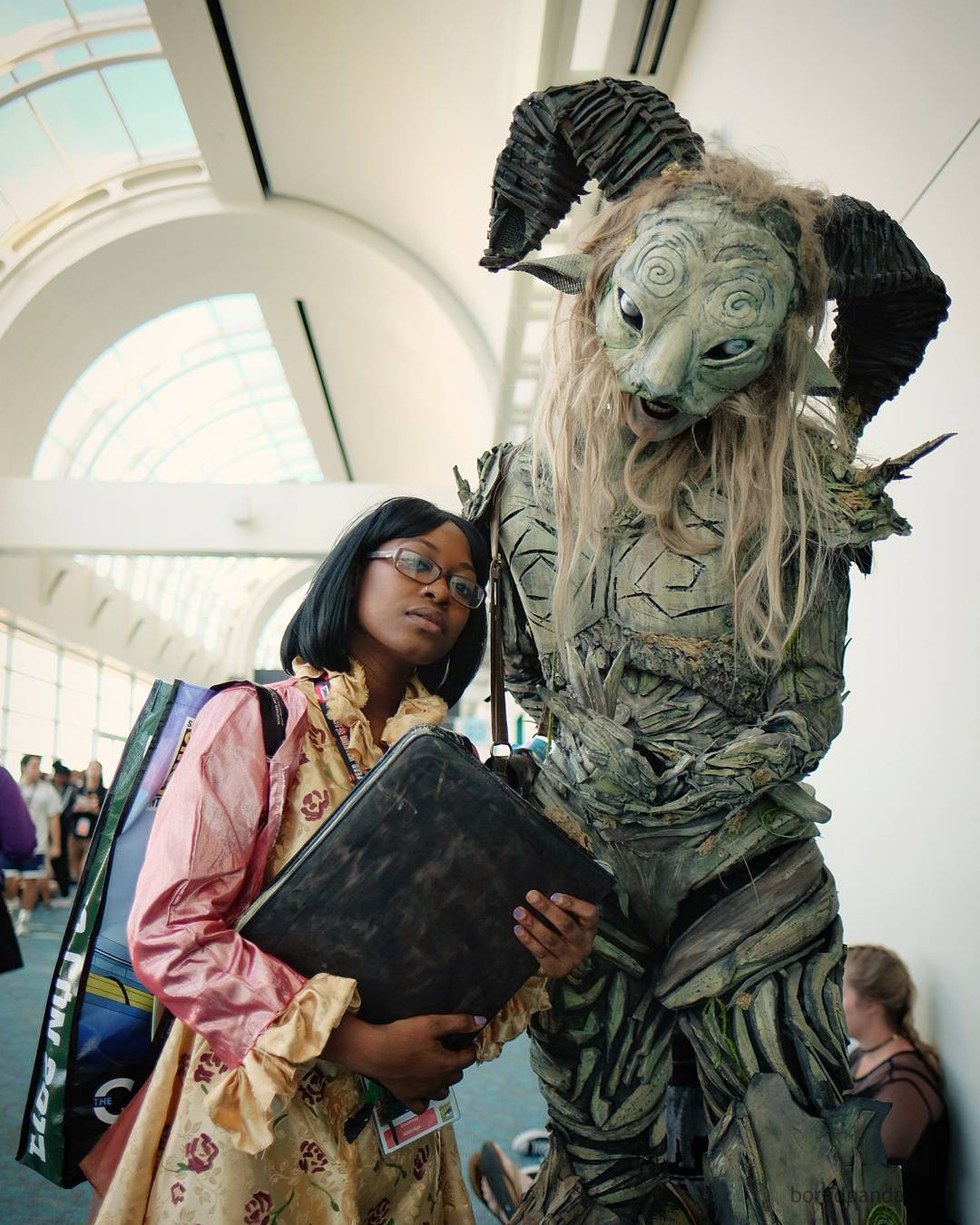 GROUP
It is quite funny when several cosplayers who have chosen the same character get together for a picture. You get several sizes of your favourite leading lady here! EVERYBODY SAY CHEESE!
VIDEO GAMES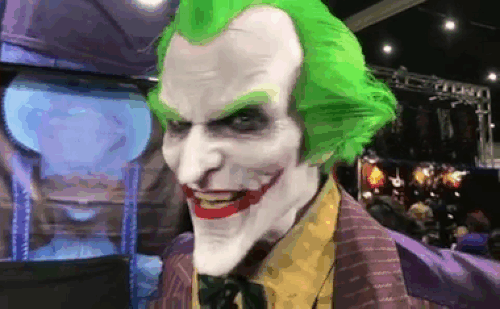 If you have played that awesome video game now you know this guy is a professional. And quite scary i must say! I don't want him haunting my dreams from now on!