Fortunately, there are many people with the desire to transform the place they live in: some spiritually, some politically, some of them wish to modify their landscape or the way people live their lives to make them better.Some architects, following this idea, have managed to create amazing structures that are actual spaces to live or work in, but at the same time present unexpected amazing shapes. Creativity and art find their way into everyday life through them.Winston Churchill once said: "We shape our buildings, thereafter they shape us". If that´s true, what would the following places say about us? Would you live in one of this crazy buildings?
The Crooked House (Sopot, Poland)
This unique building was designed by Krzywy Domek in 2004 and based on children´s drawings. It is part of a shopping in which its unusual shape won her a spot.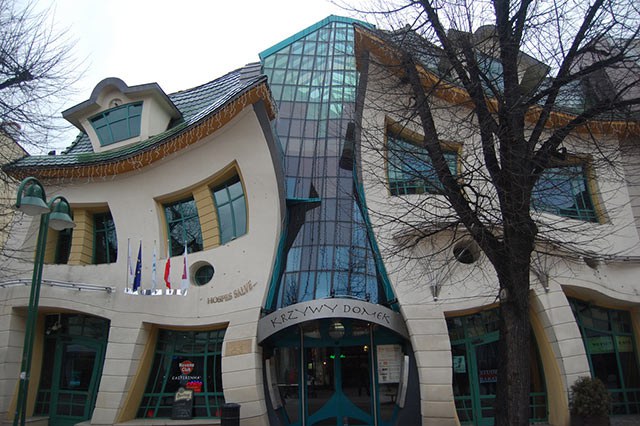 Dancing Building (Prague)
This building, which stands out in the centre of Prague, is also referred at as Fred and Ginger. Worldly famous, it is set on the location of a house destroyed by a bombing in 1945.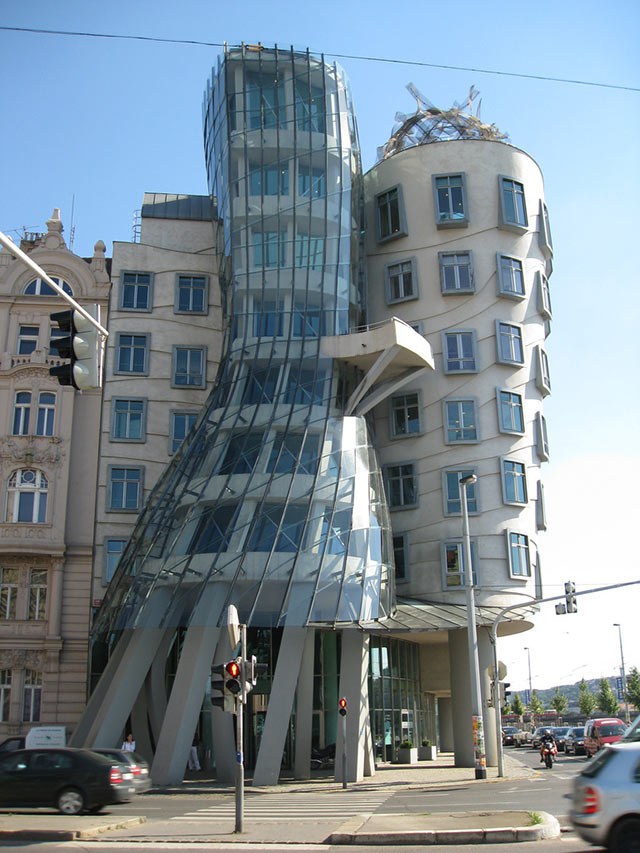 Kansas City Public Library (Missouri, USA)
This beautiful creative design won a spot amongst the libraries of the entire world. The oldest library in its zone, was found in 1873 but this giant bookshelf building was created in 2005.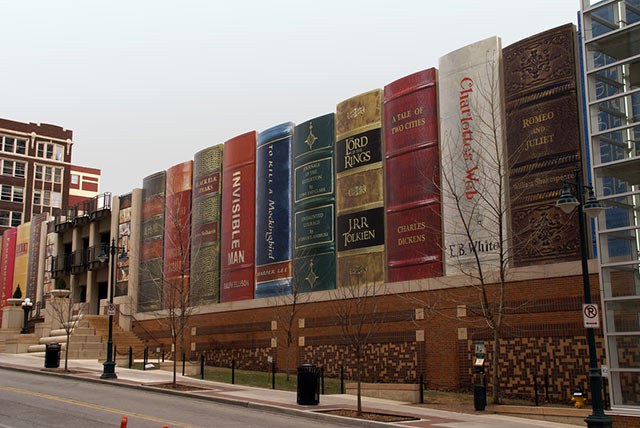 The Hole House (Texas, USA)
This house is actually an architectural installation created by sculptors in 2005: they transformed two buildings which were abour to be destroyed into this work of art.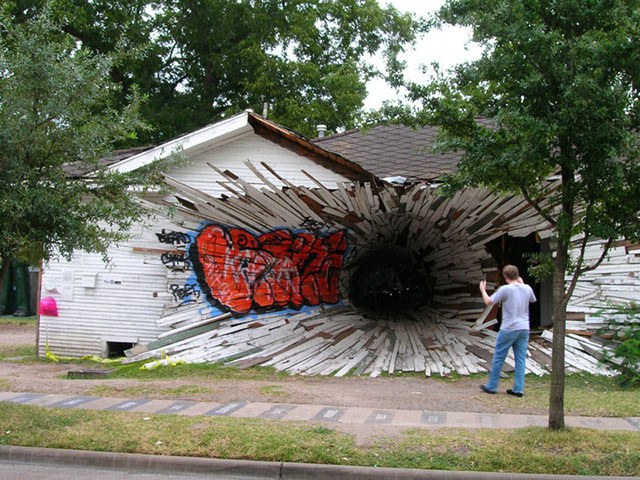 Ripley's Building (Niagara Falls, Ontario, Canada)
This broken house is not actually a house but a museum, part of a franchise, for odd an unbelievable things, as you may recall the spirit of the TV show.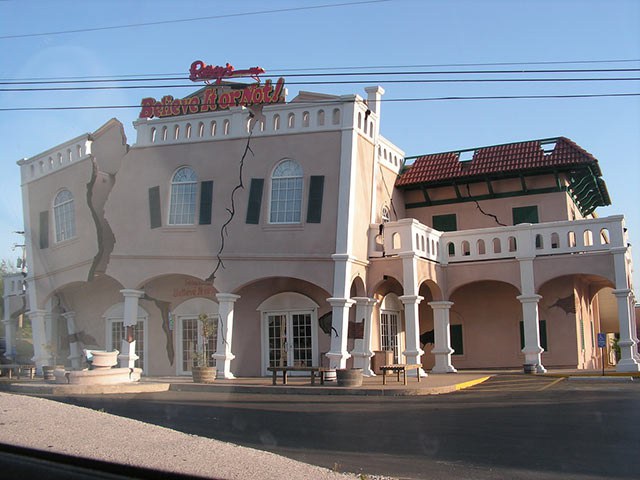 Ripley's Believe It or Not! (Niagara Falls, Ontario, Canada)
With a figure of Kong on the top of a falling Empire State building, the second museum for Ripley´s and the first in Canada is as astonishing as what it stands for.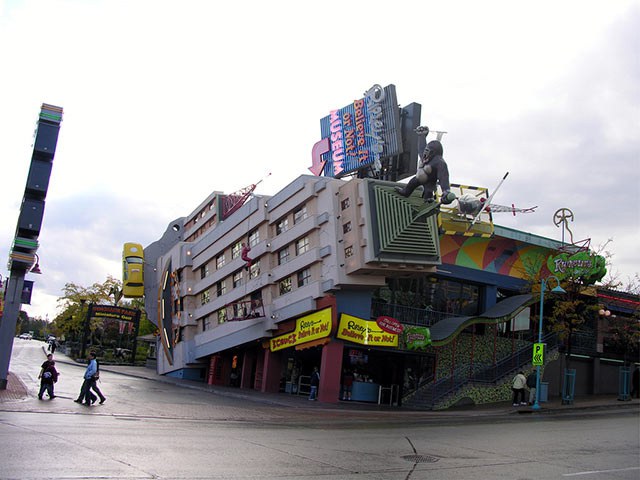 Wonderworks (Pigeon Forge, TN, USA)
This is also a museum for children located in Orlando and it is named as one of the most popular attractions in this area (that certainly has a few to choose from).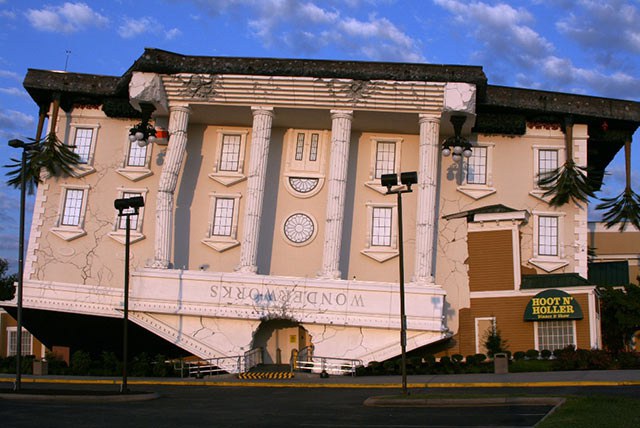 Edificio Mirador (Madrid, Spain)
Some creative and unusual designs are located in Spain, like this collection of mini buildings inaugurated in 2005 by the dutch firm MVRDV. The hole in the middle creates a contrasts that immediately sets it apart.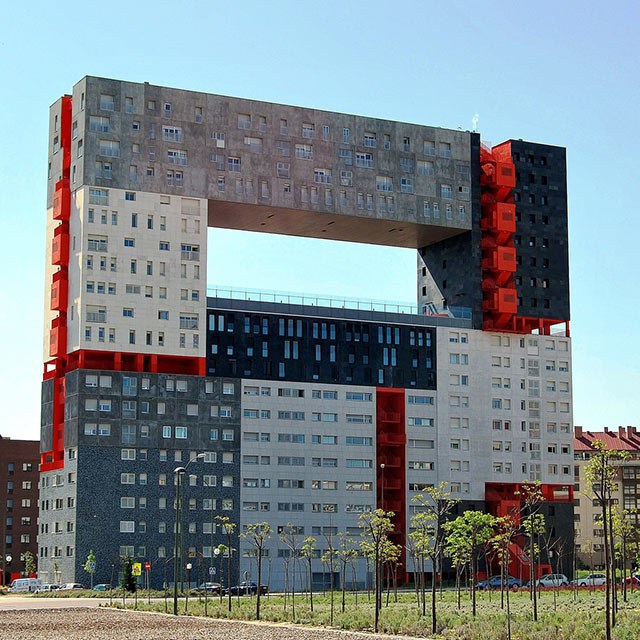 National Architects Union Headquarters (Romania)
As logic as it seems, the building below was acquired by the Romanian National Architects Association, but instead of re constructing it, they placed this modern part on top and created one of the top attractions for the city.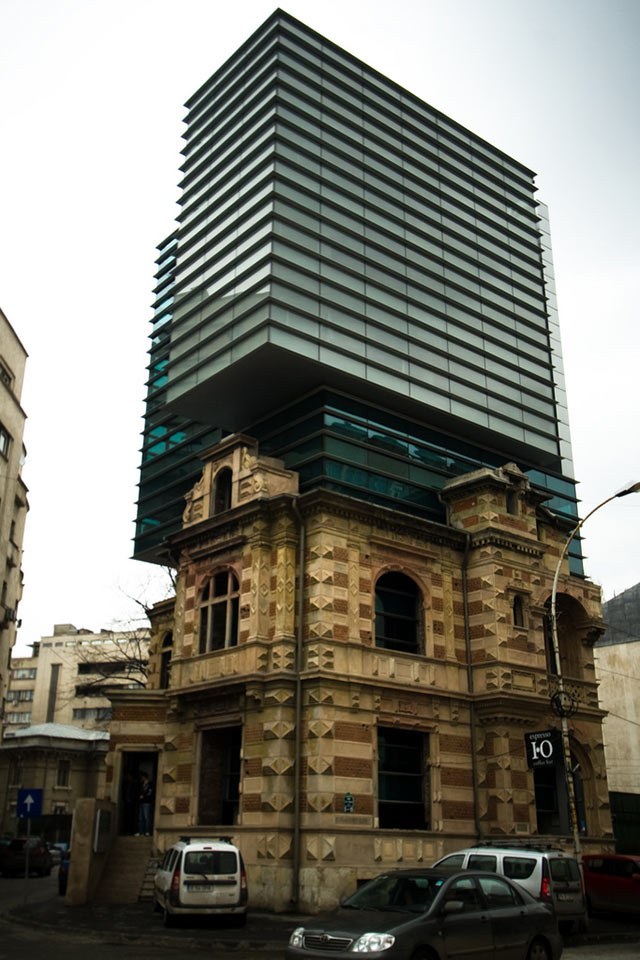 Chapel in the Rock (Arizona, USA)
Built between the mountains of Arizona in 1957, the idea of this was to create a more contemporary place for a church in an attempt to bring it closer to the people.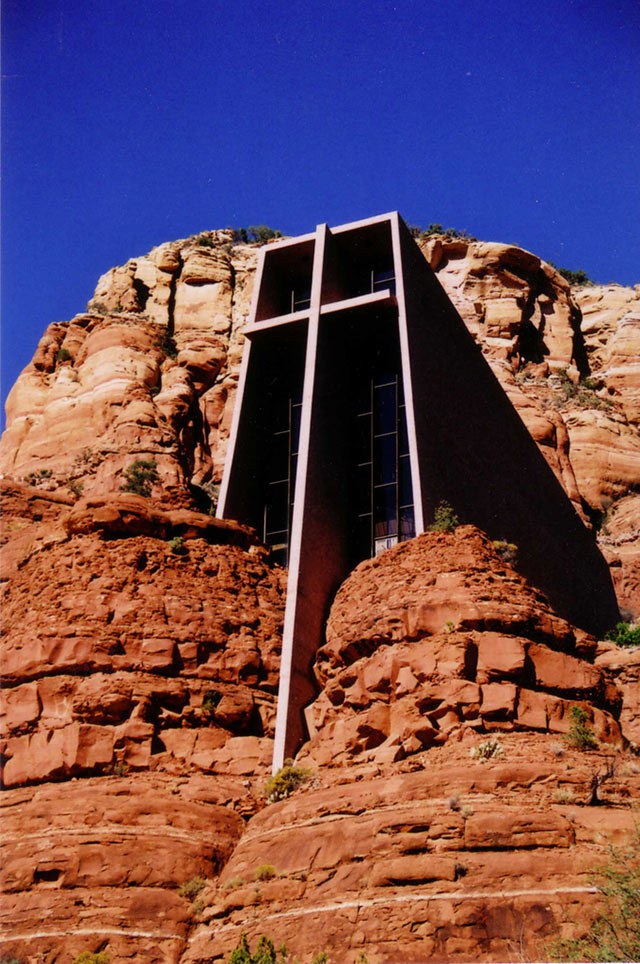 Cathedral of Brasilia (Brazil)
Built in the modern futuristic architecture of Oscar Niemeyer, it is part of the Brasilia landscape, a city planned and designed to operate as capital of Brasil in the 1960s.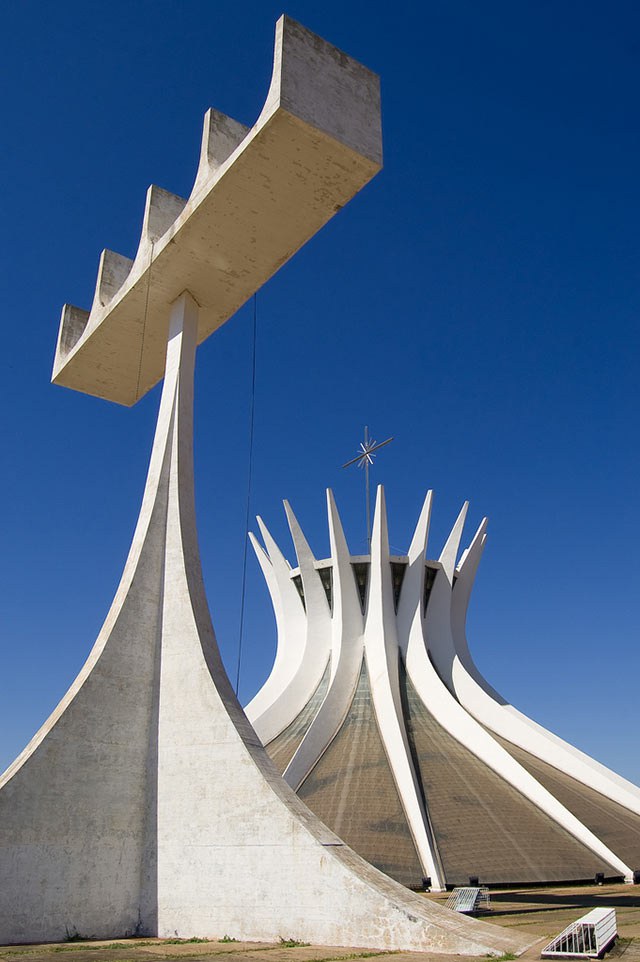 Errante Guest House (Chile)
Imagined to give the sensation that It could actually fall apart at any moment, victim of an earthquake or a hurricane, this unusual chilean spot is actually a habitable place.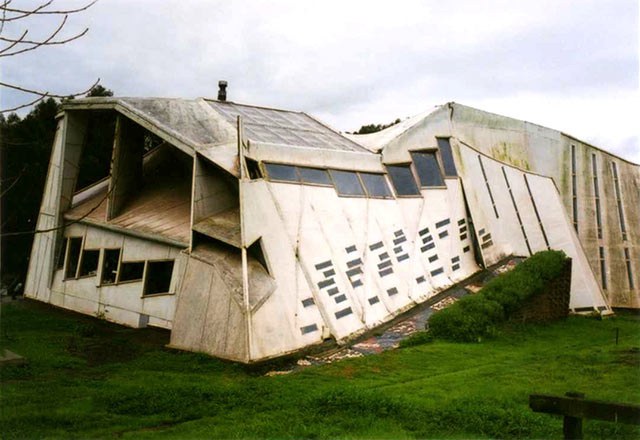 Atlantis (Dubai, UAE)
Yes: some wealthy builders in Dubai thought that it wasn´t enough to have a whole city made out of dust, so they created their very own ancient lost city, Atlantis.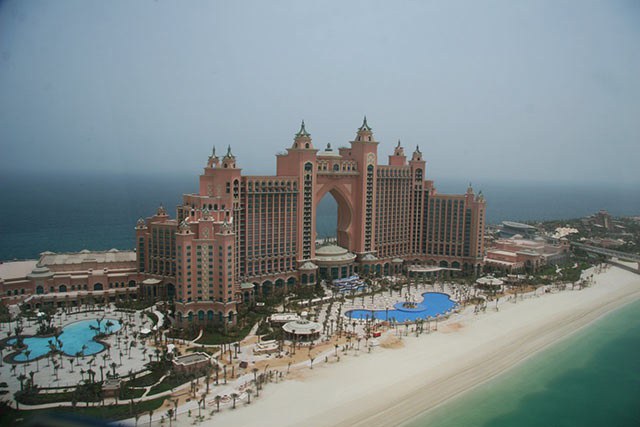 Pabellon de Aragon (Zaragoza)
Shaped like a futurist looking basket case, with threads of material knitted into one another, this building was created by architects Olano y Mendo and it currently holds conventions and events.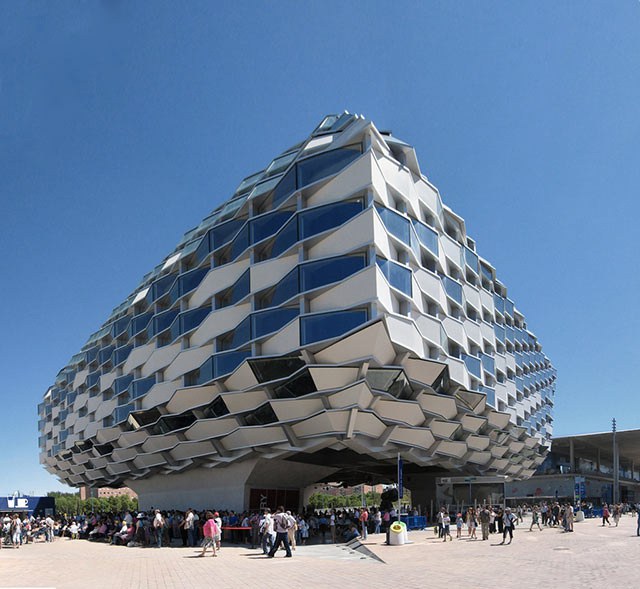 Kunsthaus (Graz, Austria)
This one was built in 2013 as part of the European Capital of Culture Celebrations, by the studio of architects Spacelab (Peter Cook y Colin Fournier), a name that suit very well for this rounded object.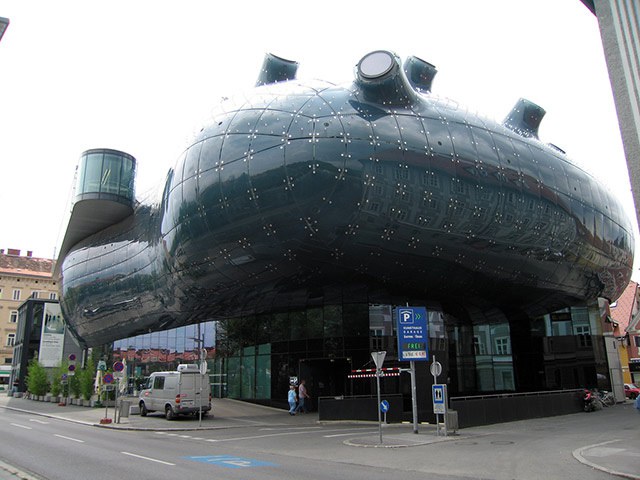 The Mushroom House (La Jolla, California)
This house, nowadays a private residence, was created in the 1960s and rests on a is 300 foot rocky cliff. The track in the back Is used as an elevator.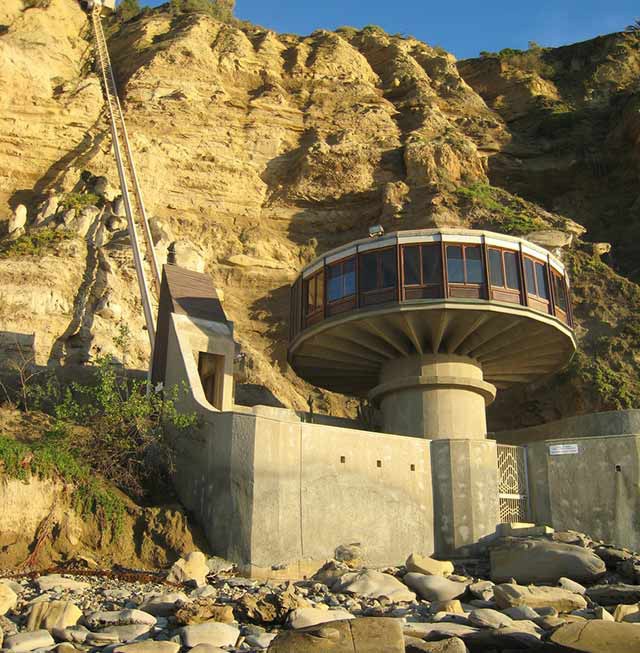 Robert Bruno's steel house (Lubbock, Texas)
This architectural beauty was created in the 1970s by an art professor. Part of it now is a museum, part is a house and a third part is a time capsule for that decade.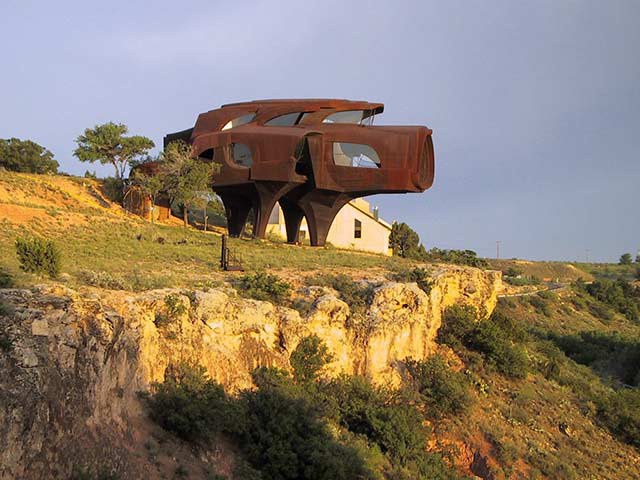 IAC Blues (New York, NY)
This castle-like spot in the middle of one of the most famous cities of the world helds the InterActiveCorp's headquarters. It seems as if one part of the structure has been pulled off from the other.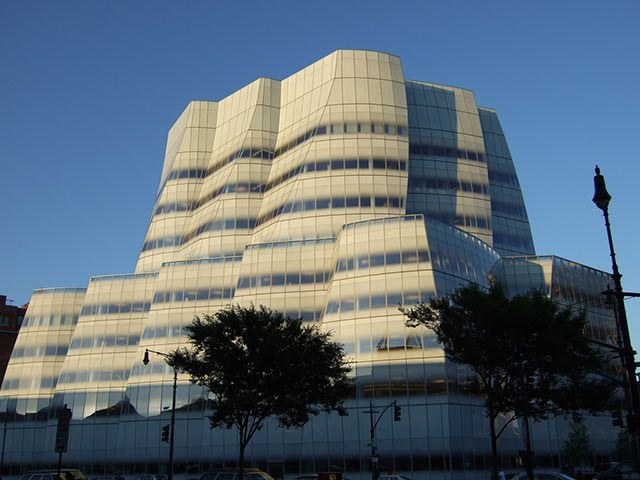 Hotel Marques De Riscal (Elciego, Spain)
Located in the heart of a well known wine zone, you can spend a night at this bizarre looking yet luxurious Spaniard hotel, which is also famous for its exclusive restaurant.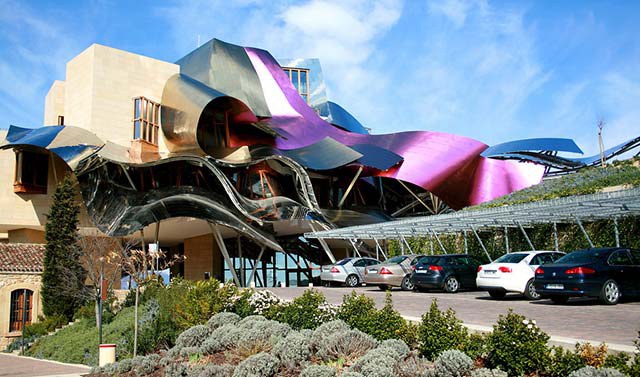 The Agbar Tower (Barcelona, Catalonia)
Also in Spain, this time in Catalonia, this 8-story golden bullet form skyscrape created by French architect Jean Nouvel, is one of the highlights of the city, known for its avant garde aesthetic.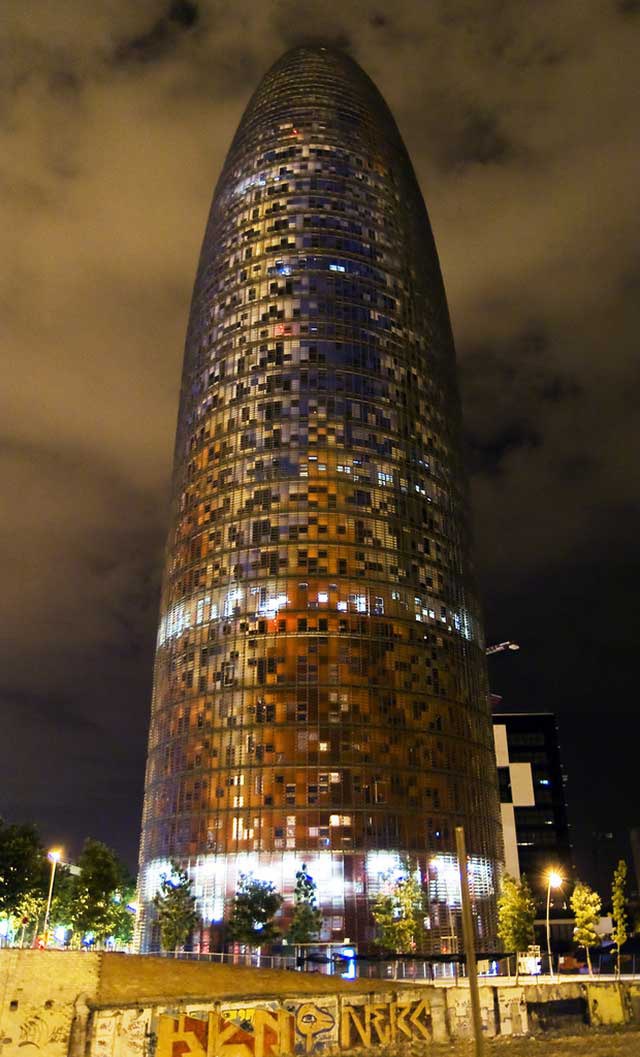 Bolwoningen ('s-Hertogenbosch, Netherlands)
Even though this community has been here for over 30 years, it still looks and functions as well as the time artist and sculptor Dries Kreijkamp brought it to life. The name means ball" or "bulb".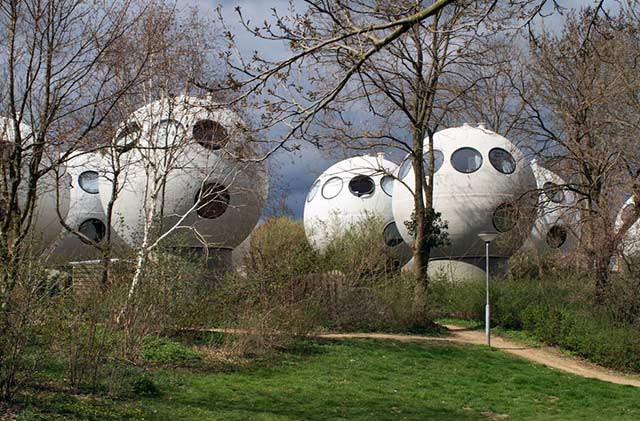 Malin ("Chemosphere") Residence (Los Angeles, USA)
Usually chosen as one of the most modern designs, this 1960s structure resembles of an UFO and is set in a cliff, on an earthquake zone, yet still standing from that time.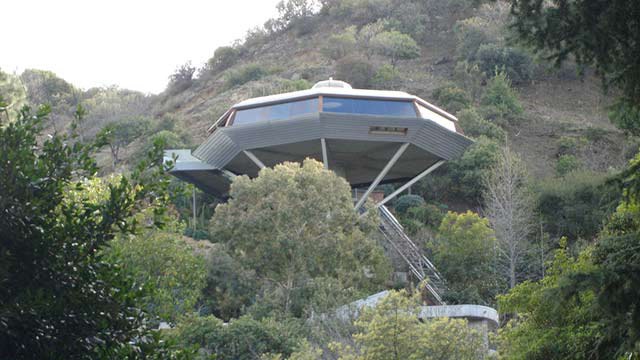 Asahi Beer Tower (Asakusa, Tokyo)
This playful design evokes a glass of beer and it is a most searched landmark in Tokyo. A bar at the 21stfloor invites you to taste a cold wine while looking at the Sumida River.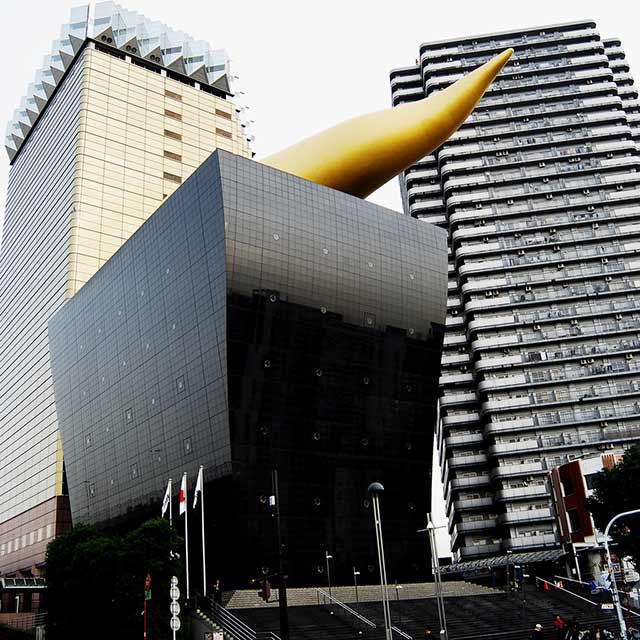 High school Sesto San Giovanni (Ananas)
Someone must really love his fruit, so that he created a set of apartment buildings with their shape. But not only one: there´s another anana shaped building in Dubai as well.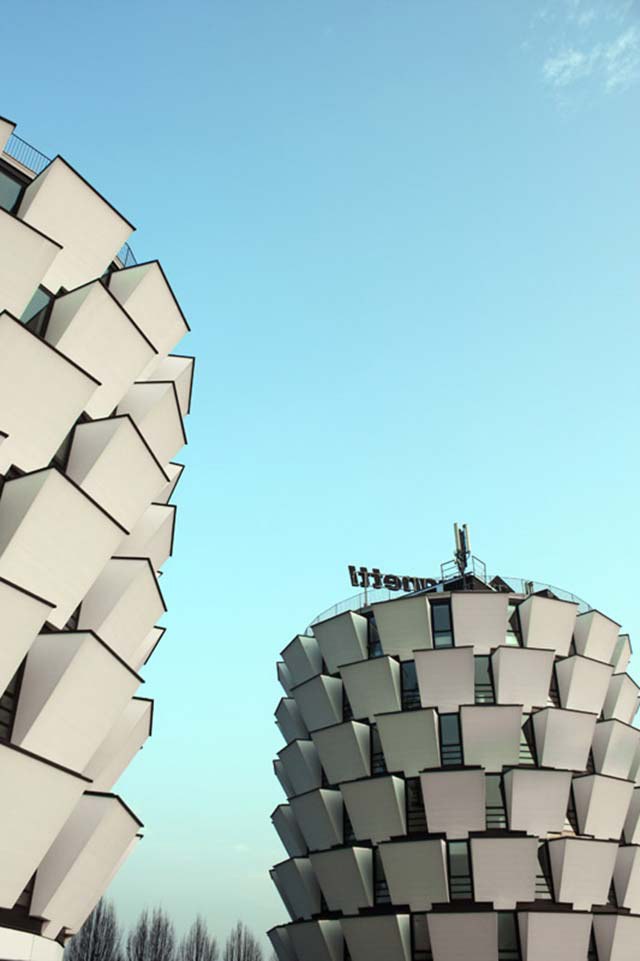 Agora Theather (Lelystad, Netherlands)
This teather is a work of art of its own and was created in a plan to revitalize the city. Soon it became very popular, not only for the cultural offer but also for its unusual shape.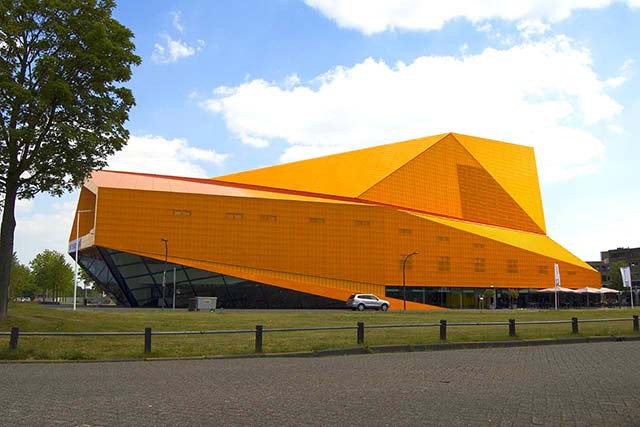 Porsche museum (Stuttgart, Germany)
Founded in 1976, this car museum was designed to follow the same excellence standards as the headquarters of the brand, which are located very close. A must-see destination for car lovers.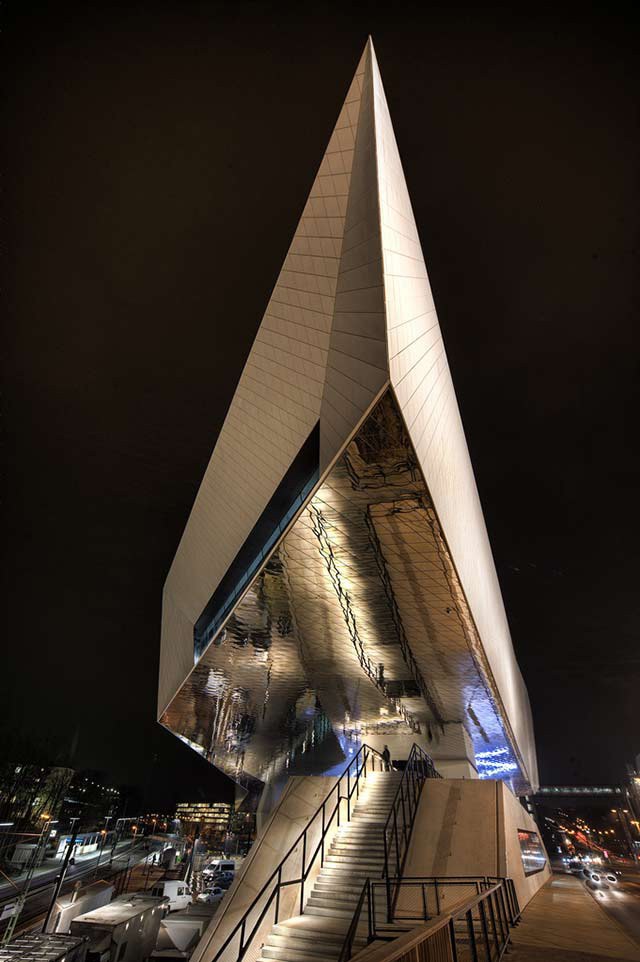 Opera House (Sydney, Australia)
Don´t take this beautiful creation for granted only because you´ve probably seen it more often that the rest of the building. This marvelous spot on the bay is a signature mark for Sydney as well as for the entire country.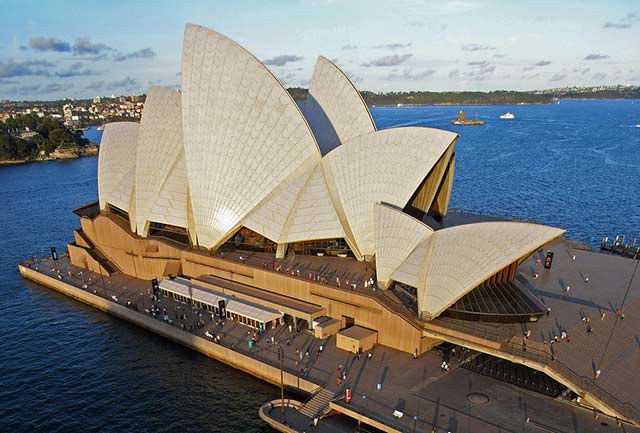 Edificio Torres Blancas (Madrid)
Named very logically after the white towers that characterize it, this mushroom shaped 23 floor building in the heart of Madrid is an apartment building, at the moment for rental.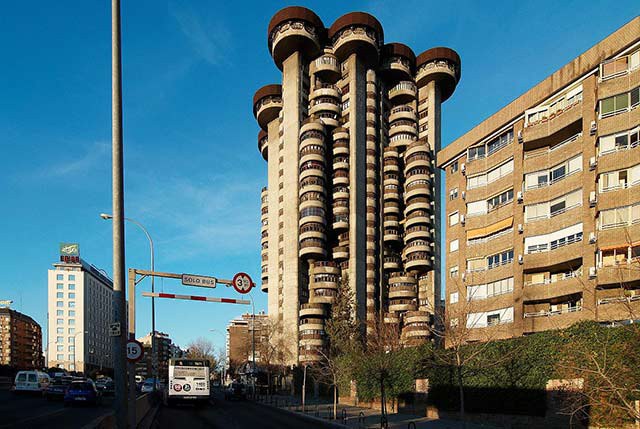 La Pedrera (Barcelona, Spain)
Created by the architectural soul of Barcelona, Gaudí, this modern style rough looking building was set in 1984 and reformed and taken care several times ever since. It is also known as La Casa Milá.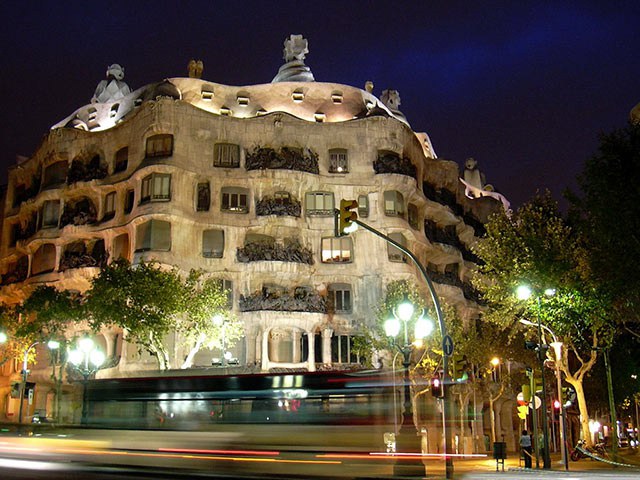 The Torre Galatea Figueras (Spain)
Figueras was the home town for the one and only Salvador Dali: creator, artist, painter, sculptor and creator of this museum and theather, probably the world´s only one with eggs at the top.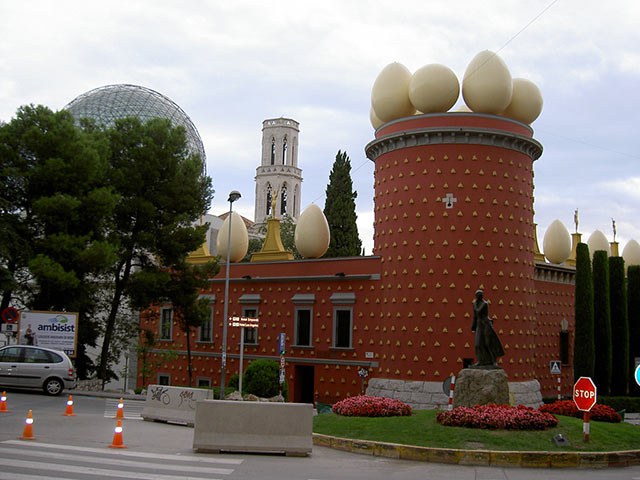 Forest Spiral Building (Darmstadt, Germany)
This magical and inspiring spot was built in the 1990s, and its name translates as a "forest spiral" in English. It is a building complex with a bar and a café at the wooden roof.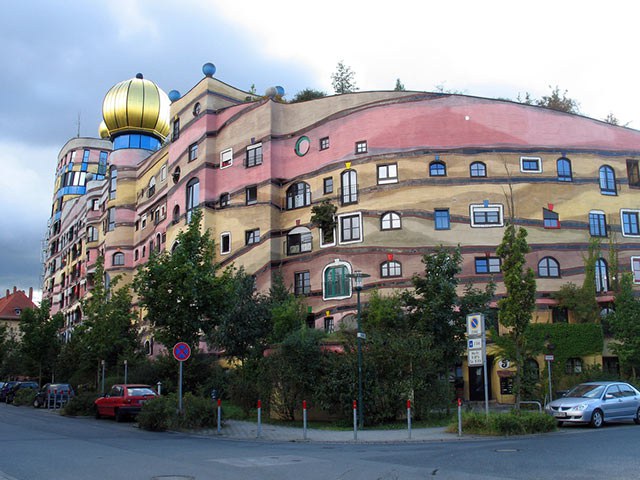 Lotus Temple (Delhi, India)
Beautifully crafted as one of the symbols in the Indian culture, the Lotus flower, the Bahai House of Worship was completed in the 90s and it is covered in marble.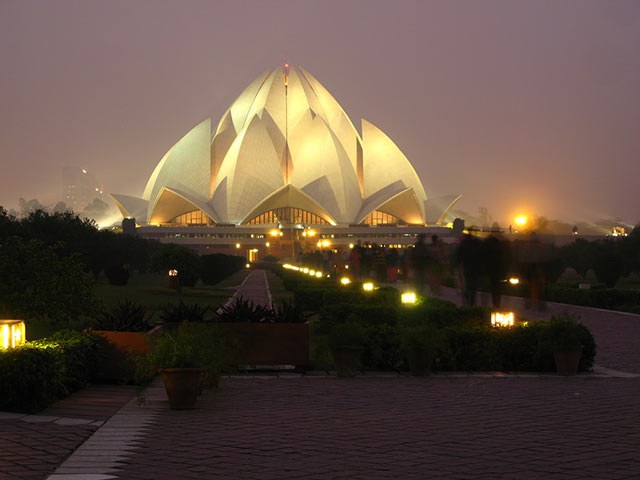 Museum of Contemporary Art (Niteroi, Brazil)
Also a work of modern architecture and art by the hand of Oscar Niemeyer in 1996, this is the house of the museum of contemporary art in the Brazilian capital.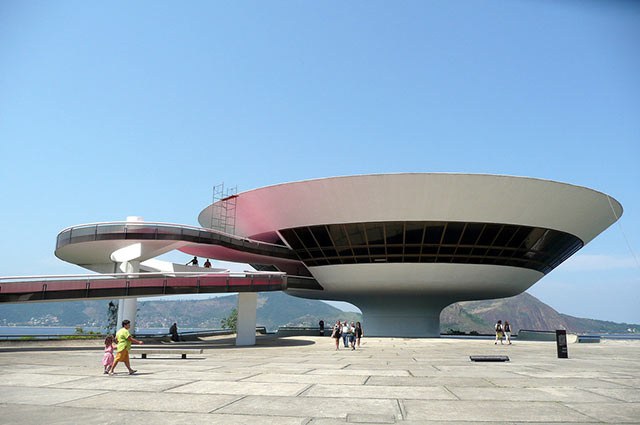 Futuroscope (Poitiers, France)
Created in the late 1980s, with many pointy silver peaky shapes, this is a family leisure park with attractions based on movies, sounds and robots of a no so distant future.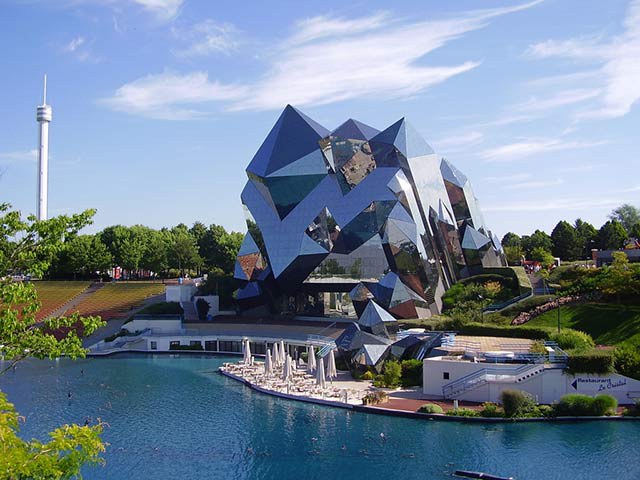 Experience Music Project (Seattle, Washington, USA)
This fabric inspired front welcomes you to a internationally famous
popular music, science fiction, and pop culture museum in the heart of Seattle where bands play as exhibitions are displayed.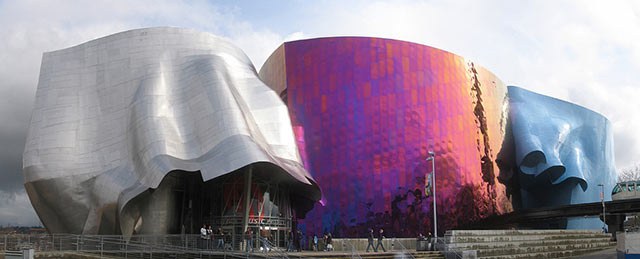 The Basket Building (Ohio, USA)
Cute and playful this picnic basket soon becomes unforgettable for the seeker of unusual spots. It costed $5 million and helds the headquarters for a company that sells handcrafted maple wood baskets and other home and lifestyle products.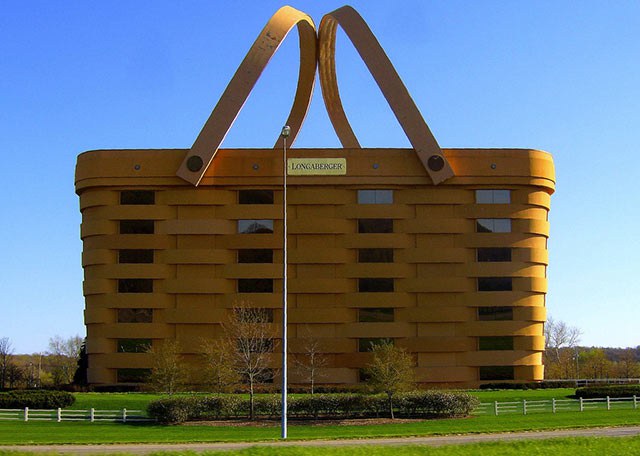 Erwin Wurm: House Attack (Viena, Austria)
An eccentric must see in Austria, this creation of Austrian artist Erwin Wurm is reportedly made this way to create buzz. Honesty policy, in which largely succeeds.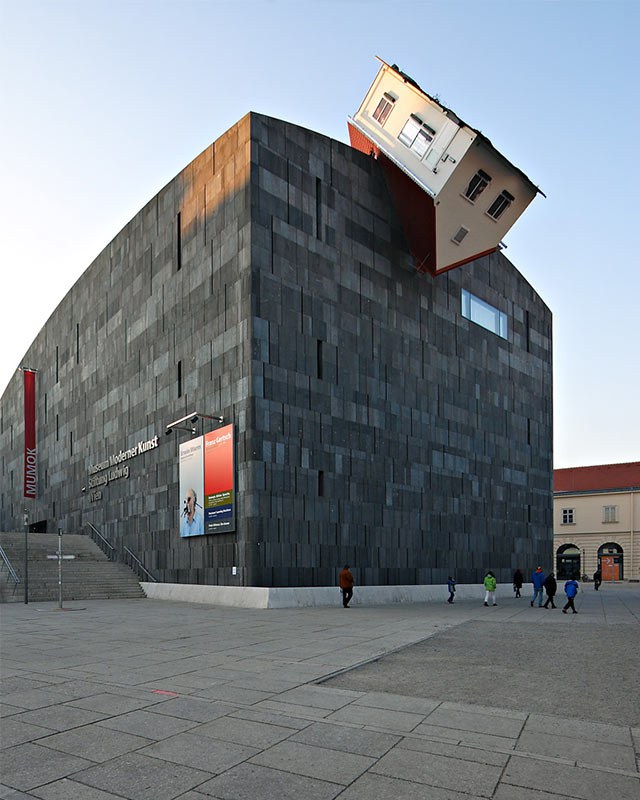 Nakagin Capsule Tower (Tokyo, Japan)
Designed in 1972 by architect Kisho Kurokawa this creative button like shape building is a residential and office tower, with some of the smallest apartments ever built at that time.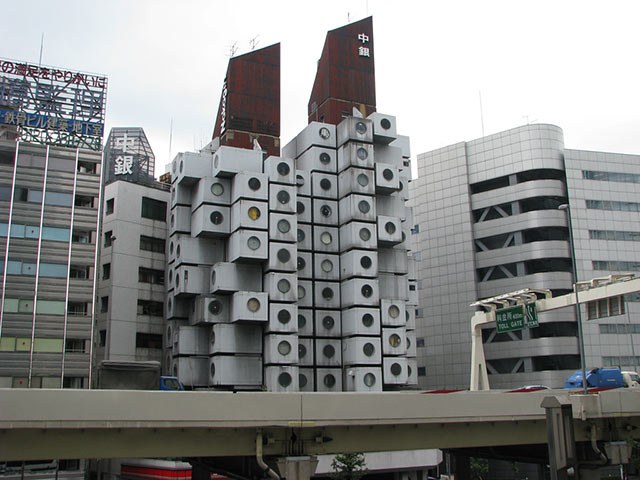 National Museum of American Indian (Washington, USA)
Not only its interior, filled with cultural artifacts, costumes, video and art to homage the American native, but the shape and colour of the museum itself create an unforgettable place at the capital of the United States.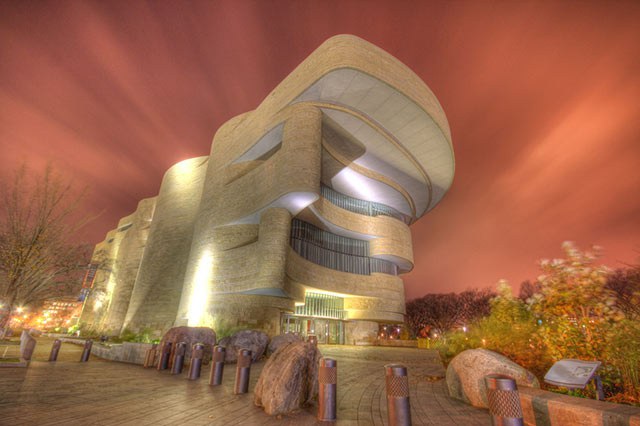 The Pyramids (Indianapolis, USA)
Three shiny silver pyramids facing the lagoon set aside this commercial development which offer office and residential buildings, constructed between 1967 and 1972.
As they explain in their website, the landmark will make your home impossible to miss.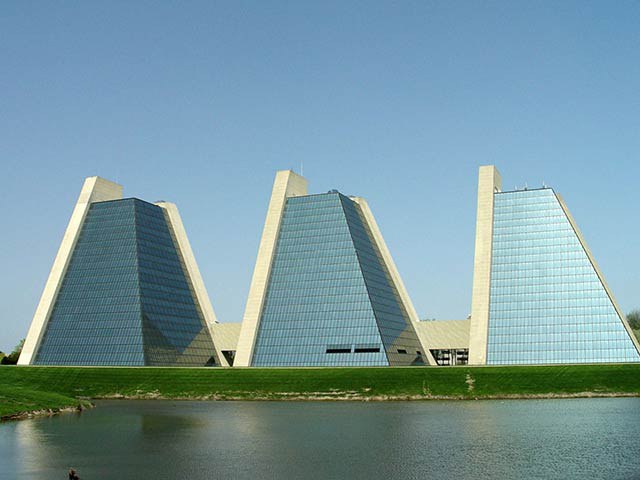 Beijing National Stadium (Beijing, China)
Currently being used for the qualification matches for the 2018 FIFA World Cup, the Bird´s Nest as it is also called was used to host the 2008 Beijing Olympic Games and can seat up to 80.000 people.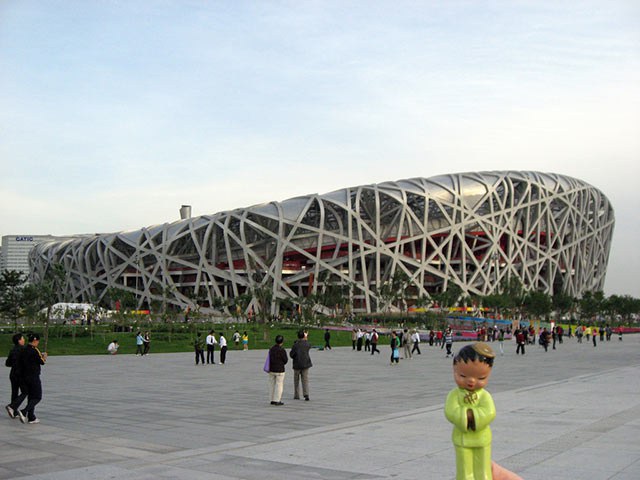 Fuji television building (Tokyo, Japan)
The building in which operates the Fuji TV Network in the waterfront area of Tokyo stands for its shocking design as well for the bridge that unites the part, serving also as a observatory for the city.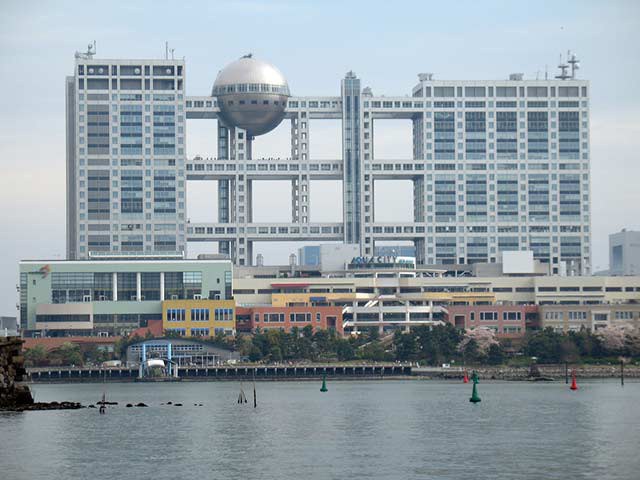 The Puerta de Europa towers (Madrid, Spain)
These 23 floor slightly bended office building are a financial and corporate center. Impressive to watch from above, they also offer a whole view of Madrid from the top vertigo challenging top.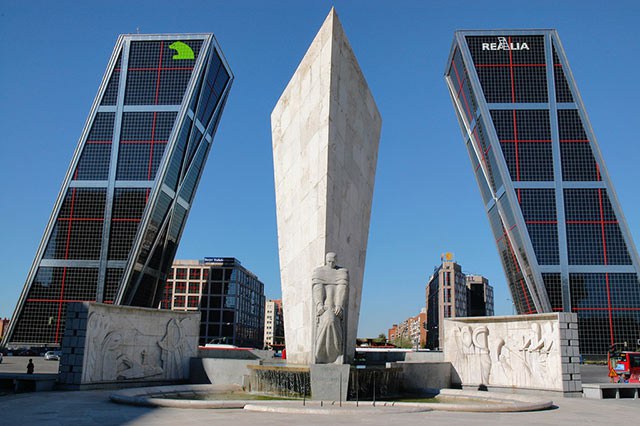 Walt Disney Concert Hall (Los Angeles, California, USA)
After many years of planning, this deconstructive work of art by architect Frank Gehry finally opened in 2013 and was the house for different sorts of concerts, from classical to contemporary music.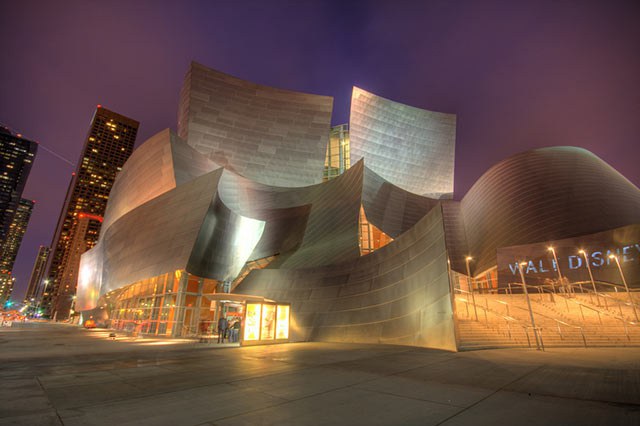 Shoe House (Pennsylvania, USA)
Do what you love and love what you do: The Haines Shoe House, which is actually a home where you can live, homages the passion of its creator, a shoe manufacturer.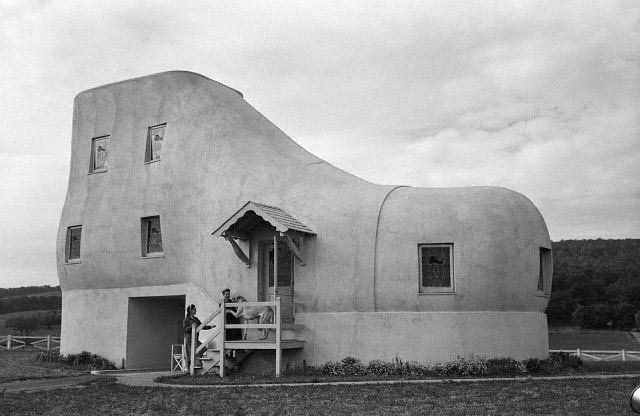 Grand Lisboa (Macau, China)
Macau is best known for being one of the gambling capitals of the world and this luxurious 48 floor and 258 meters high hotel surely invites to pay a visit.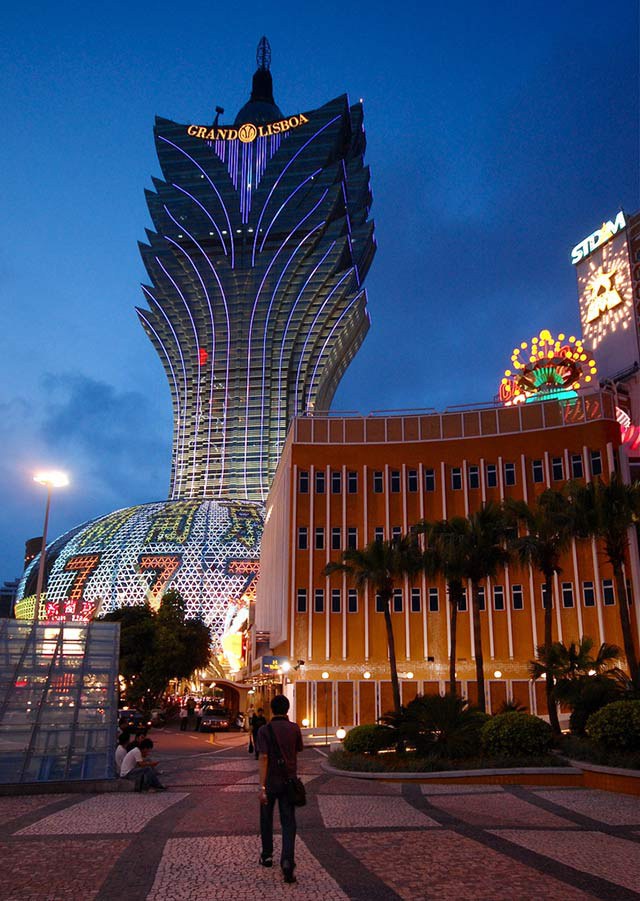 Jumeirah Emirates Towers (Dubai, UAE)
This luxurious hotel in Dubai is famous not only for its twin shaped towers, but for its luxurious 400 rooms and over the top world cuisine on a 56 floor building.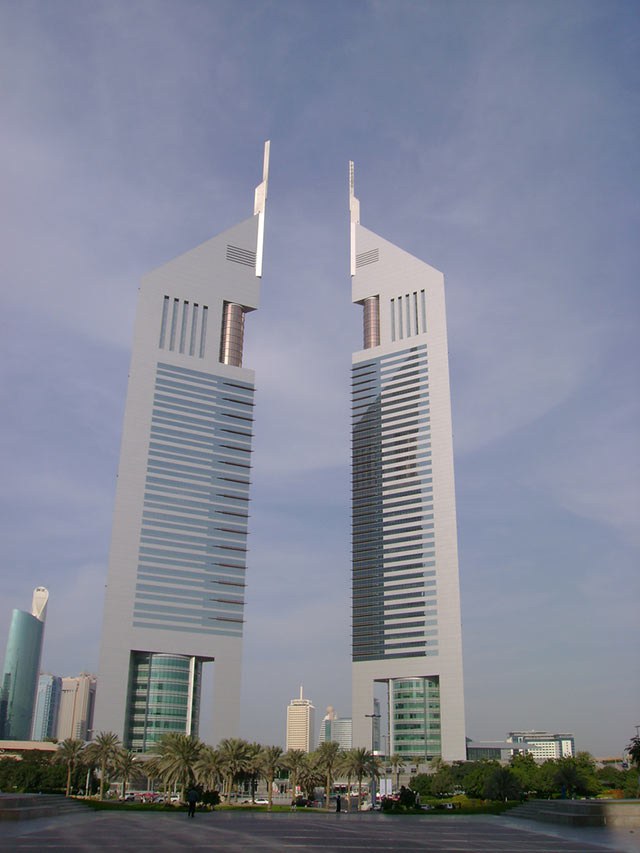 Raffles Dubai in Wafi city (Dubai, UAE)
Continuing with the architectural wonders of Dubai, this triangle obviously inspired in the Egyptian architecture, has a 19-storey first class hotel connected to a mall, which is also pyramid themed.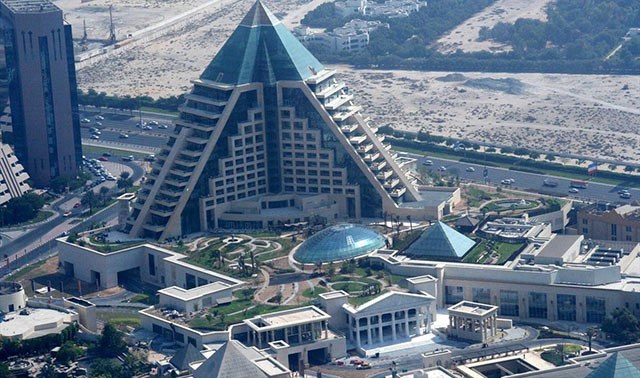 Burj al Arab (Dubai, UAE)
Probably the best known building in Dubai, the self-proclaimed first seven star hotel on Earth includes a tennis court on the top. This icon of the city is 321meters tall and costed 650M.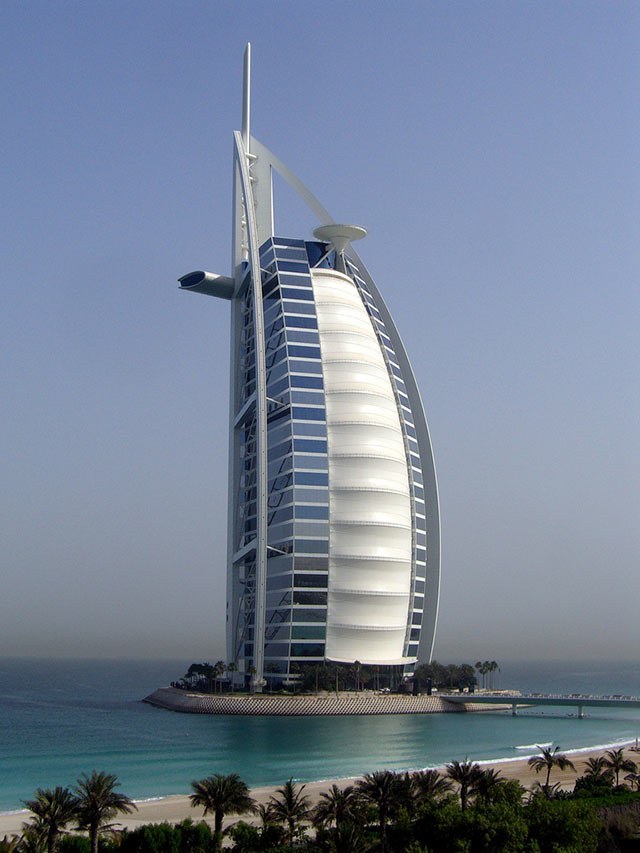 Dome House (Florida, USA)
Located in Marco Island, this now abandoned construction resembles a futuristic white dome is part of a mysterious story of the real estate of this area, which includes some more houses of the same unusual shape.